Camping with an Instant Pot is one of the easiest things to use to prepare great, yummy, healthy meals.  
It makes it easy to prepare, cook, and clean up while in the great outdoors.
Let's go over some really quick and helpful tips and tricks to make it even easier.
Choice of Instant Pot
One of the first things you need to do to make sure that you get the most out of your Instant Pot is to make sure that you have the right model.
Opting for a portable and lightweight one really makes a difference.
The Instant Pot Duo Mini is an excellent option for camping. It can saute and be used as a slow rice cooker, steamer, yogurt maker, warmer, and sterilizer all in one.
It's a nice compact size that makes it easy to bring in and out of your camper from the house or just leave it designated for camping only.
I like the Duo Mini. It's a great one because I can have some rice cooking slowly while we are traveling and have it ready for when we arrive.
| Disclosure: Please note this post may contain affiliate links. There is no additional cost to you – we earn a commission if you purchase using our links. We only link to products and companies we use and recommend.

Plan your recipes
When you are at home before you leave for camping, you can prepare and pre-pack your ingredients. This makes making your cooking in the great outdoors easier and more fun.
Always consider the easiest of meals to make, like one-pot chili, soups, stews, or pasta dishes.
Whatever can be thrown together into one pot, sealed and forgotten, is the best way to go.
Always remember the seasonings when thinking about the recipes that you will be making. Seasonings are really what make or break a meal, whether at home or while camping.
Ensure a stable power source
Whenever you are cooking with an Instant Pot, you have to remember to consider your energy source.  
Whenever you are using any device that requires heat, you need to realize that it will be drawing a lot of energy. Heaters, coffee pots, hair dryers, and an Instant Pot.  
The beauty of the Instant Pot is that it can cook your meals in record time. This way, you are not using a lot of energy for an extended period of time.
An inverter is needed to run an Instant Pot. For the mini Instant Pot, which uses 700 watts, I would recommend at least a 1000-watt inverter, a 1000-watt generator, or a portable power station.
Keep in mind that if you are at a place that has full hookups, you will be plugged into shore power, so you can run anything you want for as long as you want.
If you go with a larger Instant Pot, then you will need more power.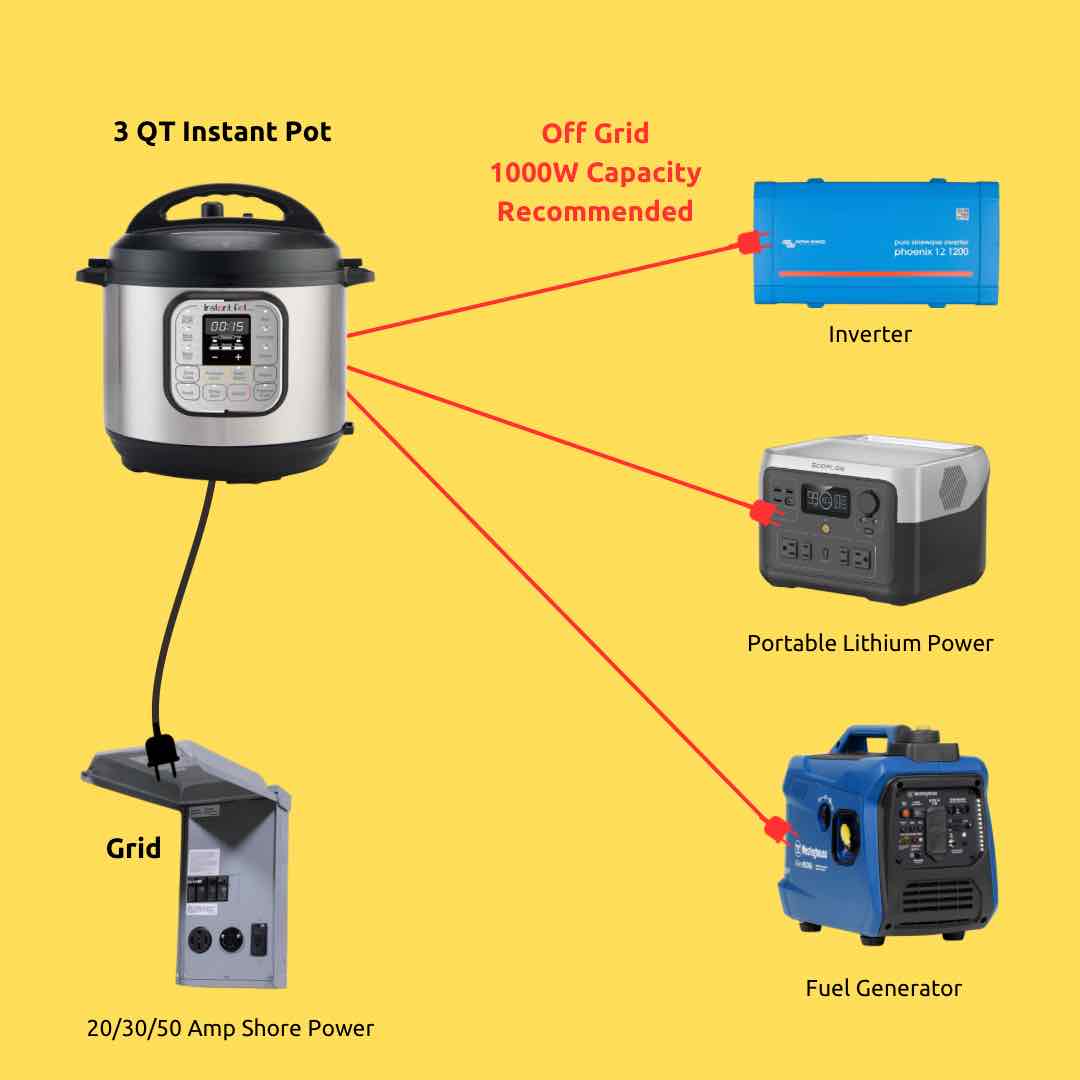 Consider stackable inserts
When you are making a meal that has more than one item, think about using the stackable inserts made for the three quart Instant Pot.
They make them for all different sizes of the Instant Pot, so you can make more than one thing at a time with anyone you already have.
These things are great. I cook rice in one while I'm cooking a stew in the other, and everything is done at the same time. It's amazing.
They all stack on top of each other and have a sealing lid. Then, all you have to do is use the attached clamps to lock them closed and put them into the Instant Pot.
Try to look for quick-release recipes
One of the things about Instant Pots is that most recipes require a natural release at the end of the cooking cycle. This can use up a lot of time and energy.
If you opt for quick-release recipes, you can immediately depressurize the pot, and your meal is done.  
Using a quick release allows you to have better control of the cooking time. It gives you the ability to halt the cooking precisely when you want to. This can be helpful to prevent over or under-cooking of your meal.
This is especially important when you are working with delicate items like pasta or vegetables.
A quick release can also help if you have a recipe that needs ingredients added in stages.
It helps by letting you make any adjustments to a recipe quickly and then resealing it to complete the cooking process.
It saves time and energy, and you get to eat your meal much sooner.
Most meats and grains could probably benefit more from a natural release.
Remember, when it comes time to release the steam, it is best to do it outside of your RV or camper. The amount of steam that comes out can alter the humidity inside your outdoor adventure vehicle and can cause condensation.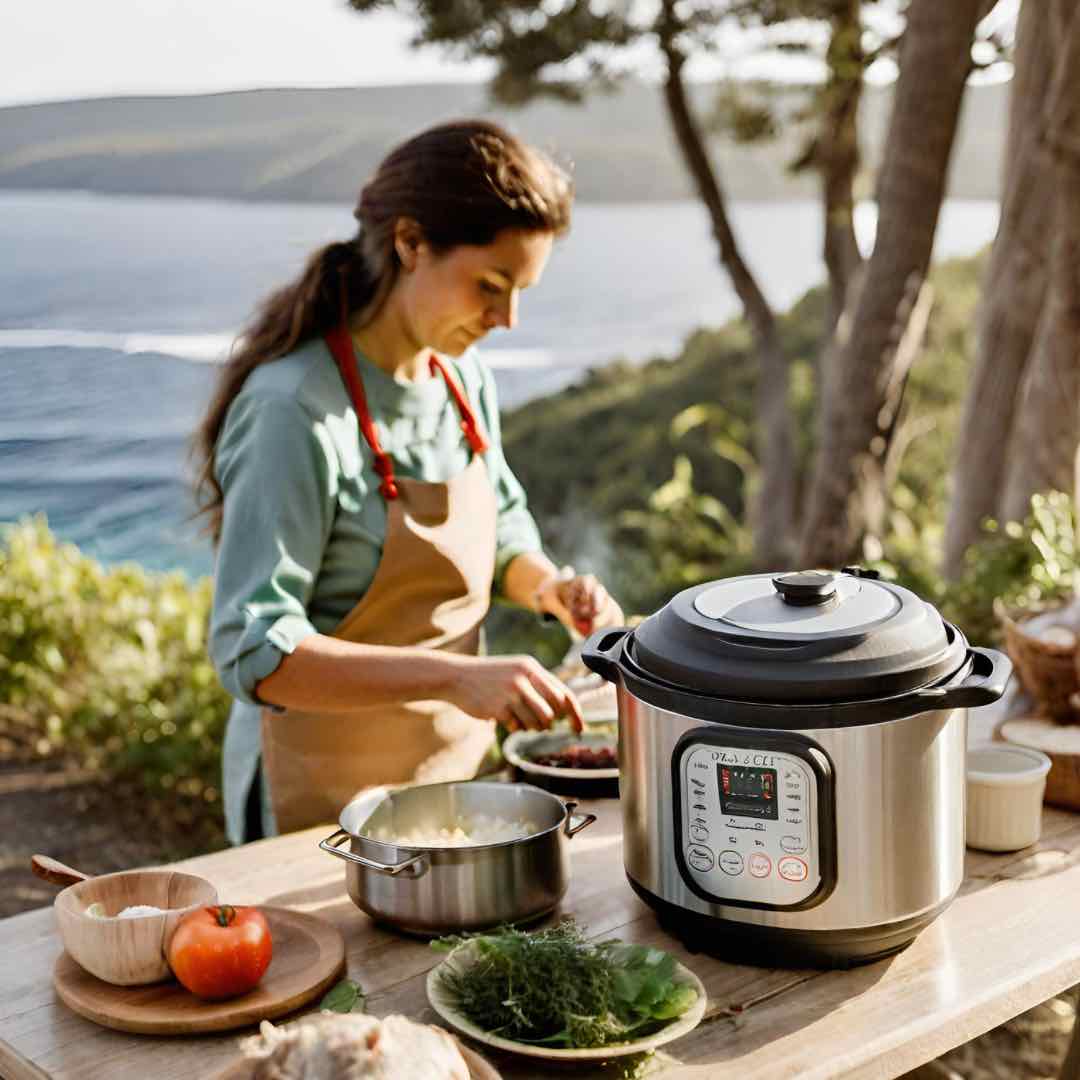 Be mindful of cooking times
Always make sure that you know the altitude, temperature, and outdoor conditions wherever you are camping. This can affect your cooking times.
The easiest rule of thumb is to remember that for every 1,000 feet (305 meters) increase in altitude above sea level, you may need to increase the cooking time by about 5%.
Recipes are usually made for sea-level conditions. Once you find the altitude you will be camping at, it's easy to increase the cooking time.
The Instant Pot helps with the consistency of your cooking. The precise temperature and pressure control helps to ensure that your meals will turn out as expected. This makes it easier to plan your camping meals.
Try some trial and error to make sure when it comes time for your actual meal, you feel confident with the cooking time.
Think about how much space you will save
Camping in a smaller RV or camper van can involve limited storage space. An Instant Pot can help you by consolidating your cooking equipment.  
By using an Instant Pot, you can limit the amount of appliances that you bring with you.  
There could be no need for the use of a camping stove or a slow cooker because it can all be done in the Instant Pot.  
I like to saute my food items in the pot on saute, using water or oil. As soon as the items are done, I can just add the rest of the ingredients, seal it down, and let the cooking begin.
Once all the cooking and pressure releasing are done, you're ready to eat.  
Of course, the clean-up is a breeze because you now only have one thing to clean up, which saves time and water.
Consider the reduced odors and mess
When the meals are sealed in a pressure device like an Instant Pot, you avoid the risk of having the food odors attracting wildlife while camping. Who wants to have a surprise guest for dinner sniffing around for their next meal?
It reduces the possibility of spillage and mess, which keeps your cooking area at your campsite clean and tidy.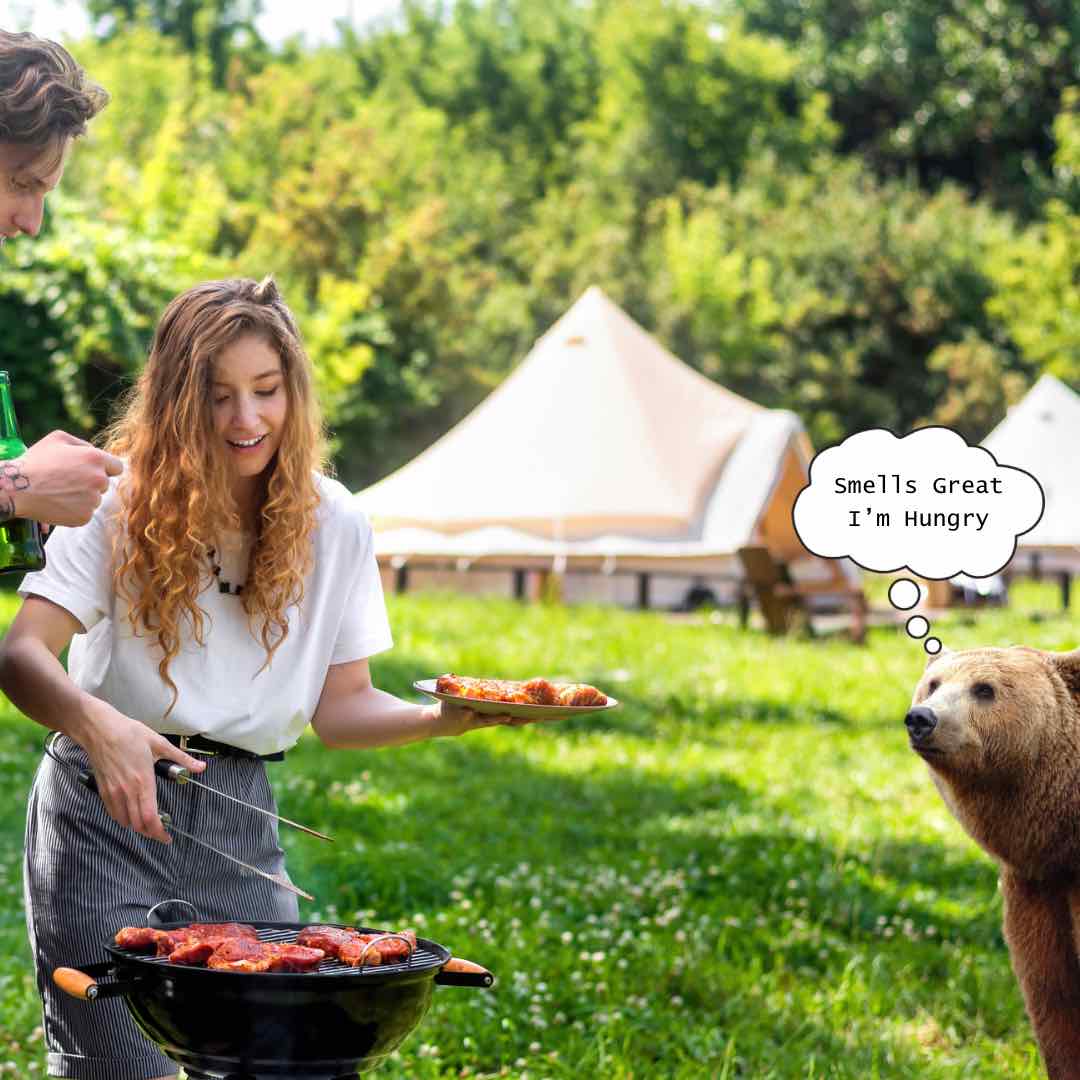 They are designed with safety features, such as pressure release valves and automatic shut-off. This helps with cooking outdoors.

Some great ideas for cooking with an Instant Pot
When camping, it's always best to try and keep your cooking experiences as simple and easy as possible.
I like to make my morning oatmeal in the Instant Pot.  
Start by adding the rolled oats, water (or milk), and a pinch of salt to the Instant Pot.
Close the Instant Pot lid, set the steam release valve to "Sealing," and select the "Manual" or "Pressure Cook" setting.
Adjust the cooking time to 3 minutes at high pressure for regular oatmeal. If you're using steel-cut oats, you may need to increase the cooking time to 10-12 minutes. Remember that the Instant Pot will take some time to come to pressure before the cooking time begins.
I like to do a natural release because it lets the oats continue to absorb the liquid.
That's it, enjoy a hot breakfast with some sweetener and fruit.
Another easy breakfast idea is to make some hard-boiled eggs in the Instant Pot. 
Start by placing the metal steam rack in the pot. Add some water and carefully place your eggs in.  
For soft-boiled eggs with a runny yolk, set the cooking time to 3-4 minutes.
When you want classic hard-boiled eggs with a slightly creamy yolk, set the cooking time to 5-6 minutes.
Or for fully hard-boiled eggs with a completely set yolk, set the cooking time to 7-8
Let the pot do a natural release to ensure the eggs will finish and make it easier to peel when cool.
One of our favorites for lunch or dinner is corn on the cob.
This is made super easy with the Instant Pot. Add the corn and water to the pot, set it, and forget it.
For fresh corn on the cob, cook for 2-3 minutes.
When using frozen corn on the cob, cook for 4-5 minutes.
One of the best things to make in an Instant Pot is pulled pork. 
I like to saute spices, onion, and garlic on the saute setting. Drop in the pork shoulder and brown the meat. This helps to enhance the flavor. Add some BBQ sauce, apple cider vinegar, brown sugar, chili powder, paprika, cumin, and cayenne pepper to taste. 
Seal it and let it cook anywhere from 60-90 minutes. Do a natural release on this one to help the pork become more tender.
Once done, all you have to do is shred it and enjoy.
Keep in mind that this same method can be done with chicken parts.
Finally
It's nice to be able to put things into an Instant Pot and forget it until you hear that completion beep. This leaves you more time to be able to enjoy your camping trip with your family and friends.
Whether you live in your RV or camper or go camping every once in a while, an Instant Pot can be a very helpful appliance to help you with your cooking needs.
It doesn't necessarily need to be your only appliance, but it is a very good one to add to your favorite ones.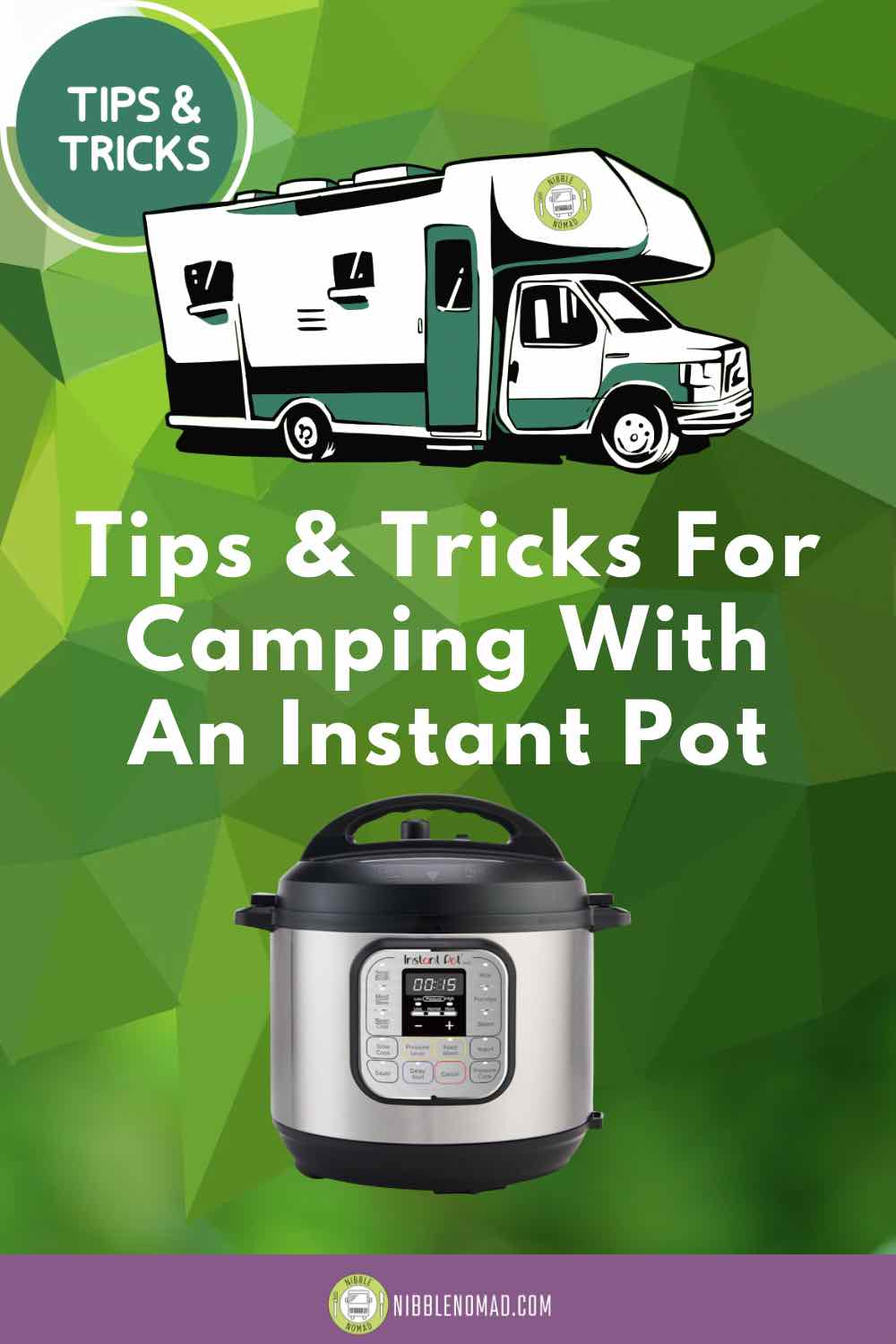 Nibbler Tip:  Always remember to wait until the pressure button drops before you open the Instant Pot or any pressurized appliance. Appliances under pressure can be very dangerous if not fully released from the pressure before opening.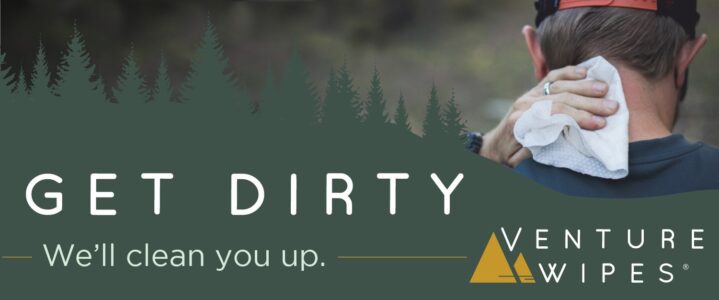 Related Post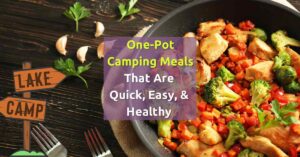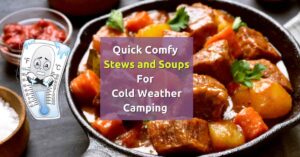 AMAZON DISCLOSURE:  This website participates in the Amazon Services LLC Associates Program, an affiliate advertising program designed to provide a means for us to earn fees by linking to Amazon.com and affiliated sites.