Do you love camping but don't like to have to take the time and the water to clean up after making a three-course meal? The best part of camping is the adventure, not the cooking and cleaning; that's where one-pot camping meals come in.
Let's dive into how you can make one pot to one bowl delicious meals in a tiny kitchen, RV, or camper without all the labor-intensive cleanup.
Remember, a one-pot meal can be made over an open fire in a cast iron Dutch oven, using an instant pot, or just a nice big pot on the stove inside your small kitchen.
One-Pot Camping Meals Can be Easy
We were all brought up with the idea that you must have a salad, a main course, and a nice sweet dessert.  That was then, and this is now.
Making your meals in a single pot is very liberating because it's easy to dump everything into one pot and then even easier to clean up when you are done.
| Disclosure: Please note this post may contain affiliate links. There is no additional cost to you – we earn a commission if you purchase using our links. We only link to products and companies we use and recommend.

One Pot Cooking while Camping
The next time you go on your next camping trip, try to put together some one-pot camping recipes. They are the easiest way to make, leave you with fewer dishes to clean up, and will surely satisfy your hungry family. A one-pot meal is a great option for quickly feeding large groups.
The perfect way to decide the best one-pot meal is to start by choosing what your whole family likes.  
There are a lot of meals that can be taken from extensive preparation to just a dump-into-one-pot recipe.  It's just a matter of adapting the instructions.
Easy camping recipes usually use a handful of ingredients and some seasonings to create some really hearty meals around the campfire.

One-Pot Camping Meals
Let's start with some of the basics that are all over the internet and Pinterest.
Campfire Chili/Chili Mac – This has always been a favorite in my household.  It's easy, and you can add anything to it to make a nice, hearty, delicious meal.
This is a campfire classic that can be a perfect way to warm you up on a cool evening while out camping.
It's very flavorful and the best way to possibly use up some of the extra beans, meat, and veggies that you've brought with you on the road.
The simple recipe is to add a protein, like ground beef, turkey, tofu, or tempeh, to a pot with some olive oil and cook until browned.  Stir in some diced onion, bell peppers, and minced garlic.  Add some chili powder, cumin, paprika, salt, and pepper, and stir. Let it simmer until all the vegetables are tender. After it has cooked down, add some canned black beans and diced tomatoes or tomato sauce. Put a lid on it and let it cook for 20-30 minutes.  Serve with some shredded cheese, sour cream, tortilla chips, green onions, or jalapenos.
You can use plenty of different variations to create a fantastic one-pot to one-bowl chili meals.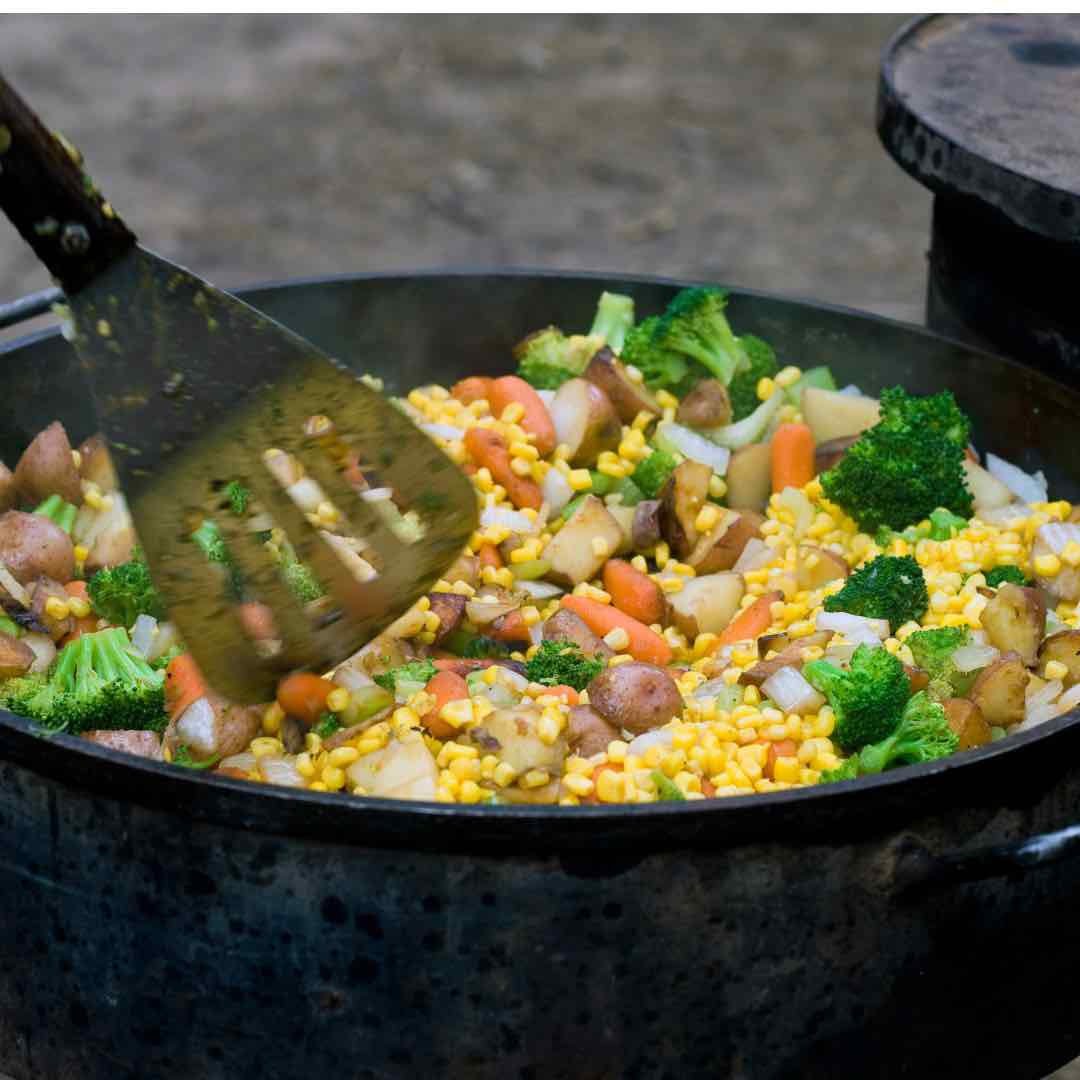 One-pot Pasta – I know you probably think pasta is always a one-pot meal, but try this when you want to make your own flavoring.
This easy meal prep recipe puts the pasta, some grape tomatoes halved, chopped onion, basil, garlic, red pepper flakes, and water together in your one pot.  Cook until the pasta is al dente. By that time, the tomatoes and onion have cooked down, making the perfect pasta sauce to go with your already-cooked pasta. Top with some chopped basil and grated parmesan cheese, and you are good to go.
Remember you can add anything to this meal that you would like—some sausage or vegetables. I have even seen some canned tuna added to the pasta pot to add some extra flavor.
One pot to cook and one pot to clean.  Easy peasy. 
One-pot Chicken and Rice – Now, this is an absolute favorite of Paul. It has the two ingredients that he likes the most: chicken and rice.
It's a nice, comforting, hearty meal after a long day of fun activities.
Simply brown the chicken pieces in the bottom of the pot with a bit of oil. Add some garlic, onion, and any other vegetable that you would like. Stir in the uncooked rice and add some seasonings and either water or broth. Cook covered until the rice is tender and the chicken is thoroughly cooked through.
This is a complete meal with protein, vegetables, and grains. Mix it up with different veggies and protein.
Quinoa and Vegetable rice – When it comes to easy, this is the perfect delicious one-pot meal for you.  All the rich flavors and aromas come to life when you combine them all into one pot. Mixing quinoa and rice is a great way to boost your fiber intake.
Soak your rice for 30 minutes, and then add some oil, spices, vegetables, and some sort of protein if you would like. Then add the uncooked rice and cover it with broth.
Once again, there are many different ways and variations of quinoa and vegetable rice.
Once it is all cooked, fluff the rice mixture and serve.  This one is fantastic!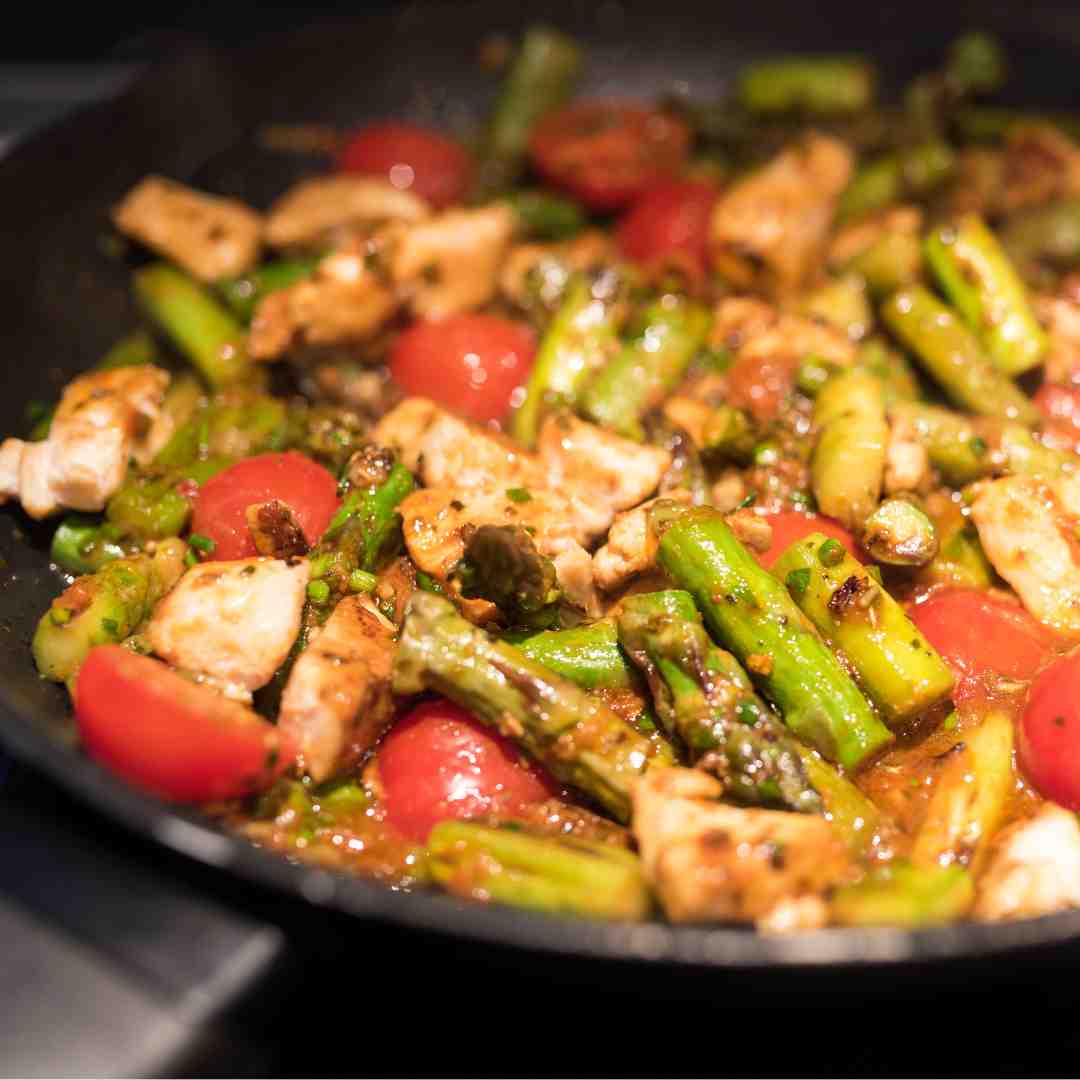 Benefits of one-pot camping 
There are many really good reasons to cook in one pot that help you out when you are out camping.
The prep time is drastically reduced, which leaves more time to have fun with your family and friends.
One-pot cooking conserves fuel and water. Using a single heat source (e.g., campfire, camp stove) for cooking reduces the amount of fuel required, which, as a camper knows, can be crucial if you want to stay off grid longer.
Packing is lighter because you won't need all the different pans and appliances to cook your meals. 
Using only one pot to cook your meals makes it easier for you if you are in a limited space, like a camper van.
Let's not forget about one-pot breakfast
When it comes to camping, hiking, cycling, or kayaking, there is nothing like starting your day with a nice, filling, hearty breakfast to get you going with some energy for your next adventure.
One-pot camping breakfast is easy if you are making some oatmeal or just your basic eggs and bacon. But what if you want to take it up a notch?
Try some Breakfast Frittata – This is a great option. Just sautè some red onion, peppers, and meat in a cast-iron skillet. Wisk some eggs together with some milk and pour it over the veggies and meat. Add some grated cheese and salt and pepper, and cover the skillet until the center of the frittata has set.
Breakfast ideas in a one-pot skillet are endless.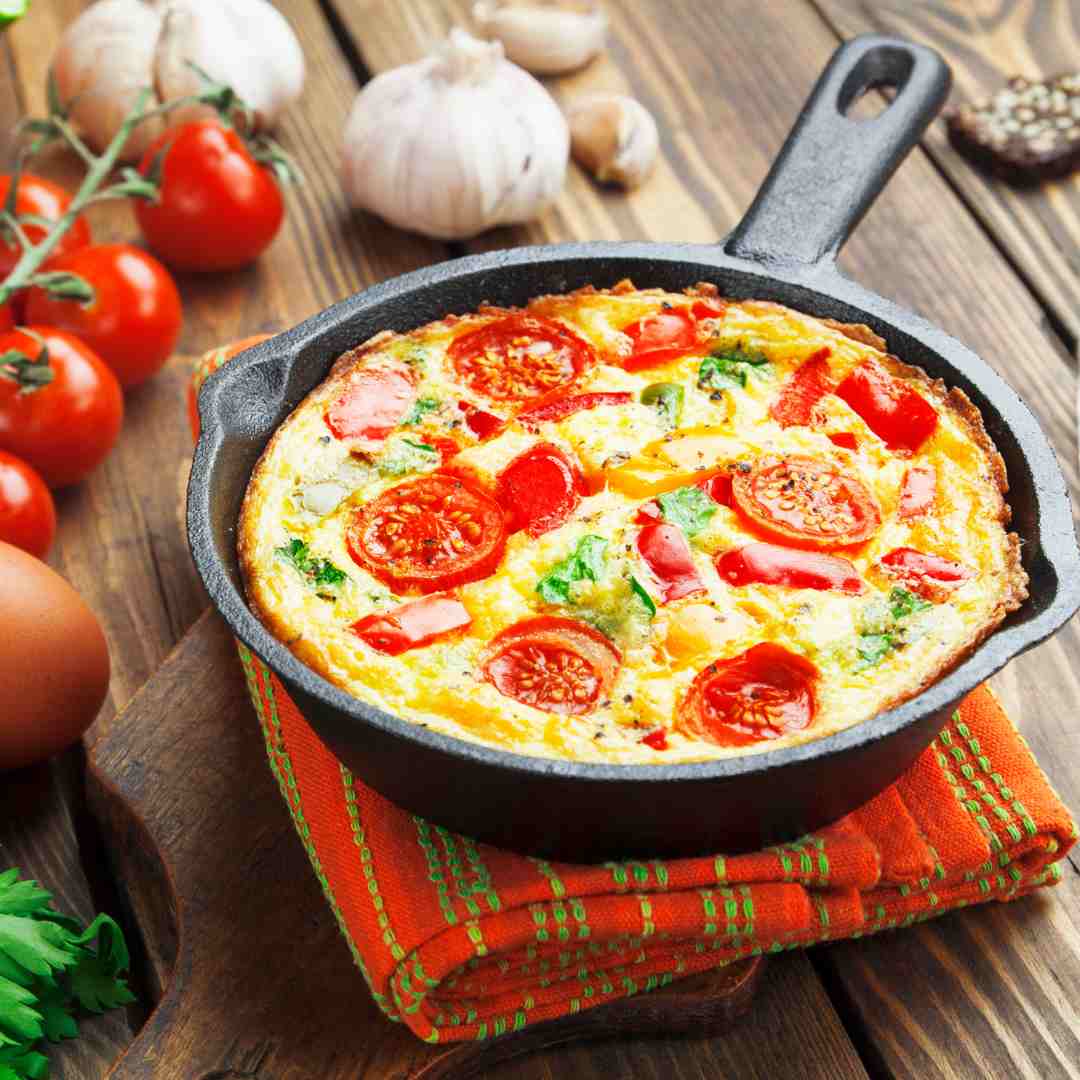 Finally
I love to cook when we are out on the road.  Eating at a restaurant is not always an option.  
The ease and comfort of making one-pot camping meals is a great way to cook your own food and enjoy your trip and your company much more.
Don't be afraid to experiment to see what great recipes you can come up with that are able to be made in one pot for easy cooking and cleaning.
Nibbler Tip:  A couple of things to remember when cooking in one pot. Put the items that take the longest to cook on the bottom of the pan. Adjust the flame or temperature to make sure nothing is burning.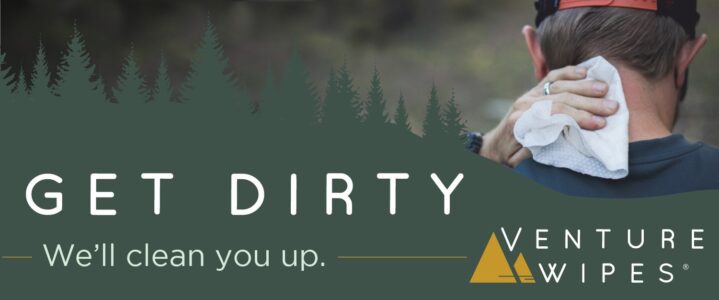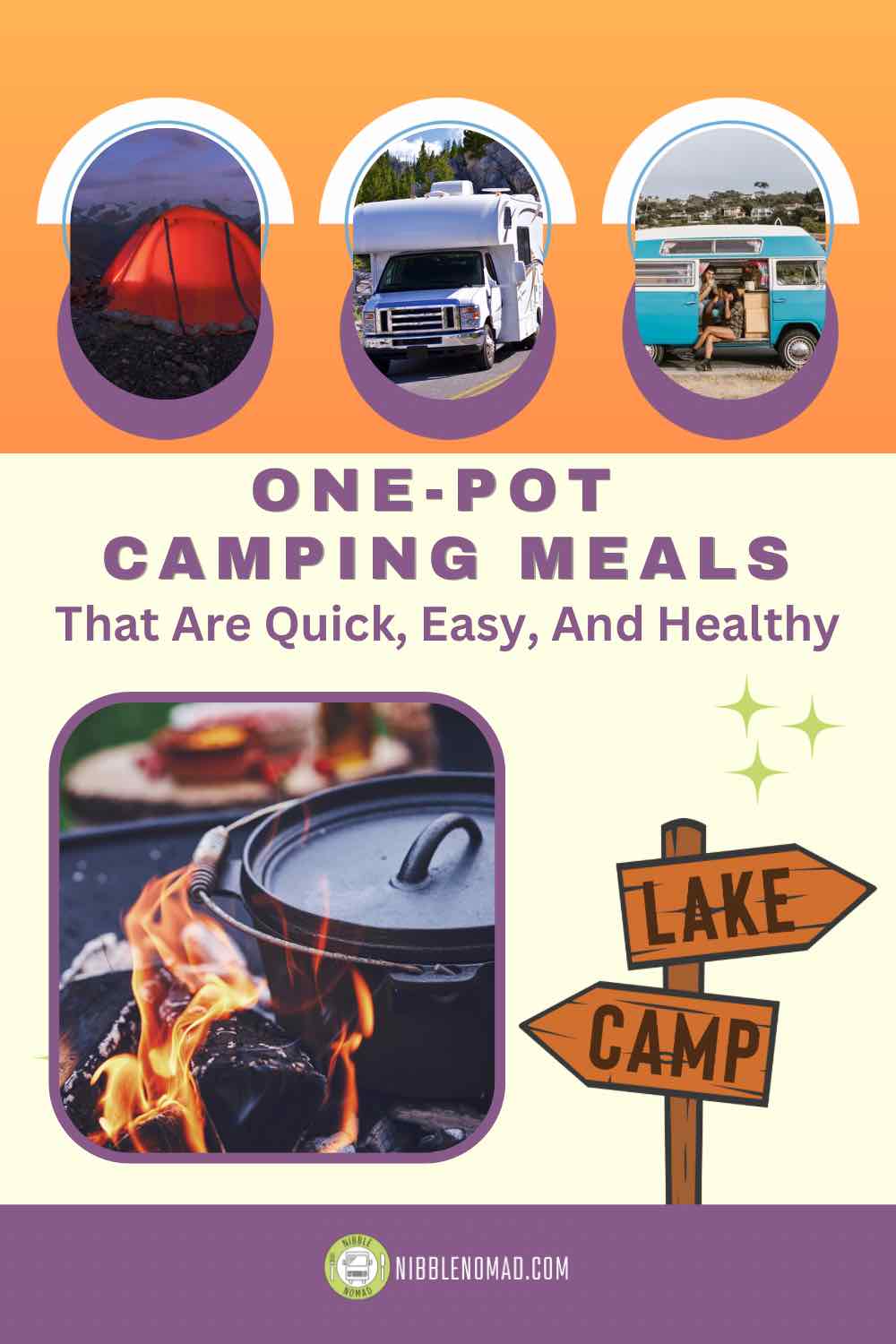 Related Post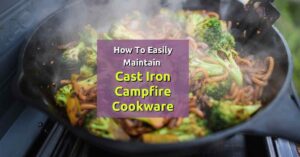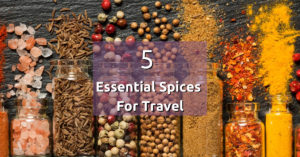 AMAZON DISCLOSURE:  This website participates in the Amazon Services LLC Associates Program, an affiliate advertising program designed to provide a means for us to earn fees by linking to Amazon.com and affiliated sites.