Batch cooking is a smart and efficient way to get yourself prepared for your next camping trip. It's just a matter of making and packing ready-to-eat meals or preparing your ingredients in advance.
By batch cooking, before you leave for your trip, you leave yourself more time to enjoy the great outdoors.
Plan your meals for batch cooking
The first thing that you should start with is the planning of the meals that you will be having while camping.
Think about how many days you will be out at your campsite. 
Count how many people that will be camping with you that will need meals.
Check to see if there are any dietary restrictions or preferences that you need to be aware of.
Lastly, consider the specific equipment or cooking methods that you will have available to you while at the campsite. This includes if you will be cooking over an open fire around the campfire or within your camper.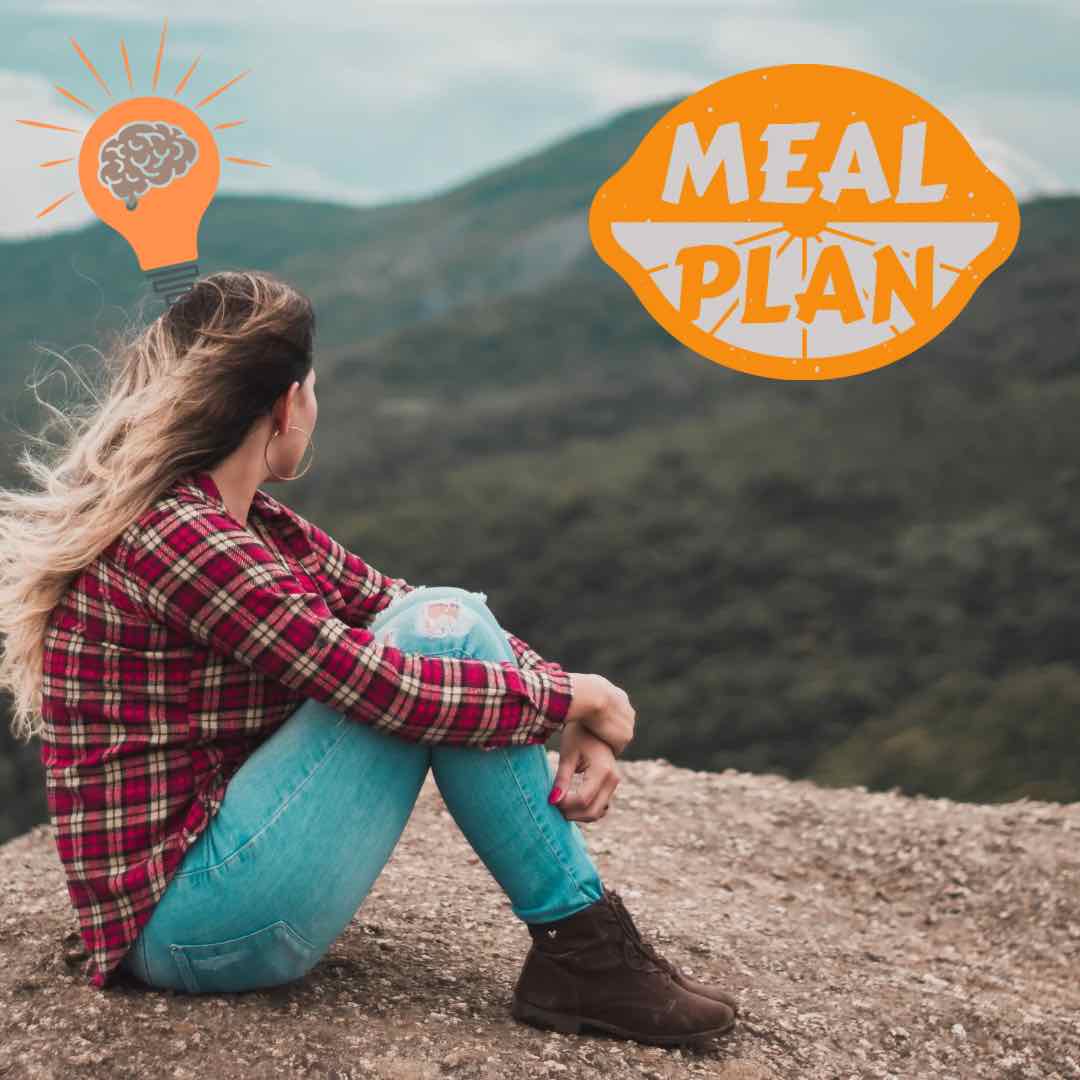 | Disclosure: Please note this post may contain affiliate links. There is no additional cost to you – we earn a commission if you purchase using our links. We only link to products and companies we use and recommend.

Select some simple recipes
Make your life easier by choosing simple recipes that are easy to prepare and can be cooked or reheated easily.
Consider one-pot meals, foil packet recipes, and recipes that are easy to chop and prepare.
The last thing you want to do is to try to put together really complex meals that require complex cooking methods.

Make a shopping list
Sit down and decide on your meals. It makes it easier to create a detailed shopping list. This list includes all the ingredients that you'll need.
Besides the main ingredient components, don't forget all the seasonings, condiments that you will need, and anything else that will complete your meal.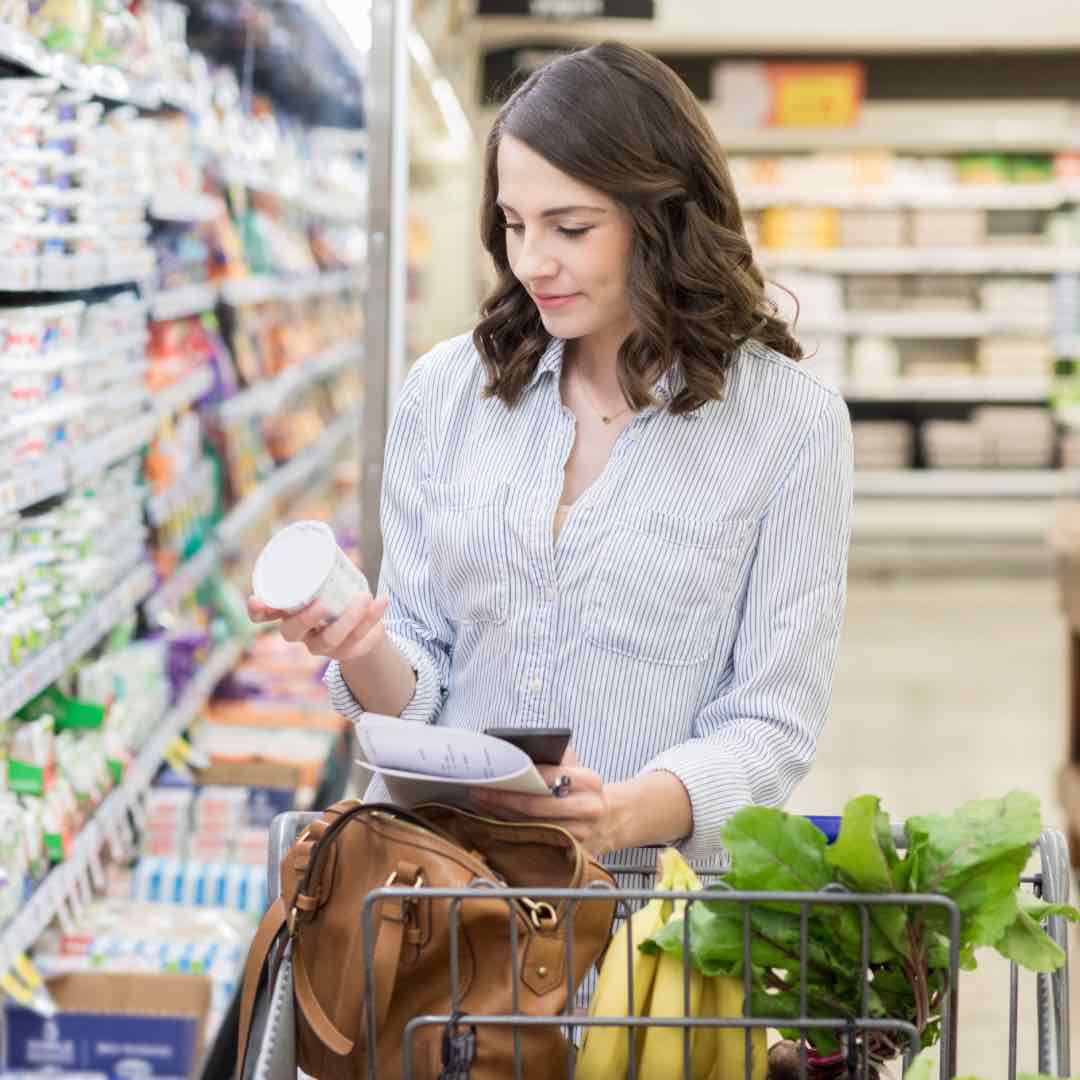 Prepare your ingredients for batch cooking
Once you have all the ingredients that you need for batch cooking, start prepping your meal at home. 
This, of course, could possibly include chopping all your vegetables and marinating all the meats that you will be using.
Don't forget to portion out all the ingredients and spices into individual containers to make the cooking of the meal easier.
Cook the meals and package
If you are going to cook your meals ahead of time and reheat them when you get to your campsite, then you might need to cook them in batches.
Easy meals that can be cooked in advance and easily reheated are things like chili, soups, stews, and pasta.
After all the cooking is done, drop them into individual meal-sized reusable containers.  
Don't forget to label each of the containers so you know what each one is and how to cook it.
Freeze or refrigerate your batch of cooking
Think about when you will be leaving for your camping trip. 
Deciding what meal will be served on what day of your trip will determine whether you refrigerate or freeze your meals.
Obviously, the meals that you will be using first can remain refrigerated. The ones that will be eaten later in your trip can be frozen to ensure freshness when it is time to either cook or reheat your meal.
Packing carefully is very important
When it comes to packing your food for the trip, make sure you pack your prepped meals so that they are sealed and secured correctly.  
Please keep them in an insulated container within a 12V fridge/freezer combo cooler. If you have access to a refrigerator, secure your meals or prepped ingredients to maintain freshness.
Reheating the food at your campsite
When you arrive at your campsite, reheating your prepped meals will be quick and easy. 
You can cook the meals with a camp stove, a portable grill, or even an open fire around the campfire. If, of course, an open fire is allowed and safe.
When it's time to cook your meal, read the name and description of either the refrigerated or frozen meal that you labeled.
Cleanup made easy
One of the best parts of batch cooking for your camping trip is that it minimizes the amount of cooking and cleanup at your campsite.
By packing and using reusable plates, utensils, and cups, you help minimize the waste. Don't forget your trash bags!
Reasons that batch cooking while camping is a good idea
When you batch cook your meals or ingredients, you save tons of time and effort that would be required while at your campsite.
By batch cooking, you minimize how many dishes and utensils that are needed to prepare your meal.
Batch cooking helps you with portion control of all your ingredients and meals. This helps with the waste of food and supplies.
When you batch cook your camping meals, you give yourself a range of dishes to serve without needing all the complex setups to prepare your meal at your campsite. This helps with the dietary preferences and restrictions of everyone in your group.
Cooking your meals at home can help you have a less stressful camping trip. This is because you don't have to spend every day thinking about what to serve at every meal. That way, you can enjoy the trip along with your group.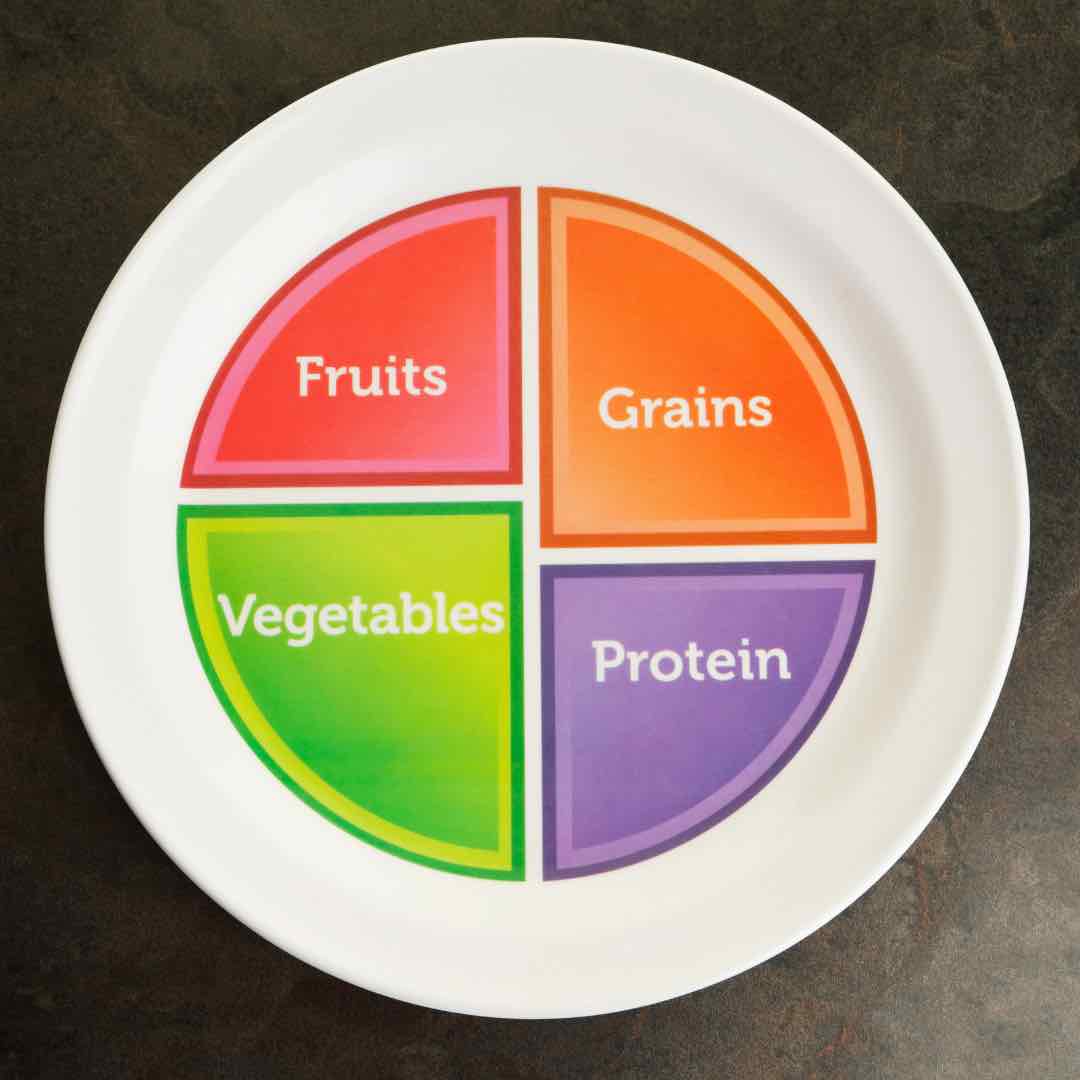 Let's talk about what to prepare for batch cooking
Hearty chili is always a classic camping meal. 
Making a big batch at home makes it easy to portion it into containers that can be easily reheated around a campfire. Don't forget to serve it with an excellent warm cornbread or crackers.
Brown some meat and saute onions, garlic, and bell peppers. Add the browned meat and the sauteed vegetables with diced tomatoes, chili powder, and cumin.
Stews or soups are easy to make in a big pot and portion out containers for lots of nights at the campsite. Try some chicken soup, beef stew, or vegetable soups.
Rice and grain bowls are great to batch cook, like rice, quinoa, or other grains, and serve them with grilled chicken, shrimp, or tofu. Don't forget the vegetables. It's so convenient to cook your grains and rice prior to your camping trip and store them for use when you arrive at your campsite.
Casseroles are a smart option
Making meals that are all put together and can be reheated later makes a camping trip more enjoyable.
Pasta dishes can be an excellent choice for camping meals. Whether you make easy pots of pasta with sauce or a one-pot pasta primavera, they are perfect for convenient camping meals.  
Cook some mixed vegetables with the pasta in the same pot. After drained, toss with olive oil, garlic, and parmesan cheese. This is great for portioning into reusable containers for reheating.
Shepherd's pie is one of our favorites to bring camping. It's easy to put together at home and seal in a secure container. You can cook it at home or bake it in your Omnia Stovetop oven over an open fire.
Campfire tacos are very easy to make before leaving on your trip or at the campsite. I like to make a casserole of tortillas with ground meat, taco seasoning, refried beans, and your choice of shredded cheese, salsa, and sour cream. This can also be baked in the Omnia Stovetop oven.
Batch cooking with foil packets
When it comes to really easy things to make ahead of time for your next adventure in the great outdoors, the first thing to come to mind would be foil packets.
They are easy to put together, and once the foil is sealed up, they are great for traveling. They can be stacked inside your cooler or adventure camper fridge.
Salmon with herbs is my personal favorite around a campfire. They are simple to put together, and the entire fish meal is contained in the foil for easy cleanup. Place the salmon fillets along with lemon slices and fresh herbs like dill or thyme. Seal it up and place it in the cooler, ready for your next meal, or place it on the grate over an open campfire—such a lovely delicacy.
Campfire sausage and potato packets are a great hearty meal after a long day of adventure. It's just a matter of placing the sliced sausage, cubed potatoes, sliced onion, and peppers into the foil packet and season. It's easy to cook over the campfire. Just check to make sure everything is cooked through before removing from the fire.
Veggie and bean medley is a really quick meal option. Combine your choice of vegetables, like zucchini, bell peppers, and cherry tomatoes, with canned beans. Add some olive oil, garlic, and any other of your favorite spices. Seal the foil packet and cook until the veggies are done.
Pineapple teriyaki chicken is a meal that I make for Paul on every one of our camping trips. It's his favorite, and it's easy to prepare. Place a chicken breast into the foil packet. Add the chunks of pineapple from a can and some sliced bell peppers. Drizzle the teriyaki sauce and seal the packet. Once the chicken is done, you are ready to eat.
Side dishes in foil are easy for batch-cooking 
Grilled corn on the cob can be made quickly and easily. Either shuck the ears of corn at home and keep them in an airtight container for ease or remove the silk at the campsite. Brush them with butter and sprinkle with salt and pepper. Cook over the campfire in the sealed packet until the corn is charred.
Campfire quesadillas are one of the easiest sides to make. They can be thrown together in a second. Assemble your tortillas with cheese and fillings like beans, corn, bell peppers, tomatoes, and salsa. Cook over the open fire until everything is cooked through.
Cheesy potatoes make an excellent side dish for breakfast or any meal. Slice or cube your potatoes at home or at the campsite. Add some sliced or cubed onions and bell peppers along with your favorite seasonings. Seal the foil packet and cook until tender and maybe even a little crispy.
Veggie medley is a perfect way to get your veggies in while you are camping. Cut up any veggie that you like and sprinkle some olive oil, herbs, and spices. Seal the pack and cook until tender. Throw on some cheese for extra flavor.
Mushroom and onion medley make a very tasty side dish. Combine sliced mushrooms, onions, butter, garlic, and thyme in the foil pack. Cook until the veggies are caramelized.
Herb-infused rice is easy to make when you have that pre-cooked rice you brought from home. Mix some olive oil, herbs, and seasonings together and cook until heated thoroughly.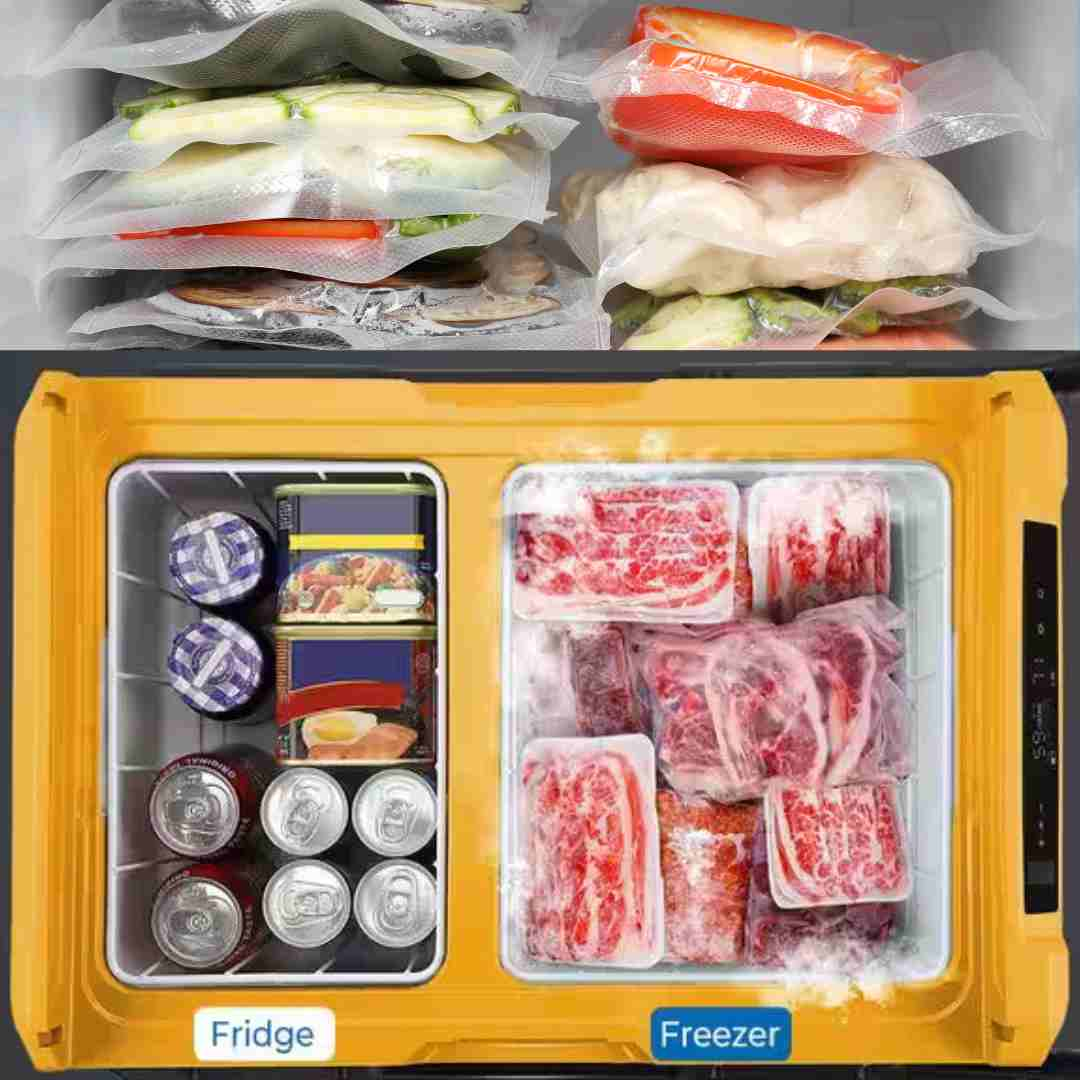 Foil packet desserts
One of Paul's favorite parts of the meal is the dessert. I like to mix it up with my batch cooking and make foil packets to make my life easier.
S'mores banana boats are his favorite, except for ice cream. I split a banana lengthwise and stuff it with chocolate chips, tiny marshmallows, and crushed graham crackers. You'll know when they are done when the marshmallows are all gooey. I try to find sugar-free items when possible.
A fruit medley is a great way to make an adult dessert. Combine sliced apples, pears, and berries. Add some cinnamon and a splash of rum. Grill in a packet until the fruit is tender and caramelized.
Peach cobbler can be made quickly with sliced peaches and a bit of sugar and cinnamon. Top it with a Grand Pillsbury Biscuit and seal the foil packet. When the topping is golden, the peaches are done.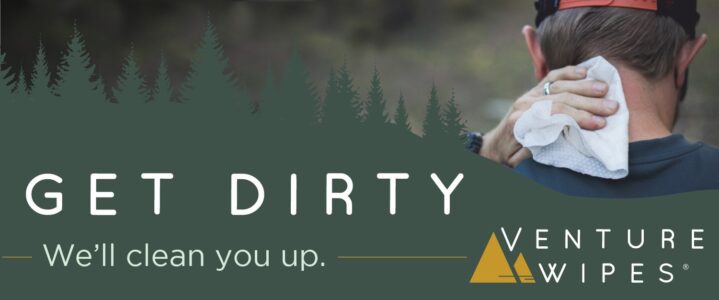 Plant-based batch cooking
Cooking for plant-based camping meals is the same as animal-based meals except for your protein source.  
I prepare a few plant-based meals at home to bring on our camping trips.  
Don't worry; plant-based proteins will give you energy all day.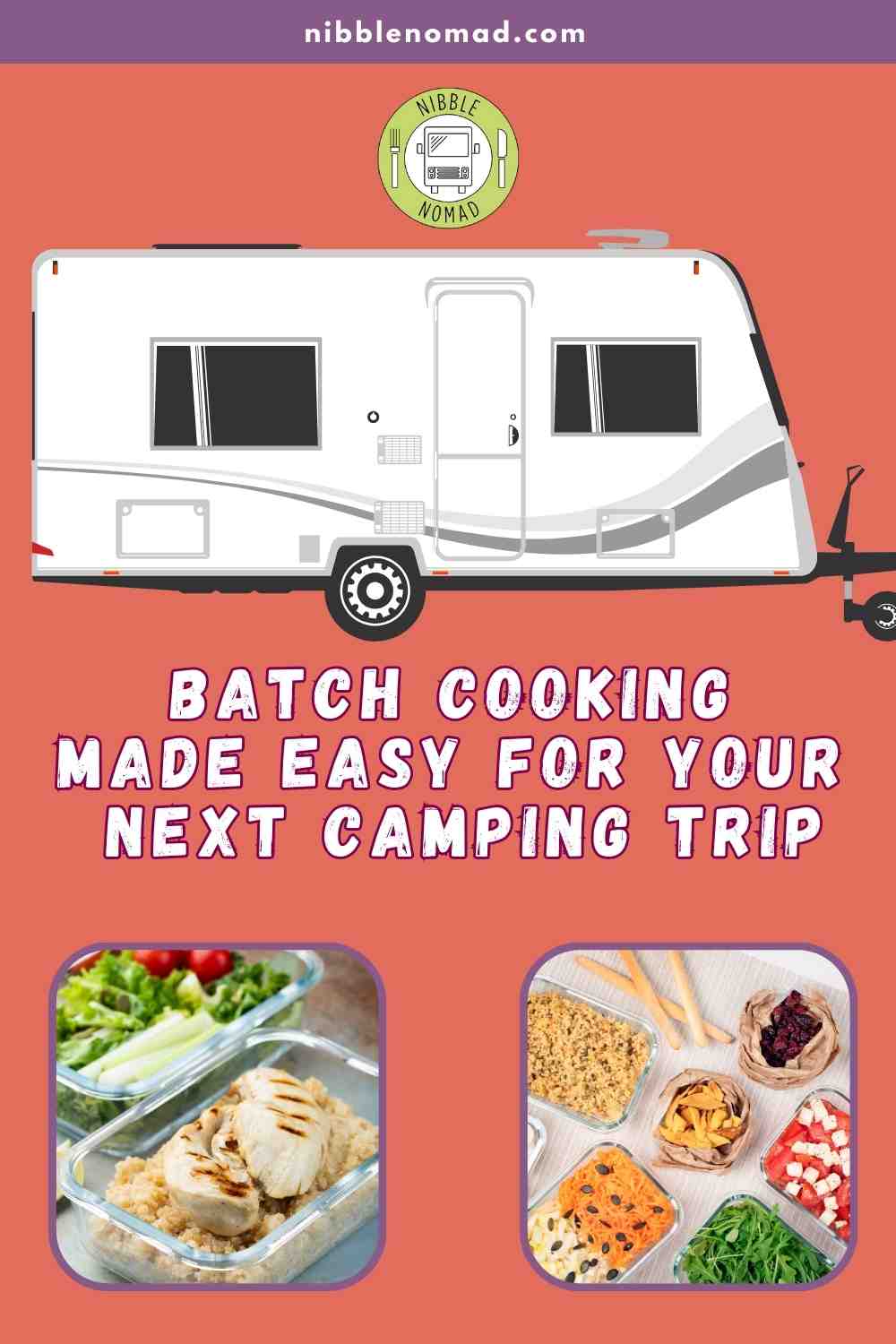 Curry batch cooking can be delicious. Anything curry happens to be Paul's favorite food. I add chickpeas, lentils, or tofu as my protein, then add a package of coconut milk-based curry sauce. Choose our favorite vegetables and spices, and serve with some of the pre-cooked rice and a package of naan bread.
Energy bars are an easy way to have some quick energy for a day of adventure. I like to make a batch of them before I leave for our trips. Add oats, nuts, dried fruits, and nut butter. Mix it all together and cut into bars or bites. They are easy to make and pack.
Spaghetti and sauce is one of the easiest things to batch cook and pack for later. I cook my spaghetti and let it cool before storing it in an airtight container. Make the sauce ahead of time and store it in an airtight container. When I get to the campsite, I mix the two together and heat over the fire or on a camping stove.
Finally
Batch cooking for your camping trips is totally the way to go. 
Now I know that some of your meals are not going to be able to be batched at home. If you can do at least half of your meals this way, then you will be able to have more time to enjoy your camping trip and the people you are camping with much more.
Nibbler Tip:  Remember that any of these meal suggestions using meat can be replaced with a meat alternative like tofu or any other plant-based protein.
Related Post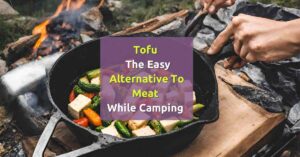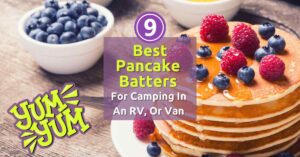 AMAZON DISCLOSURE:  This website participates in the Amazon Services LLC Associates Program, an affiliate advertising program designed to provide a means for us to earn fees by linking to Amazon.com and affiliated sites.