When you put the words tater tots and Shepherd's Pie in the same sentence, you know that it's going to be a fantastic meal. Shepherd's Pie with Tater Tots is a nice and easy way to make tasty comfort food that everyone will love.
Whether you are a meat eater or a vegetarian, you can adapt this recipe to make it suit your dietary lifestyle.  That's the beauty of recipes like this.  Use meat or don't use meat it's totally up to you.  Use tater tots, mashed potatoes, or even sweet potatoes for the top, it all works well.
Just replace the meat and dairy with alternative ingredients. The flavor will change a little, but it's fun to create new things. 
The only thing that you should make sure of is that there are vegetables in the pie.
| Disclosure: Please note this post may contain affiliate links. There is no additional cost to you – we earn a commission if you make a purchase using our links. We only link to products and companies we use and recommend.
Memories of moms Shepherd's Pie
I remember when I was a kid, my mom would make a fantastic Shepherd's Pie for our family. My dad was a very serious meat and potatoes guy. He would come home from work and dinner would be on the table. The same couple of meals were all he liked.
Sometimes my mom would go a little outside the normal box and make a nice big shepherd's pie to last a couple of days. We were all in heaven because that meant we could have leftovers anytime we wanted.
I used to make this basic Shepherd's Pie with tater tots comfort food for years while my daughter was growing up. She loved it. The problem was that when my daughter moved out and we cut back on eating meat.
I found myself missing out on this wonderful comfort food. I started to work on Shepherd's Pie without meat and I was happily surprised when I made it with lentils and it tasted the same as the pie with meat.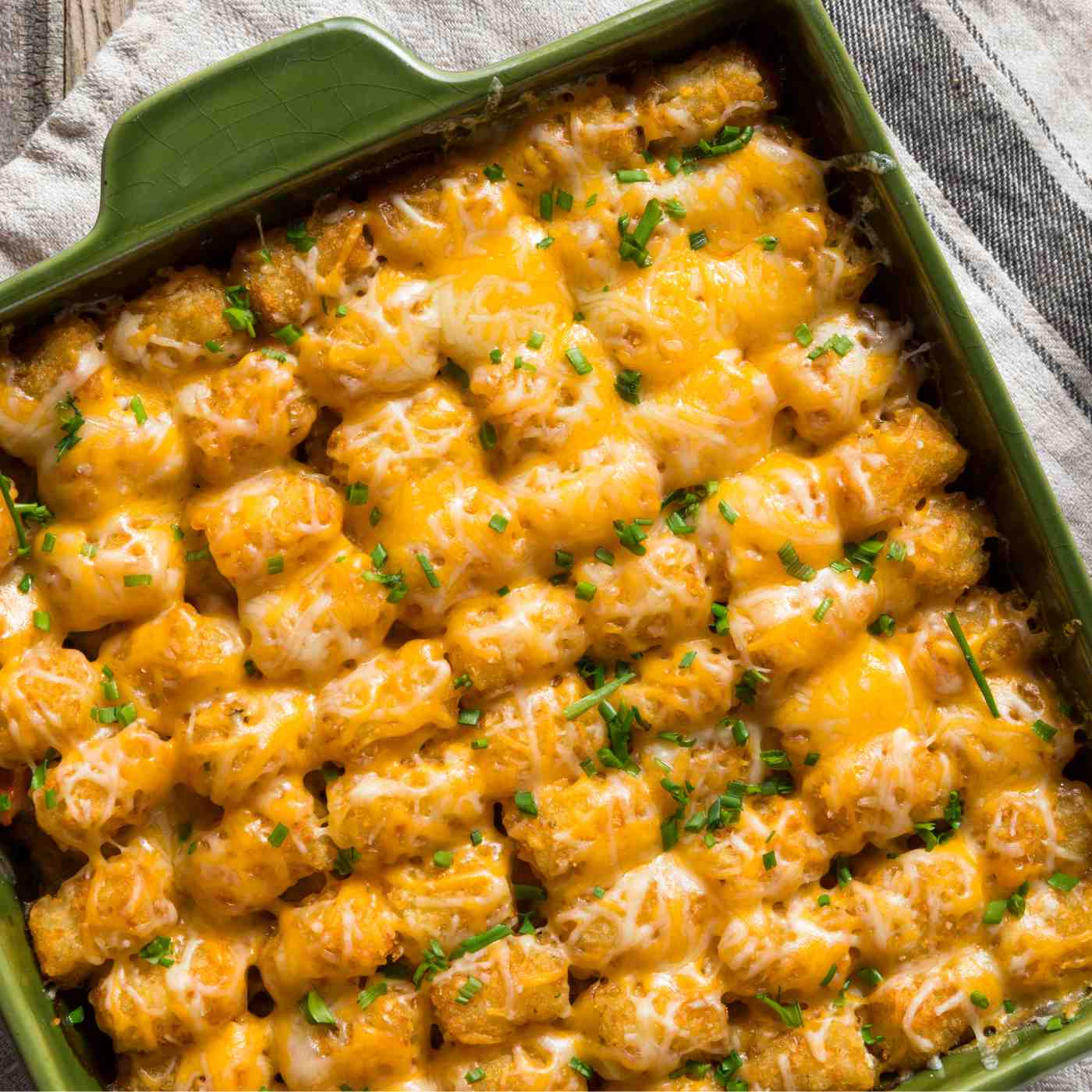 History of Shepherd's Pie
Shepherd's Pie is a traditional British dish that has been around for centuries.  They don't know the true beginnings.  Most likely started in Scotland or Northern England.  These pies were a way to use up leftover meat and potatoes in your fridge.  
It used to be called 'Cottage Pie' and changed to 'Shepherd's Pie' in the late 18th century when potatoes became more available.  The name was changed to Shepherd's Pie when it became very popular with shepherds in rural areas.
The Basic Recipe with Tater Tots
The recipe for a basic Shepherd's Pie includes all kinds of meats now.  Pork, lamb, and even chicken are the most common, and then any vegetables that you would like to add to round out the pie.  The topping can be anything in the potato family to crisp up at the end of baking.
Spices are really up to you as to the taste you are looking for.  Sometimes I make it spicy for Paul by just adding some cayenne.  The basic is just garlic, onion, and Worcestershire sauce.  When I make the pie using a meat alternative like lentils, I spice it up a little more as meat has more flavor than lentils.
I use tater tots most of the time for this Shepherd's Pie because they are easier than making mashed potatoes or mashed sweet potatoes.  The tater tots crisp up on top just as nicely as the mashed potatoes.

Shepherd's Pie with Tater Tots with or Without an Oven
This can be made in a regular bundt pan or rectangle baking pan and put it in an oven. But what if you don't have an oven at home or on the road in an RV or van? There are other ways to bake without an oven. 
The first way would be to use an Omnia stovetop oven.  Now I'm sure a lot of people don't even know what that is.  I think it was one of the greatest kitchen appliance ideas ever invented.  It's round like a bundt pan with a hole in the middle.  It is used on a stove with a flame or electricity.  The only heat source that it can't be used on is an induction stovetop.
The GoSun Solar oven is another option.  It can also be used to bake Shepherd's Pie with tater tots. The GoSun Solar oven is an oven that uses the sun as its only source of heat.
These two types of ovens are great to use outside to reduce the heat in the house, RV, or Van. I have tried all these options, and it comes out great each time. Please realize that there are different amounts of time for each different baking option.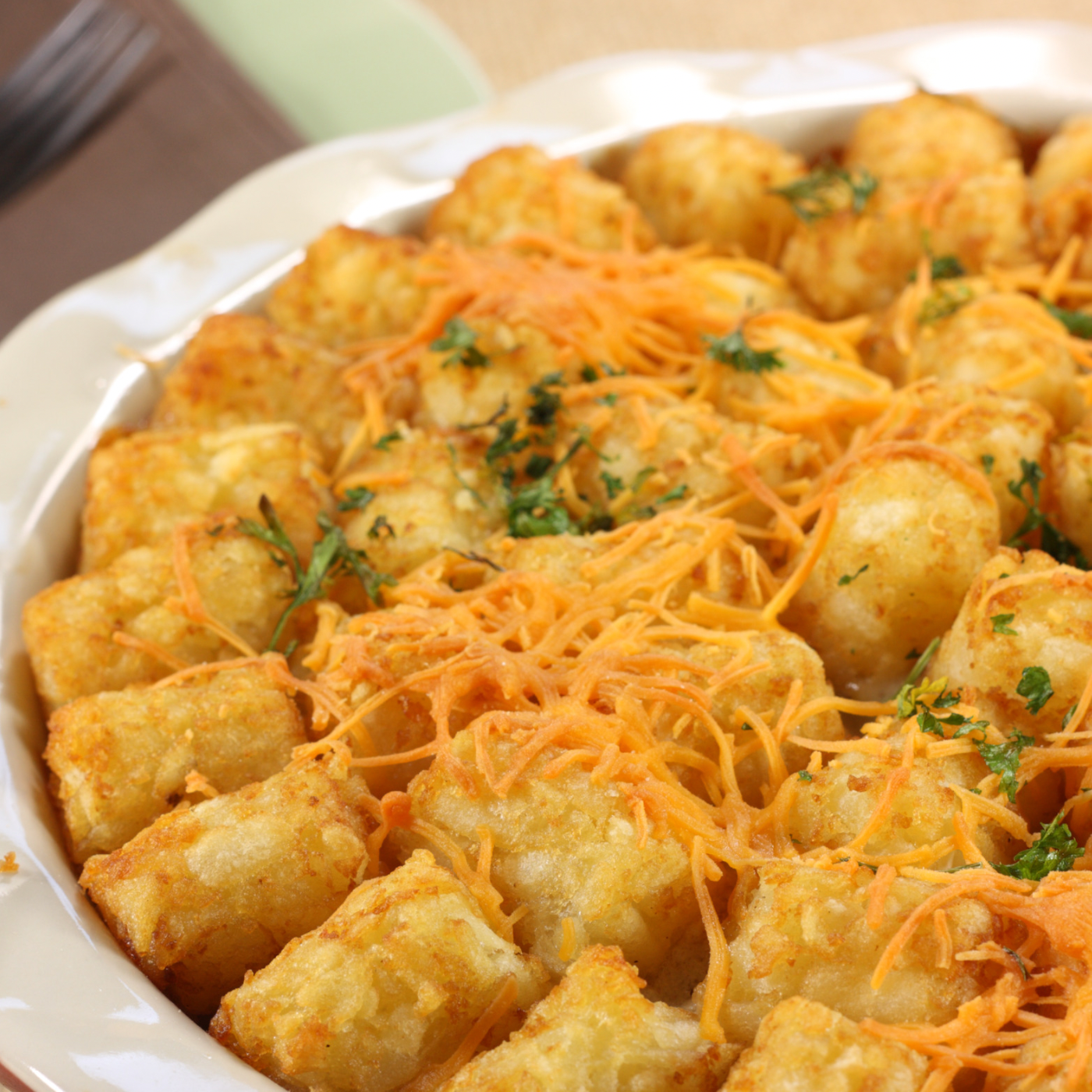 Nibbler Tip – If you are going to use regular ground meat, just keep in mind that the meat will have a lot of grease unless you use lean meat.
Shepherd's Pie with tater tots is easy in small kitchens
One of the things that I always look for when I'm looking at a recipe is how easy it is to make.  This kind of recipe is great because it can all be mixed together in a large bowl and transferred into one of the baking devices from the previous paragraph.  This makes for a really easy one-bowl and one-baking device cleanup.  As a nomad, salvaging water is priority #1.
In the recipe below I have used alternative dairy but you can use anything you want.
Please let me know in the comments if you have tried this Shepherd's Pie with tater tots.  Tell me what you think of it.  
Shepherd's Pie with Tater Tots
Equipment
Bundt Cake Pan or Omnia Stove Oven
Ingredients
1

lb

plant-based ground beef (or alternative meat)

1/2

cup

onion

diced

2

cloves

garlic

minced

2

Tbsp

flour

1 1/2

cups

vegetable broth

1/2

cup

almond milk

any milk alternative will do

1

Tbsp

Worcestershire sauce

12

oz bag

frozen mixed vegetables

1

30 oz bag

frozen tater tots or mashed potatoes

1

cup

plant-based shredded cheddar cheese

any shredded cheese will do
Instructions
Preheat oven to 425 if using a bundt pan or preheat oven disk on high for 1 minute before placing the mixture in the baking pan if you are using an Omnia Stove Oven

In a large skillet saute the meat or meat crumble alternative in vegetable broth with the diced onion and garlic

Sprinkle the flour over the mixture in the skillet and stir until fully dissolved.

Medium heat mix in the milk alternative and vegetable broth.

Cook until the mixture has thickened and is bubbly.

Stir in the Worcestershire sauce and veggies

Add salt and pepper to taste

Transfer the mixture to either a bunt pan for the oven or the silicone lining of the Omnia Stove Oven.

Sprinkle the shredded cheese over the top of the mixture and then cover with tater tots.

Bake for about 25-30 minutes or until the tater tots are golden brown and the sauce is bubbling on the edges.
Nutrition
Serving:
1
g
|
Calories:
434
kcal
|
Carbohydrates:
52.3
g
|
Protein:
13.4
g
|
Fat:
20.1
g
|
Saturated Fat:
6.9
g
|
Cholesterol:
21
mg
|
Sodium:
1094
mg
|
Potassium:
641
mg
|
Fiber:
6.3
g
|
Sugar:
4.2
g
|
Calcium:
214
mg
|
Iron:
2
mg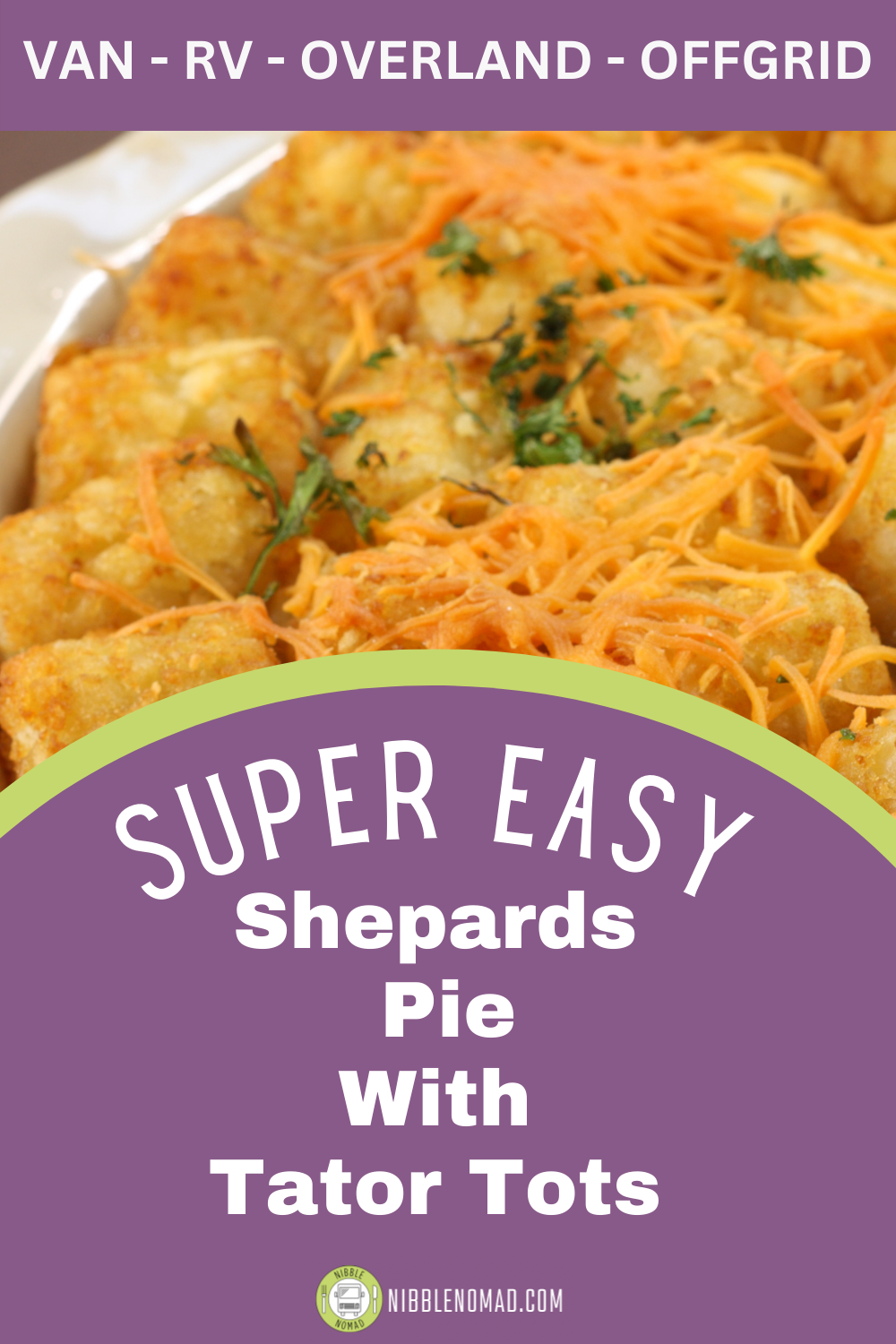 Finally
Don't forget to slide the serving size to get the appropriate ingredient quantities.
AMAZON DISCLOSURE: This website is a participant in the Amazon Services LLC Associates Program, an affiliate advertising program designed to provide a means for us to earn fees by linking to Amazon.com and affiliated sites.