One of the best parts of camping in our camper van is starting my day with a wonderful hot breakfast, like an air fryer camping Blueberry Baked Oatmeal. It's an easy bake that the whole family will love.
It's great to make on a busy morning for a day full of adventures. It even is great the next day, if there is any leftover. It's definitely one of our favorite breakfasts.
I don't have an oven in my camper van, so I either use my air fryer or my Omnia Stovetop Oven.
Baking without a traditional oven
The thing about a small space like a camper van is that there really is no room for an oven, and I like to bake.
When we lived in our 40′ Foretravel Motorhome, I had an oven and all the room I could ask for. But not when we downsized to a camper van.
I had to be more creative about having the ability to bake in such a small space as a van.
The way to do that is to use an air fryer, and I have been amazed at how much I can do with an air fryer.  I also learned all about the Omnia Stovetop Oven.
Between these two appliances, I was able to make anything that I could make in a traditional oven.
| Disclosure: Please note this post may contain affiliate links. There is no additional cost to you – we earn a commission if you purchase using our links. We only link to products and companies we use and recommend.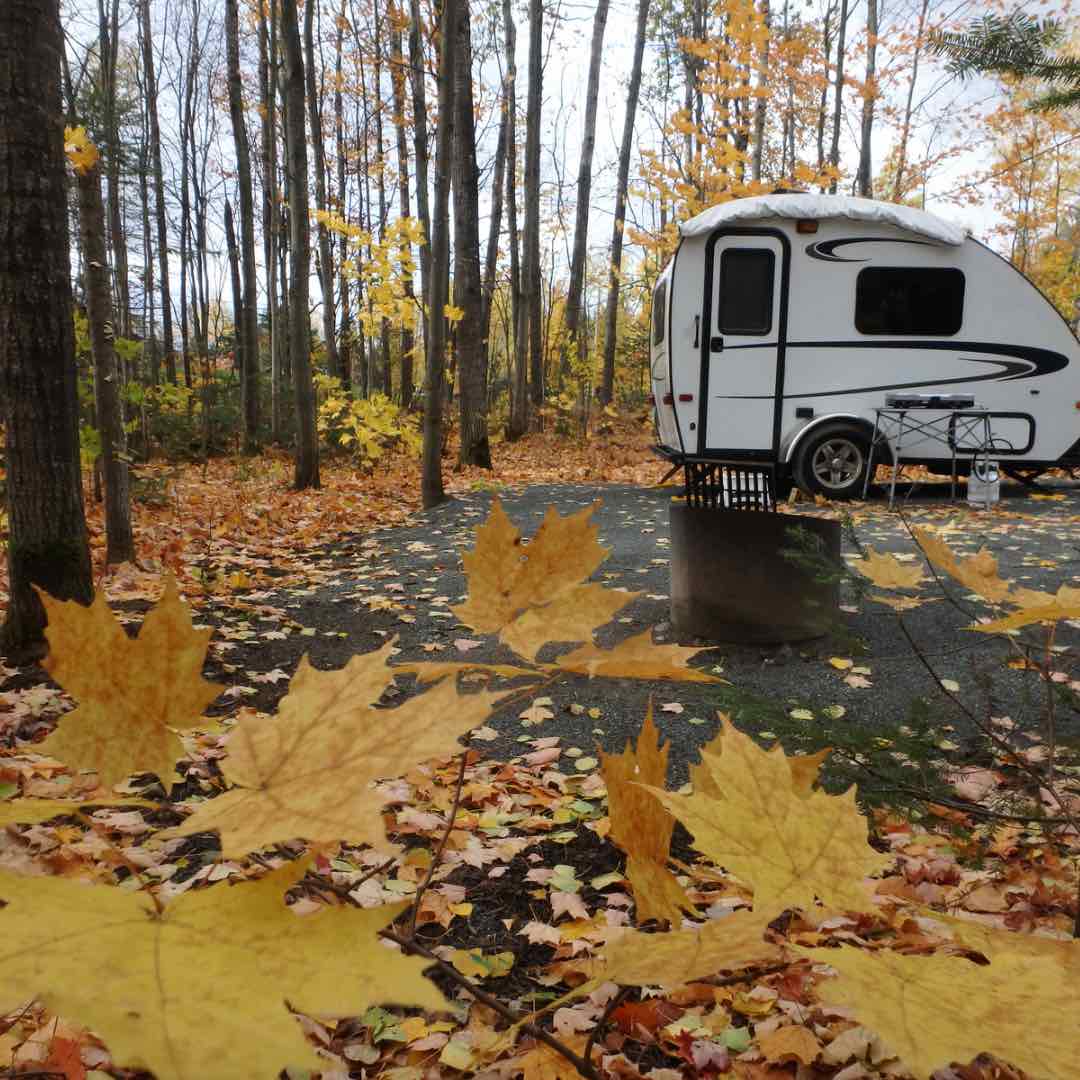 Blueberry Oatmeal Bake
A blueberry oatmeal bake is a delicious and nutritious breakfast or brunch dish that combines the flavors of blueberries and oats.  
It's always nice to have a nice hot breakfast on a beautiful cool morning in Autumn around a toasty campfire.
This is a recipe that I have been making for our camping trips for many years.
Of course, this can be made with any type of fresh fruit or frozen.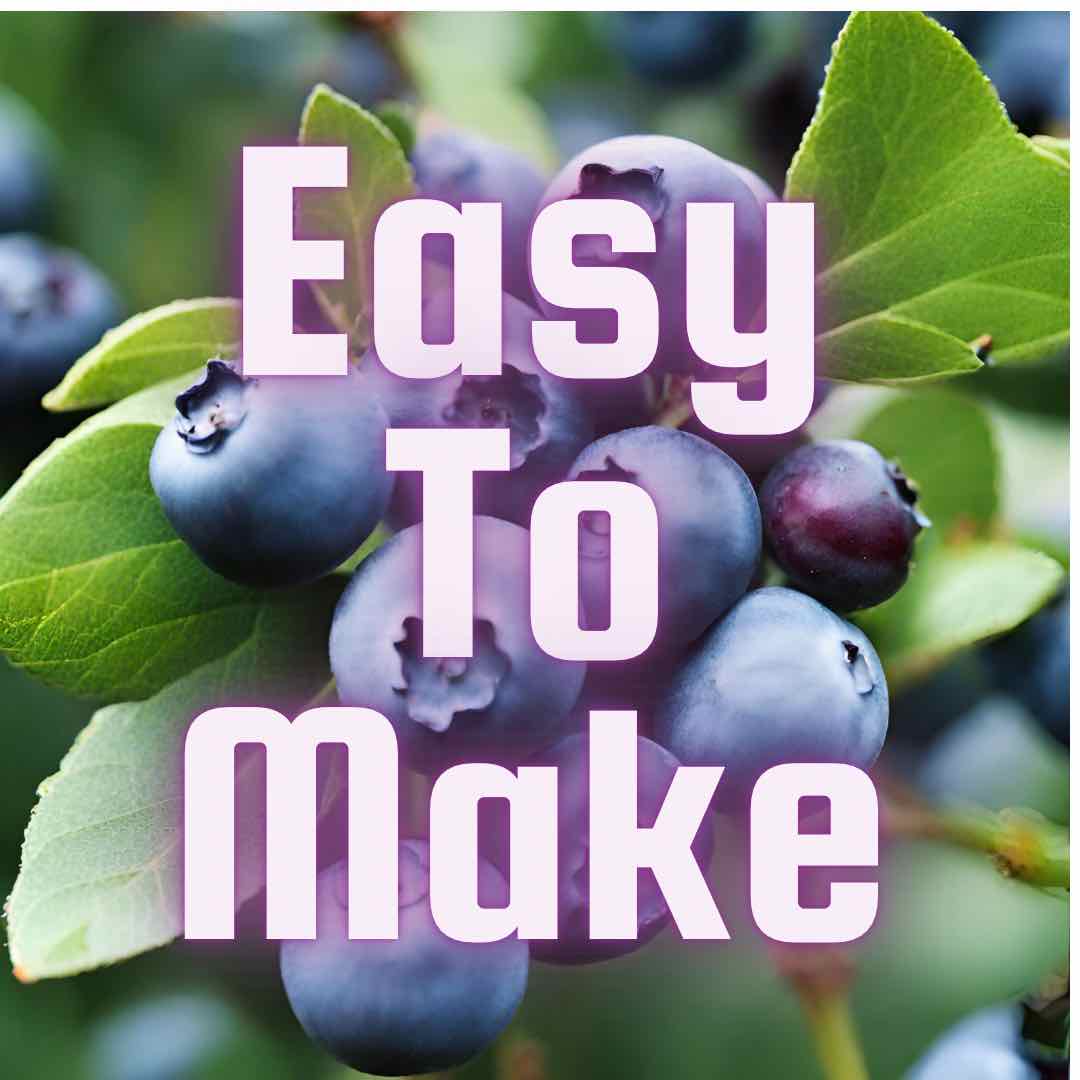 The ease of an Air Fryer
My air fryer goes with me camping every time.  It's like having a full-sized oven right on the counter that can be stowed when you're not using it.
This batter can be placed into small ramekins or just line the air fryer with parchment paper.
Click here If you want to see our suggestions for a good Air Fryer for in your rig, 
The recipe is the same for whatever way you bake it.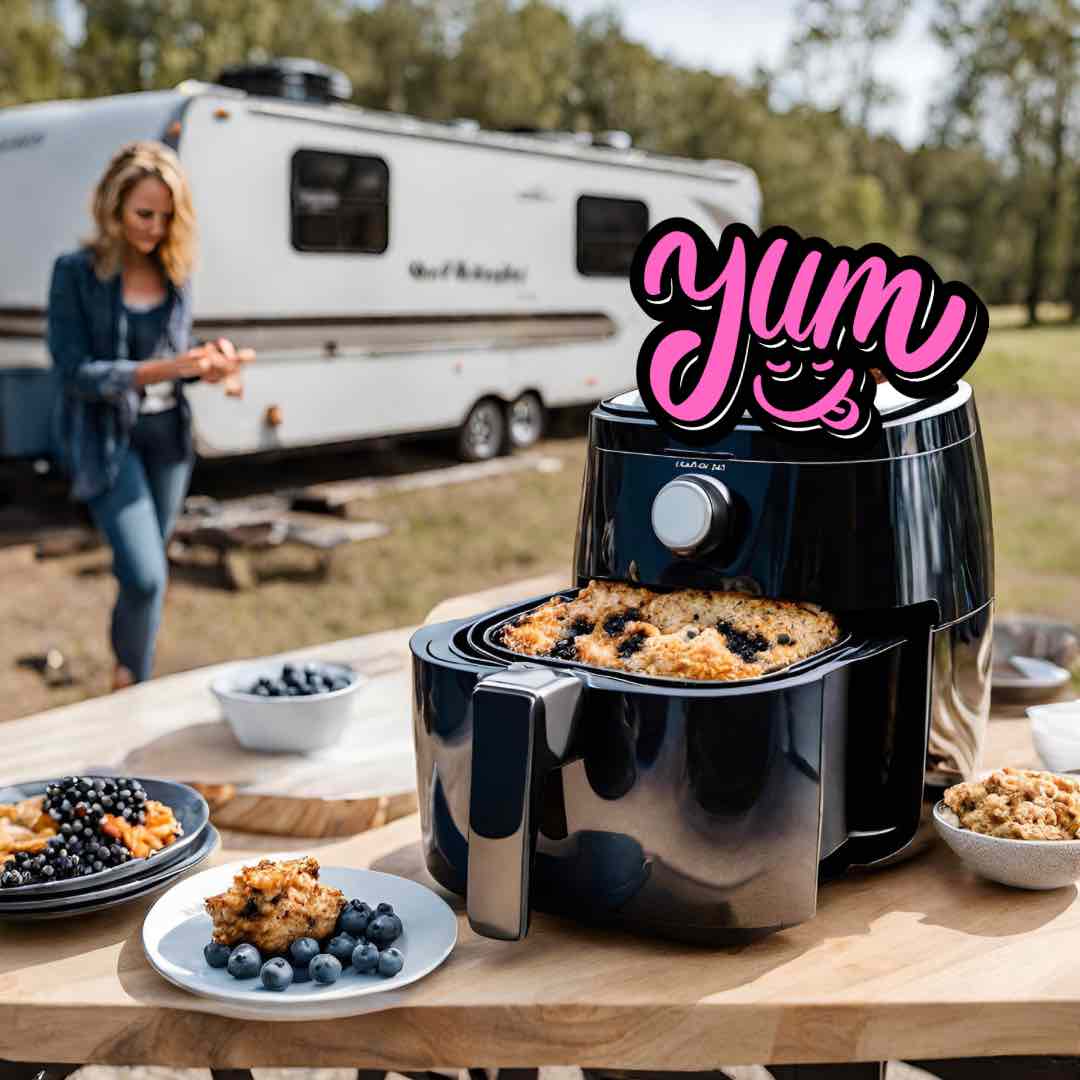 We like to make a full pan full of this hearty breakfast because we know we're going to eat it all.
The convenience of the Omnia Stovetop Oven
This is an appliance that I found a few years back.  It kind of looks like a bundt pan but bakes up a store right on the stove or over an open flame.
The batter can be just put into the silicone insert of the Omnia, or you can line the metal insert with parchment paper.
For me, the best part is the crispy edges that happen in the Omnia.  Paul and I actually have to fight over them.
Air Fryer Camping Blueberry Baked Oatmeal
Equipment
1 large mixing bowl

1 small mixing bowl

1 Omnia oven

1 air fryer
Ingredients
2

cups

old-fashioned oats

3/4

cup

milk

Dairy or non-dairy

1

cup

unsweetened applesauce

2

large

eggs

Use a flax egg if not eating dairy

1/4

cup

maple syrup or sugar-free brown sugar

2

tsp

vanilla extract

or more to taste

1 1/2

tsp

cinnamon

1/2

tsp

baking powder

1/4

tsp

salt

2

cups

fresh blueberries or frozen

fresh or frozen
Instructions
In a large mixing bowl, combine all the wet ingredients.

In a small mixing bowl, combine all the dry ingredients.

Pour the wet mixture into the dry mixture and stir until well combined.
Air Fryer Instructions
If using ramekins, grease each one with melted butter or cooking spray. If using parchment paper, line the basket

Spread half of the oat mixture into the bottom of the prepared baking dish

Layer half of the blueberries

Top with the remaining oat mixture

Sprinkle the remaining blueberries on top

Bake @350° for about 30 minutes or until the edges are golden brown. Always check while baking

Let rest 5 minutes before eating
Omnia Stovetop Oven Instructions
Either pour the batter directly into the silicone liner or line it with parchment paper

Spread half of the oat mixture into the round pan

Layer half of the blueberries

Top with the remaining oat mixture

Sprinkle the remaining blueberries on top

Bake at 350° for 30 minutes or until the edges are golden brown. Always check while baking
Notes
I like to use either almond milk or oat milk.
Breakfast or Dessert
This is a very versatile item.  It can be enjoyed with a hot cup of coffee or tea.  You can also make it for dessert after a hearty campfire meal.
One of Paul's favorite things is to top it with some nice cold vanilla ice cream to make it more of a dessert.
Finally
Whenever you want to have a hot breakfast, and you have had enough of the same old bacon and eggs, this is a great alternative.
It's a very versatile recipe, easy to put together, and even easier to bake.  
This comes out great and is really a party or family pleaser. Whether you have electric hookups for your air fryer or just want to make it out on the campfire in the Omnia Oven.
Nibbler Tip:  Always make sure that you are checking the batter while baking to make sure it is not burning.  The Omnia usually bakes at a consistent 350°, and you can set the air fryer at 350°.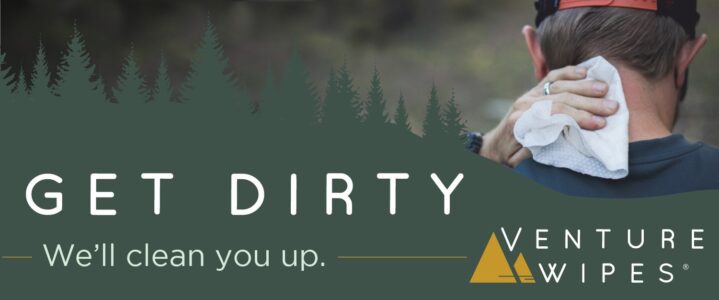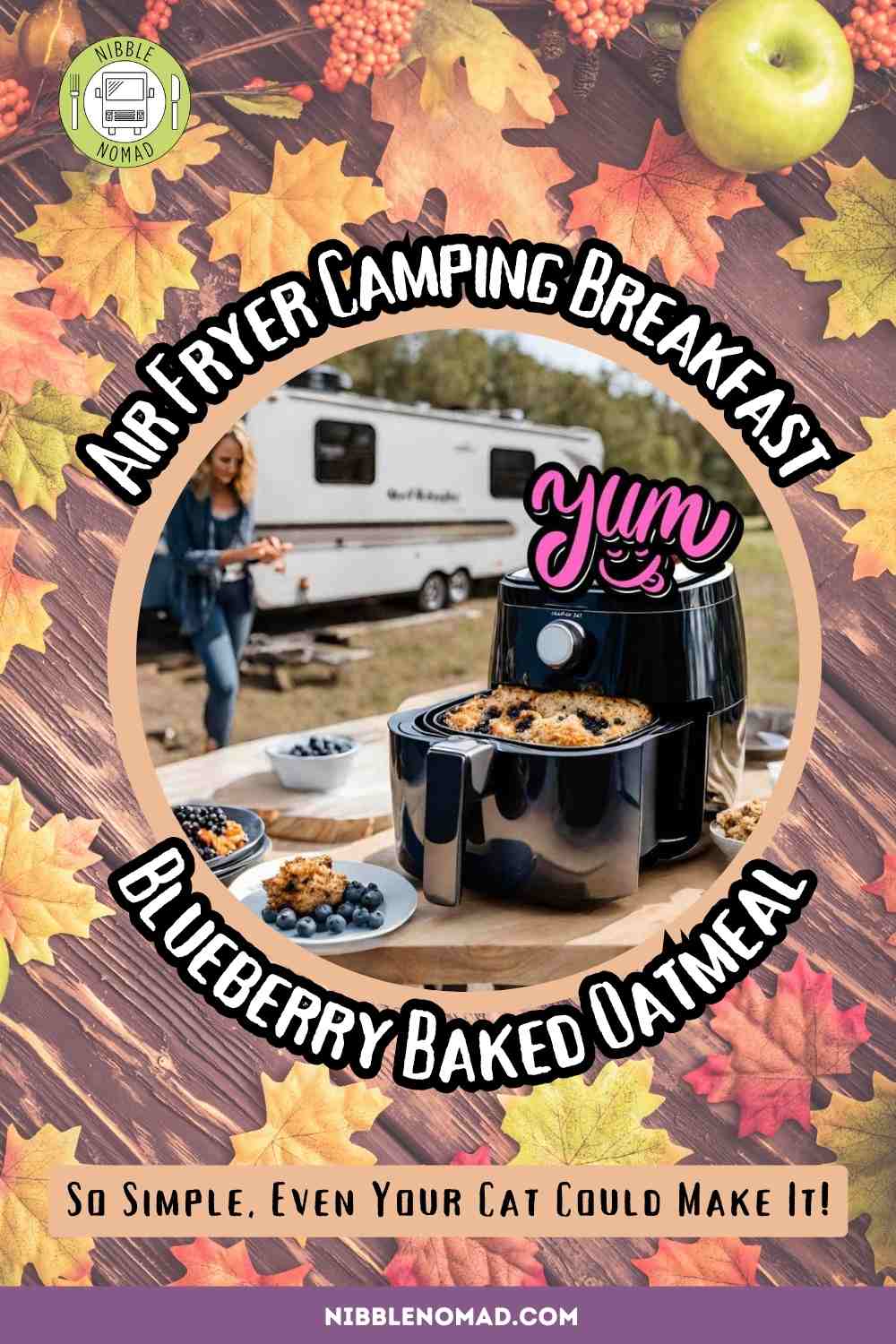 Related Post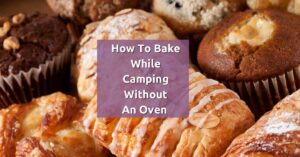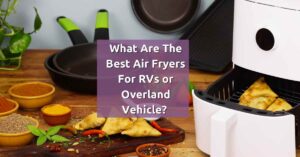 AMAZON DISCLOSURE:  This website participates in the Amazon Services LLC Associates Program, an affiliate advertising program designed to provide a means for us to earn fees by linking to Amazon.com and affiliated sites.