Air fryers are becoming the hottest thing on the planet right now. They're great for a kitchen in a home, but what about when you go camping? So, let's see the best air fryers for RVs and overland vehicles.
What is an air fryer?
How does an air fryer work? It's really just a convection oven in a smaller size.
The concept of the heat circulating inside the camber is the same as the larger convection ovens.
Here is a complete guide to understanding the workings of an air fryer. https://www.tasteofhome.com/article/what-is-an-air-fryer/
Air frying is the perfect way to bake or fry food items while you are in a small space that doesn't have a regular oven. They come in all different sizes and functionalities.
They make an excellent addition to an RV kitchen because they can have a compact design for small spaces.
When people think of air fryers, they first think of the ability to fry food, like chicken nuggets, french fries, or chicken wings.
But that is just the tip of the iceberg regarding the different foods the air fryer oven can help you with within your kitchen.
| Disclosure: Please note this post may contain affiliate links. There is no additional cost to you – we earn a commission if you make a purchase using our links. We only link to products and companies we use and recommend.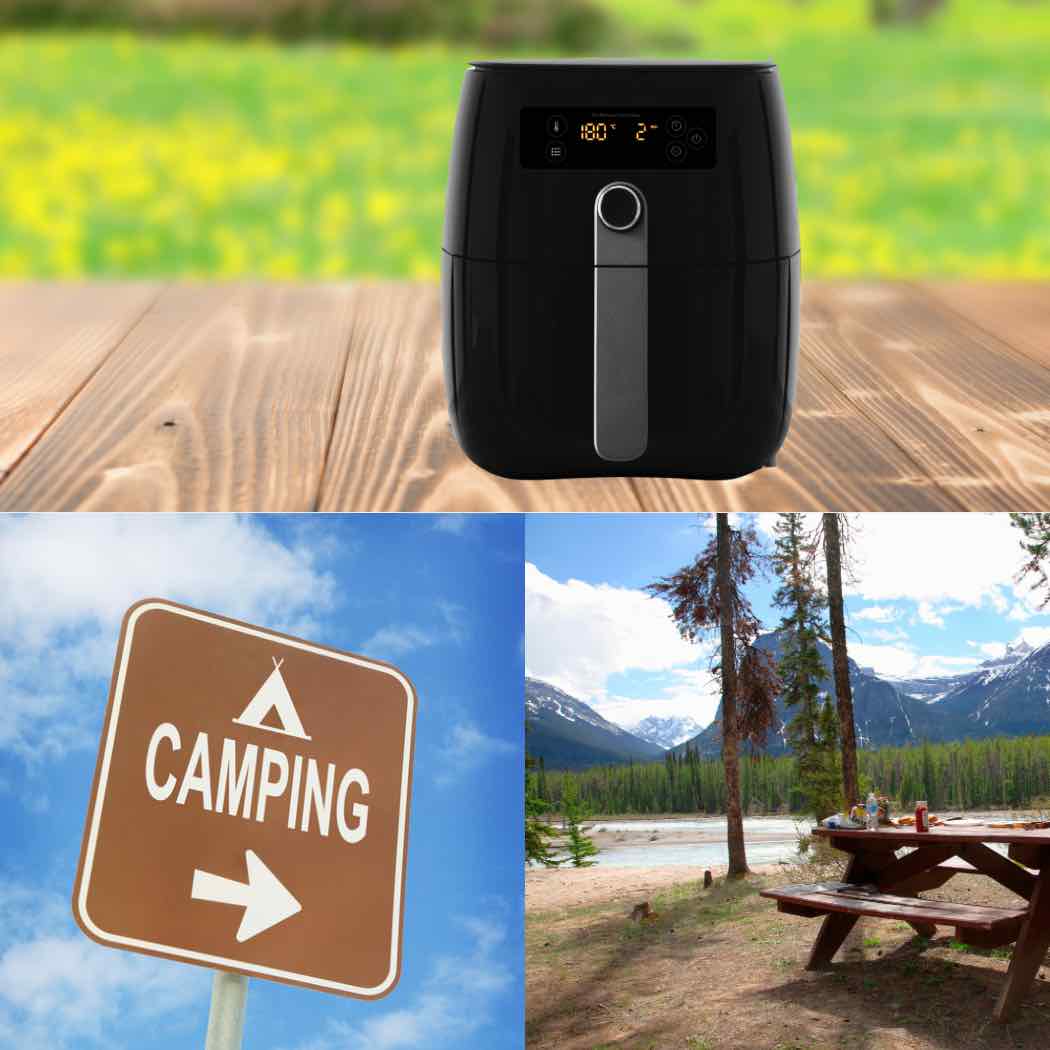 Which one is the best for your RV or overland vehicle?
I think the first thing you need to do when deciding which air fryer to purchase is to think about your individual needs for cooking or baking in the appliance.
A great way to do this is to review some recipes that you like and see if this would be something that you could cook or bake in a regular oven. But of course, most things baked in an oven can be baked in an air fryer.
The beauty of the air fryer is that it doesn't need to do any deep frying of your foods because it requires less oil.
Put your food into the air fryer basket, lightly spray some oil onto the food and choose your cooking time.
They are great for cooking and baking, but remember, they are perfect for toasting and reheating.
The ease of use of the air fryer has made it a good option for taking with you when camping.
An air fryer can be the perfect size appliance for your RV, overland vehicle, or van.
An important thing that people with nomadic lifestyles need to consider is the power consumption of an air fryer. That can be a critical concern.
Because they all come in different sizes, finding a low-wattage air fryer is easier than you might think.
When deciding which one to buy, consider these seven options.
size
cooking capacity
power requirements
style regarding having a basket or shelf
different settings
best value
digital controls or dials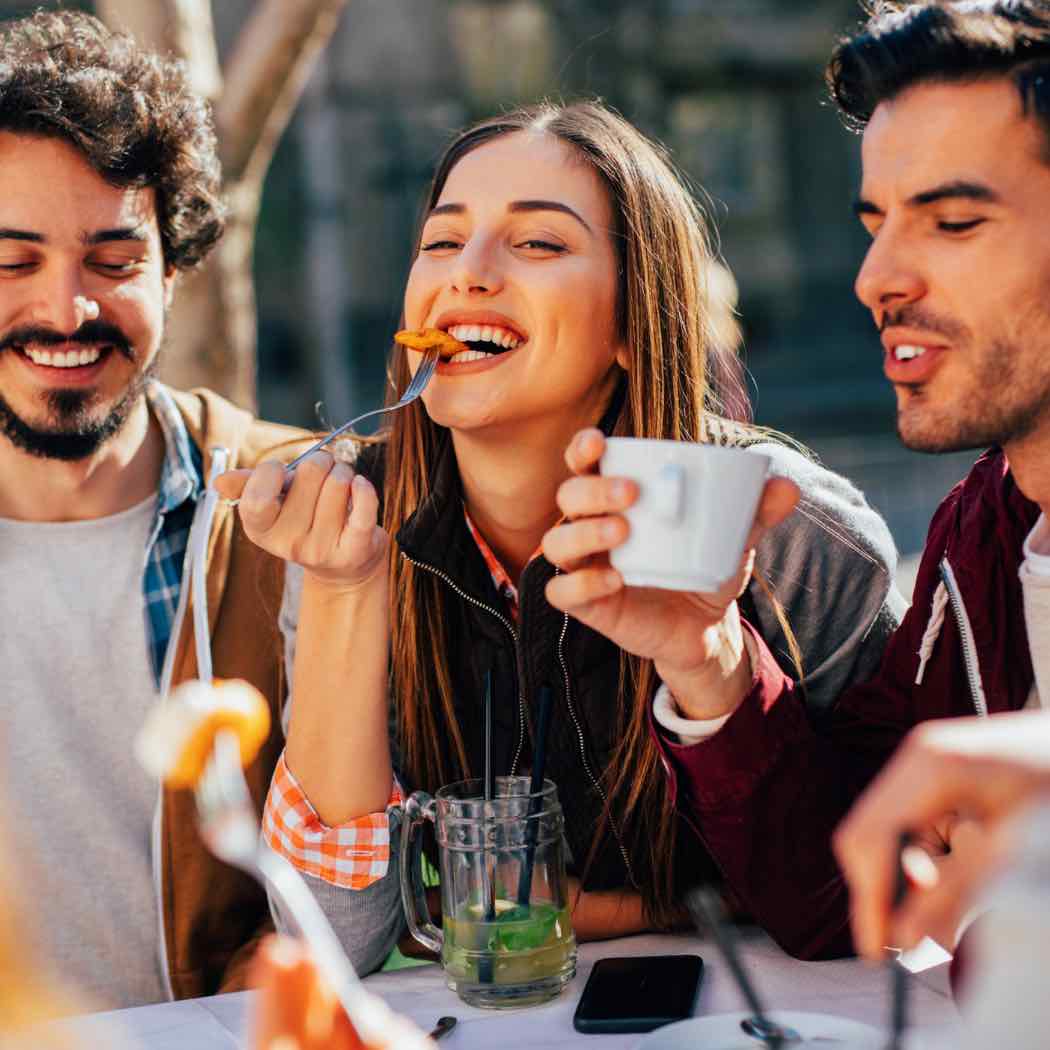 Here is our list of the best basket-style air fryers today that best fit an RV or overland vehicle.
What do I need to power an Air Fryer?
Since air fryers use 120V power, you will need a power inverter, generator, or shore power, depending on your camp style. Again, no judgment, but we prefer to be off the grid.
This power source could be from a portable power station aka, a "Solar Generator" like our Goal Zero Lithium 1500, which we've used for a few years, or a permanently installed inverter like the Xantrex 2000 installed in our van and some of the previous rigs we've had.
The "Solar Generators" offerings seem to change by the month, and many brands come and go, so keep an eye on the stable brands. We also currently own two smaller Bluetti and Goal Zero power stations for other lower power uses. Some other well-known, established brands are Jackery and EcoFlow, which our friends use.
You will need a minimum of 1000W Inverter for the smaller air fryers, and we'd recommend 2000W for the larger models, which provides a cushion when you use it for other larger draw devices; many of the larger RVs have 3000W Inverters; check yours to make sure you have the power needed.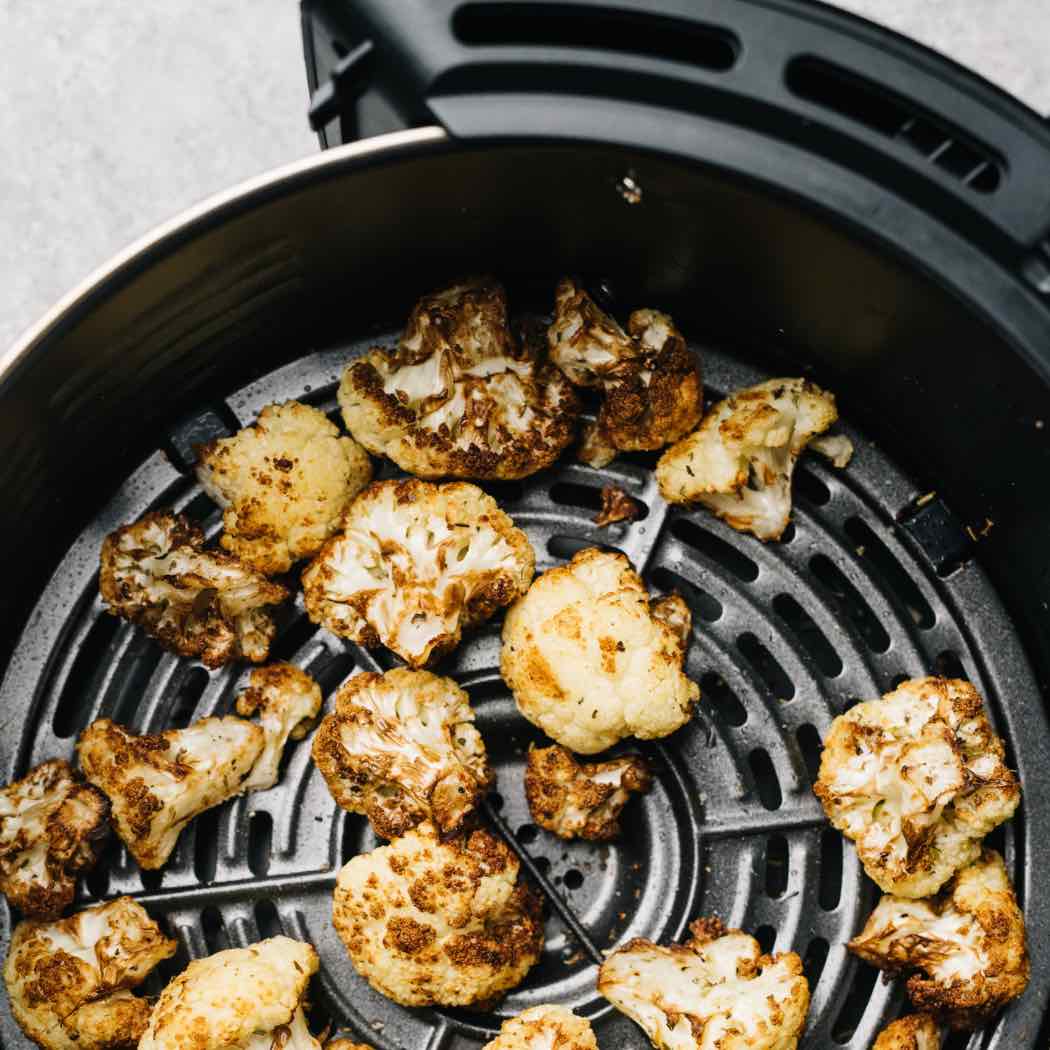 From Largest to Smallest – Here are the ones we've used or recommend.
Symdral 5.3
The Symdral 5.3 air fryer with a viewing window is said to be the quietest on the market. This air fryer has a 5.3 Qt capacity to feed 3.6 people. The viewing window allows you to watch as your food is cooking.
The stats:
9.5 lbs
120 Volts
1200 Watts
Model #SY-AF003
9.4″D X 16.5″W X 12.6″H
The 5.3 Qt air fryer has an auto shutoff, is dishwasher safe, has a timer, has an LCD touchpad, and eight modes of cooking. The maximum temperature is 400°

Corsori Air Fryer Pro LE5
The basket capacity fits a whole chicken to feed 1-4 people
The stats:
12lbs
120 Volts
1500 Watts
Model #CAF-L501-KUS
10.7″D X 10.8″W X 11.9″H
The 5 qt. Corsori Air Fryer Pro uses a touchpad for controls, has nine powerful cooking functions, rates very high in health and safety, and is quieter than most other air fryers. This air fryer can reach a maximum temperature of 450°.
**Please be aware that we checked all the models of the Corsori Air Fryers, and this is not one of the recalled models**
Instant Pot Vortex 6 in 1
This one is a 4 Qt programmable air fryer that has digital capabilities. This is our best choice for a larger air fryer.
The stats:
14.56 lbs
120 Volts
1700 Watts
Model #140-3001-01
14.92″D X 12.36″W X 12.83″H
The Instant Pot Vortex has six programmable controls, is dishwasher safe, and can dehydrate food. The maximum temperature is 400°
We've used this model almost daily in our van during our latest 11-week winter road trip; it's durable, fast, and enormous. It takes up more space than we'd like, but it's worth it for longer trips.
Utlrean Air Fryer
Here's a 4.2 Qt. air fryer with a basket large enough for a whole chicken for two-four people. Its beautiful LCD touchscreen control panel makes making just about anything on your cooking list easy.
The stats:
9.97 lbs
120 Volts
1500 Watts
Model #AF01
11.26″D X 13.21″W X 12.42″H
The Utlrean air fryer has a timer, a nonstick surface, and a maximum temperature of 400°
Ninja 4 Qt Air Fryer
The Ninja 4 qt air fryer is a great option.
The stats:
10.58 lbs
120 Volts
1550 Watts
Model #AF101
8.5″D X 12.1″W X 11″H
The basket fits 2 lbs of french fries
The Ninja 4 qt air fryer has a touchpad, has a non-stick coating, and can dehydrate foods. The maximum temperature on this model is 400°.
Chefman 3.5 Qt TurboFry Air Fryer
The next air fryer on our list is the Chefman 3.5 Qt TurboFry Air Fryer.
The stats:
10.9 lbs
120 Volts
1500 Watts
Model #RJ38-V3-DC35
11″D x 14″W x 13″H
This air fryer has touchpad controls, auto shut off, is programmable, and has a timer. The maximum temperature is 400°
Dash Digital Tasti-Crisp
The Dash Digital Tasti-Crisp air fryer is smaller than others, which doesn't use much space. It holds 2.6 Qts.
The stats:
6 lbs
120 Volts
1000 Watts
Model #DCAF150GBAQ02
11″D X 9″W X 11″H
Even though this is the smallest on our list, it has a digital display and has three presets. This air fryer is great for cooking and reheating your favorite dishes. The maximum temperature is 400°
Finally
Even though there are so many perfect air fryers to pick from, it depends on your needs.  The issue of power usage, ability to fit into your vehicle, and price are the most significant factors in deciding which is the best air fryer for your RV or overland vehicle.
No matter which air fryer you choose, the important thing is that this appliance will help you cook a healthier meal for yourself and your family without all that oil.  In addition, the speed of the fryer and the easy clean-up will help you have less time spent cooking and more time enjoying your meal.