Are you thinking of going on a camping road trip? What's better than some easy camper van or RV meal ideas for the road?
Remember, these are not recipes; they are just ideas to help you come up with some easy meals.
Let's dive in and see some good ideas.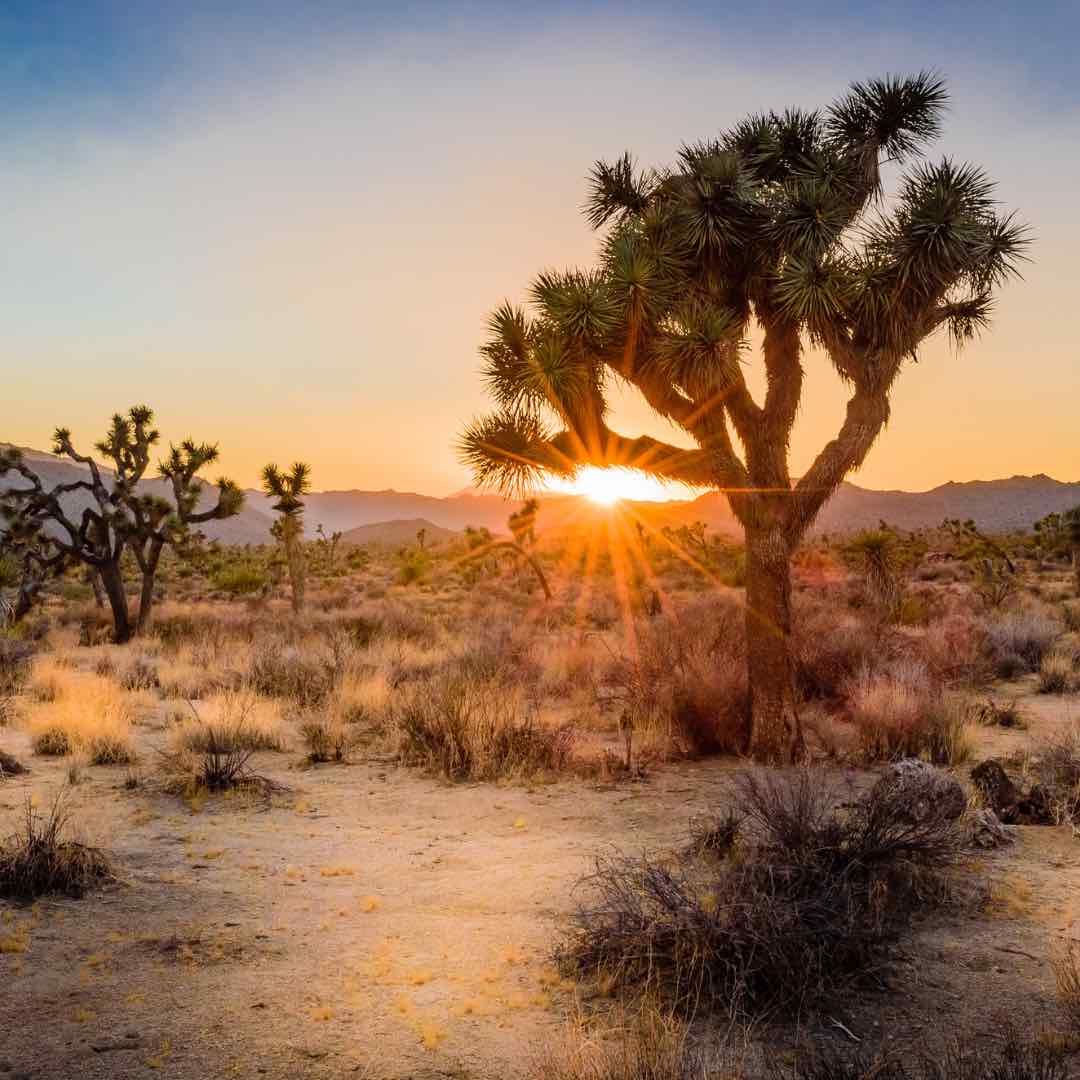 Why make easy meals on the road
I think the main reason that it makes more sense to create easy meals on the road is that you most likely have limited space.
What is worse than preparing a meal and having to start playing a game of Tetris in your tiny kitchen? This is the only way to be able to have all the simple ingredients and be able to prepare them for your meal.
The next reason would be to use your time more efficiently. Who wants to prepare an elaborate meal when the rest of your family and friends are out having fun on an adventure or simply enjoying the campfire?
One of my favorite reasons is that I don't have to bring or use any specialized equipment to prepare complex recipes. Basic cooking tools and a portable stove or grill should do it. This, of course, will reduce your clean-up when you're done eating.
| Disclosure: Please note this post may contain affiliate links. There is no additional cost to you – we earn a commission if you purchase using our links. We only link to products and companies we use and recommend.

The easier the meal to make in your camper van or RV, the better for food waste. When we all have a tiny kitchen, there is probably limited space for food storage. That is why a simple meal idea can be more cost-effective. You don't have to worry as much about all the food you would normally bring for an elaborate meal. Simple meals usually rely on staples and versatile ingredients.  
Now, the reason that a lot of nomadic travelers want to make quick and easy meals on the road is to be able to save on the amount of energy usage. Easy meals are designed to be more energy-efficient.
Of course, the real main reason to make easy camper van or RV meals to bring on the road is to be more relaxed and enjoy the reason you went camping in the first place: the great outdoors.  
Stop making elaborate meals and enjoy nature and all it has to offer.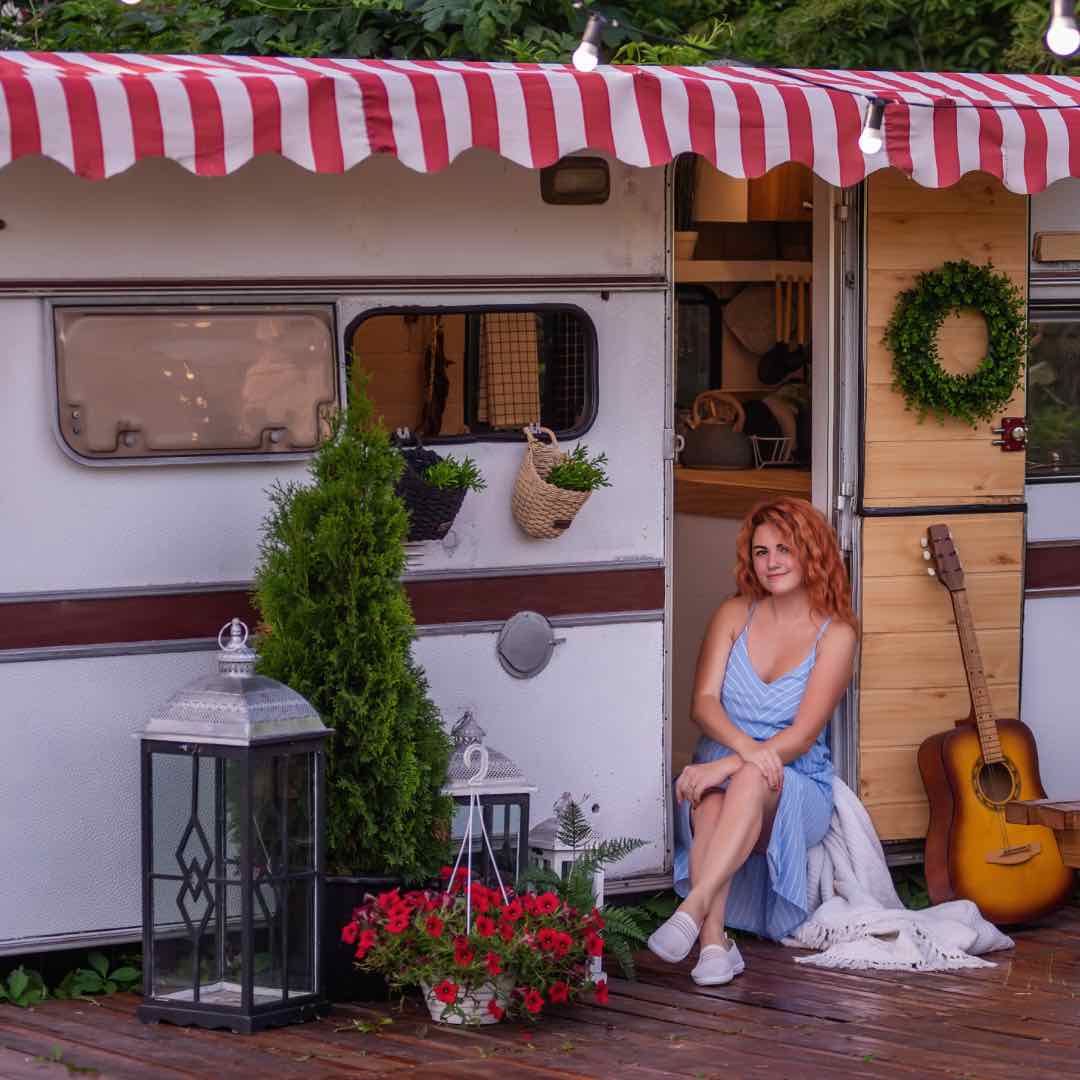 Hot or cold weather doesn't matter.
Whether you are camping in hot or cold weather, you can still make all your meals quick and easy.
From a simple peanut butter and jelly no-cook meal to a nice hearty soup or stew, there are lots of ideas to make your life easier.

Classic easy meals
Some of my favorite meals to make in a camper van or RV would be the ones that I grew up with.
Like making a classic grilled cheese sandwich and serving it with a can of soup, this brings back lots of family camping memories and puts a smile on my face.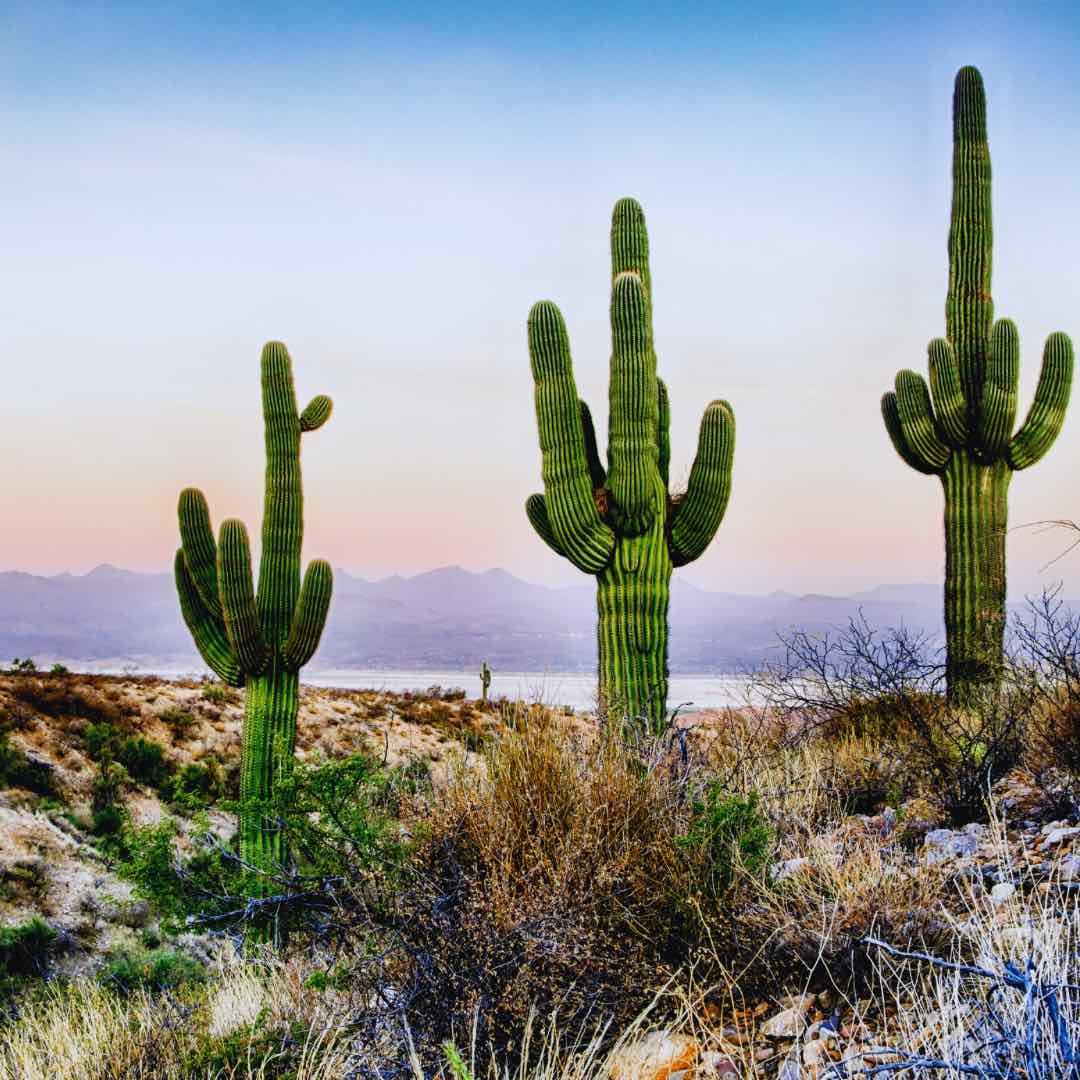 The best part about making a grilled cheese sandwich in a camper van is that you can make them in an air fryer on the stove or over an open fire.
Just place the sandwich into the air fryer or in a frying pan for a few minutes and then flip it.  
I like to spice up the traditional sandwich with some tomatoes or a little hot sauce.
A baked potato is always a favorite great option in my household. Just wash and dry a single potato. Poke some holes in the potato and wrap it in aluminum foil. Place it over an open fire or in your Omnia oven. Check them for firmness and top with some butter, sour cream, chives, and grated cheese.  
My mom used to make what she called Hobo pockets. She would put diced potatoes, veggies, and some chicken or sausage into foil and put them on the campfire. When done, she would put them in pita pockets with all different sauces on them. What a great memory!
Hot meals on a cold night are incredible.
I am not usually a cold-weather camper, but sometimes it can't be helped. So, on those occasions, I like to add some warm weather easy meals that take only a few minutes to my packing lists.
A cozy one-pot pasta meal is always a family favorite. The best way is to put your dry pasta and favorite veggies into the pot together to cook and then add some protein, like chicken, sausage, or tofu. Top it all off with your favorite sauce.
One of our favorite cold-weather meals is to make a big pot of rice and beans. Just prepare a pot of rice and then add some canned black beans, diced tomatoes, and spices. This makes a hearty, filling meal on a cold night.
Whenever my sister goes camping, she always brings a mix of vegetables and a protein and stir-fries them in a pan with some soy sauce. Wow, now that's a quick and easy hot meal.
I got an idea from a neighbor once: to take pita bread and use it as a quick and easy pizza crust. Top the pita with tomato sauce, cheese, and your favorite pizza toppings. When the cheese is all bubbly, then it's done. It's unbelievable how much the pita bread tastes and looks just like a pizza crust.
3 Ingredient meals for cold weather
Cold-weather camping is not for everyone, but when you do, it's always nice to have a couple of easy meals that can be thrown together super fast.  
My daughter used to like it when I would mix instant oatmeal with some hot chocolate powder. Pour hot water over it and let it sit for a minute or two. A nice, warm, comforting breakfast is always nice to start your day.
Another easy one is to prepare instant ramen noodles and add a poached or soft-boiled egg for protein. Who doesn't like a nice hot bowl of noodles?
The easiest, of course, is to make a big pot of pasta with sauce. Don't forget to add some spinach to your pasta and boiling water. It cooks the pasta and the spinach at the same time. This is a great way to get your greens in.
You can always add olive oil and crushed garlic to your pasta and spinach pot if you want to avoid red sauce.
A quesadilla was one of my daughter's favorites and was actually one of the first things she ever learned to make. Add ham and cheese to two tortillas, and you have a whole meal. Don't forget that you can fold it up so the cheese won't leak out and put it into your air fryer for quick cooking.
My favorite memories from living in New Jersey and going to the Jersey Shore are sausage and peppers on a roll. Just slice everything up, cook it all in one pan, and just put it all on rolls. That's it, and it is sooooooo good. 
Soups and Stews
After a long day exploring, these are the easiest things to make in a small space with limited equipment, like a camper van. They make a great meal on a great camping trip.
I think vegetable soup is one of the fastest soups to make. All you have to do is grab whatever vegetables you have in your fridge or cooler. Throw them into a big pot, add some spices, and have a wonderful, hearty hot meal.
Chicken noodle soup is always a family favorite. Just add some canned chicken or rotisserie to some broth or stock and some egg noodles to make it easier. You can add some vegetables if you would like. They could give you a lot more flavor.
A wonderful traditional Italian soup like minestrone is so easy to make that you will find yourself making it for every camping trip. Mix some vegetables, pasta, and beans with a tomato-based broth, and your meal is done. Add a nice loaf of crusty bread, and you get all the flavor without all the effort.
Beef stew makes a really hearty hot meal on a cold night. Make the chunks of stew meat golden brown. Add onions, carrots, and broth. Simmer until meat is tender and dig in. Grab some good bread and enjoy!
An excellent creamy mac and cheese can really make for a wonderful meal. Comfort food is always a winner when you are camping. Add some breadcrumbs or crispy bacon for extra texture.
Breakfast can be a fast camper van meal idea too
Regarding breakfast, it doesn't have to only be cold cereal or scrambled eggs.
A frittata sounds a little challenging but is super simple to make. Whisk together eggs, cheese, and some vegetables. Cook it in a stove frying pan or a cast iron skillet over an open fire. You can really add anything you want to make it taste great. I like to throw a tortilla on top in the skillet for the last minute to give it a warm base.
A nice, quick, family-pleasing breakfast is a yogurt parfait. Layer yogurt, granola, and canned or fresh fruit. This is a great way to get some good protein for a day full of adventures.
A hearty breakfast burrito is an excellent way to make something that you can take with you as you start your day. Scramble eggs, add cheese, cooked bacon or sausage, and some salsa. Just wrap them in foil and put them on a grate over an open fire until the cheese melts.
I always order a loaded next-level avocado toast at a restaurant, so why not make it yourself? Mash an avocado on the toast and add a slice of tomato, chopped spinach, and some salt and pepper. I also like adding a little Everything Bagel topping for an extra burst of flavor.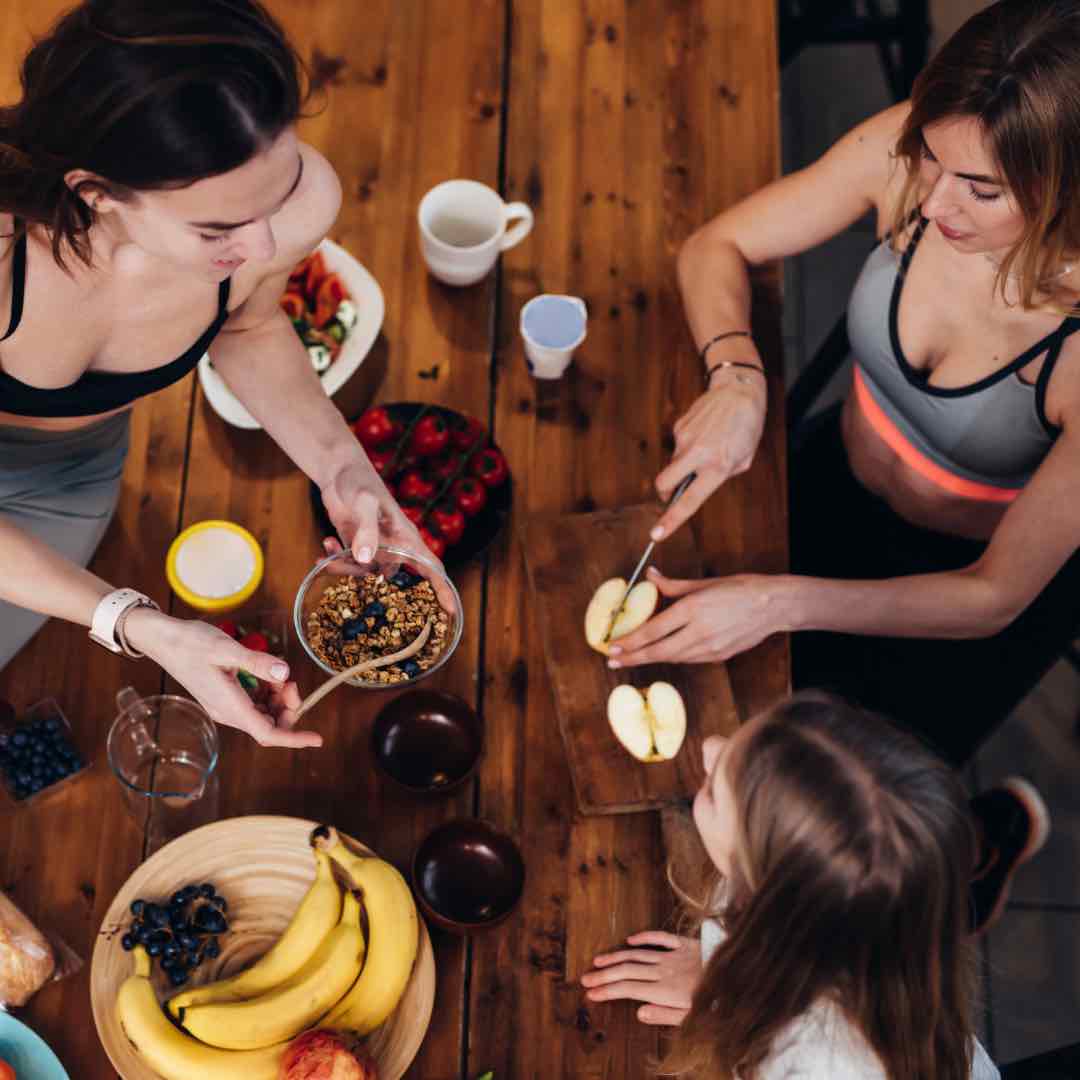 Finally
Try to remember that the reason that you went out camping in your van or RV on a road trip was to explore the outdoors and have a relaxing time. 
You might not think about it, but good food really makes a camping trip turn out great.
All of these delicious meal ideas have ingredients that are easy to buy when you go grocery shopping. They give you a great way to make good meals much faster than normal.
Grabbing a couple of these ideas to take with you on your next camping trip might give you more time to enjoy the area you are camping in.
Nibbler Tip: Remember that

Chat GPT can help you with meal ideas

. Just tell it the ingredients you have, and it will give you ideas.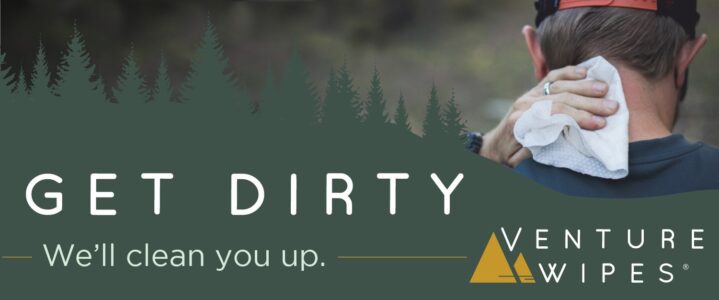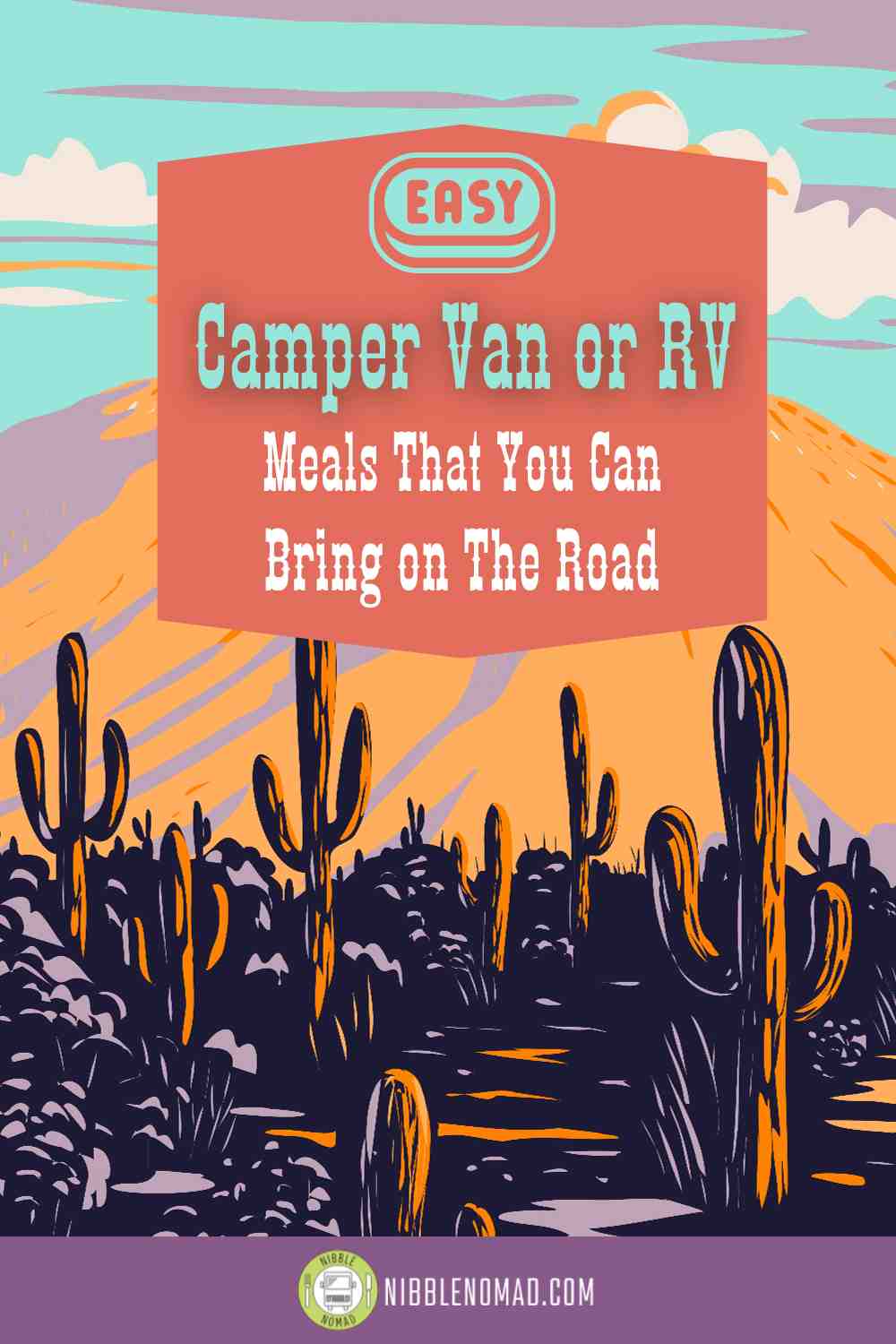 Related Post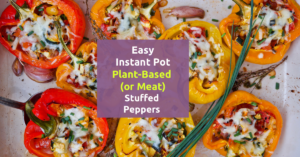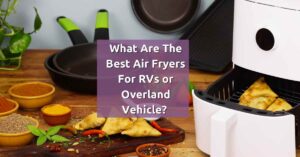 AMAZON DISCLOSURE:  This website participates in the Amazon Services LLC Associates Program, an affiliate advertising program designed to provide a means for us to earn fees by linking to Amazon.com and affiliated sites.