Making smoothie bags for the freezer is a convenient way to have a quick and healthy breakfast option.
Freezer smoothie bags offer several benefits, making them convenient for an enjoyable camping trip.
What is a freezer smoothie bag?
A freezer smoothie bag is a great way to prepare a great breakfast option.  
Putting all your ingredients into a freezer bag makes making a healthy smoothie while you are out camping so simple.
These bags usually contain frozen fruits, vegetables, and other ingredients that are easy to blend together while at your campsite.
| Disclosure: Please note this post may contain affiliate links. There is no additional cost to you – we earn a commission if you purchase using our links. We only link to products and companies we use and recommend.

Putting a freezer smoothie bag together
You first want to select your favorite fruits, like berries, bananas, and greens, like spinach or kale.
I like adding yogurt, protein powder, seeds, and many other flavors. I add some ingredients that Paul is unaware of to make it healthier.
The next thing you do to prepare your smoothie bags is wash and chop your fruits and vegetables.   Remember that the type of blender you use will determine how big you cut the fruits and vegetables. We use a Vitamix, so I barely have to cut them up at all.
The last thing I do to my freezer smoothie bags is place all the ingredients into freezer bags. Don't forget to label the bags to identify what is in the bag.
When it's time to have a morning smoothie, drop the contents into a blender. Add your choice of liquid (water, juice, milk, or non-dairy alternative). Blend until smooth.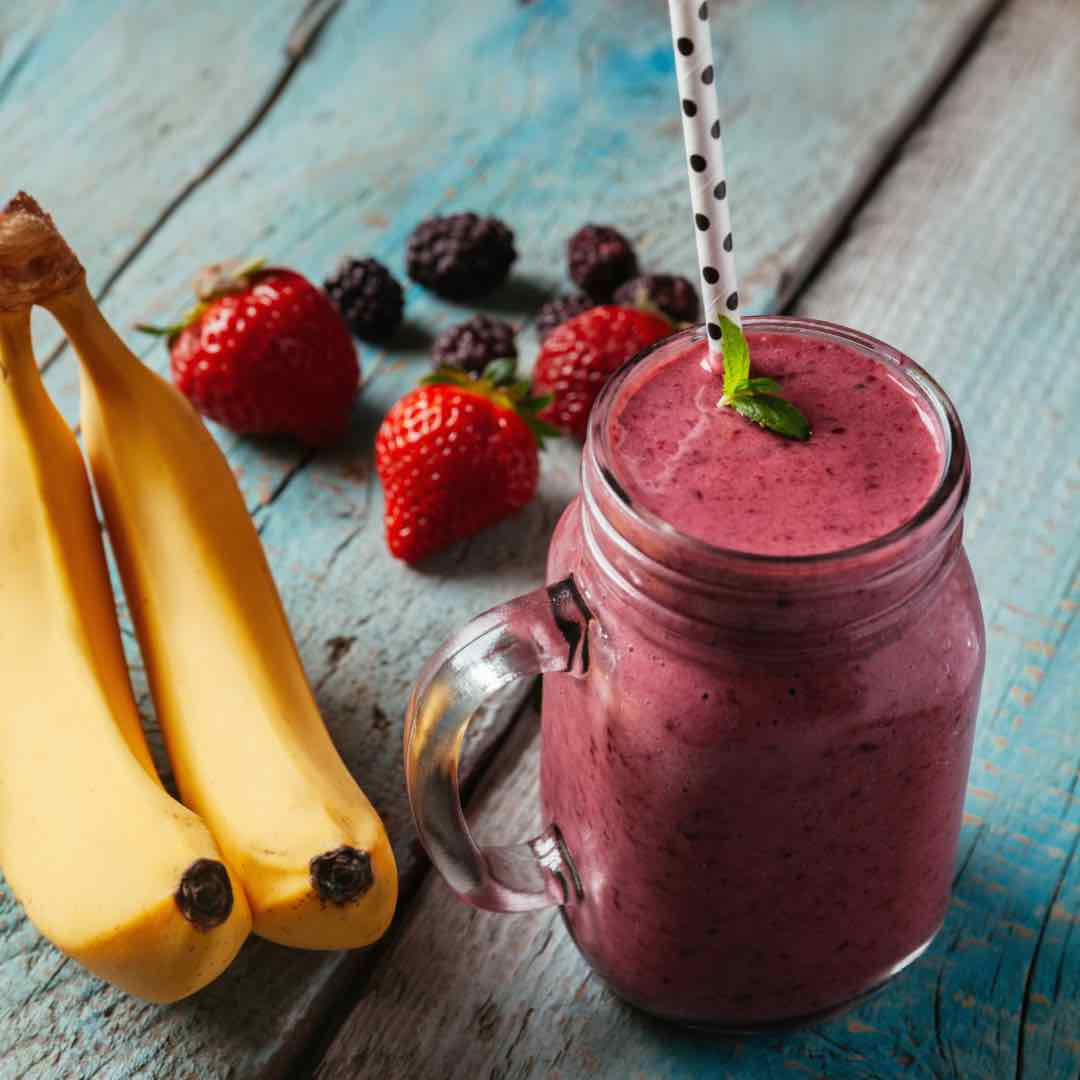 What are the benefits of freezer smoothie bags?
Time-saving convenience – Freezer smoothie bags are a great way to have the option of an excellent healthy breakfast or snack. By creating these bags ahead of a camping trip, all you have to do is drop them in a blender and go. 
Reduces food waste – These bags are an efficient way to use fresh or frozen ingredients that might otherwise go to waste. The more ripe a piece of fruit is the sweeter the flavor.
Customizable – I know you are probably saying that I can buy frozen smoothie bags in the freezer section of the store. That is true, but if you make them up yourself, then you are sure about the ingredients that are added. 
Less cleanup – with freezer smoothie bags because the mix goes from the bag into the blender, and that's it—one thing to clean. 
The importance of the ingredients
There are some ingredients that you can add to a smoothie that will really give you a big bang for your buck.
Here are some of the healthiest ingredients for your freezer smoothie bags.
Leafy greens – Spinach, kale, and Swiss chard are an excellent source of vitamins, minerals, and antioxidants. They have a lot of fiber while remaining low in calories.  
Berries – Blueberries, strawberries, raspberries, and blackberries all have a lot of antioxidants. They also can support heart health and brain health.
Bananas are a great source of potassium and fiber and provide a natural sweetener. They help give your smoothie a nice creamy texture.
Yogurt – This is high in protein, probiotics, and calcium. By adding yogurt, you are adding that creamy element again.
Avocado – An avocado added to your smoothies brings some healthy fats. It also adds plenty of vitamins and minerals, like potassium, folate, and vitamins K, C, and E.
Chia seeds – These little chia seeds are a fantastic source of fiber, omega-3 fatty acids, and protein. 
Nuts and nut butter – Almonds, walnuts, and peanut butter are good healthy fats, protein, and fiber sources. They also add a great taste to your smoothie.
Flaxseeds – When these flax seeds are ground, they provide omega-3 fatty acids, fiber, and antioxidants.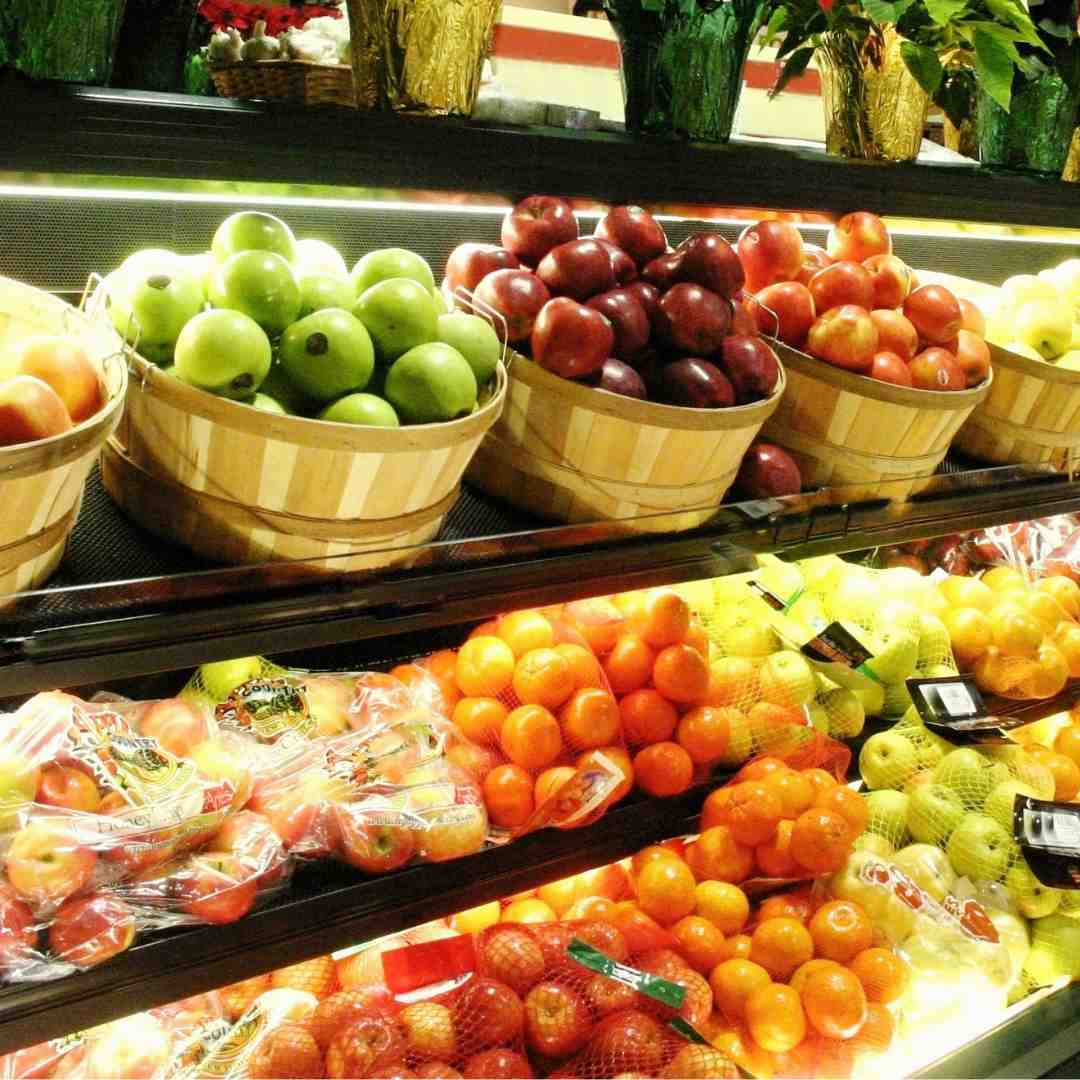 Some easy freezer smoothie bag recipes
These easy recipes are just added to the freezer bag and blended when wanted.
Berry Blast – 1 cup mixed berries, one banana, 1/2 cup Greek yogurt, 1 Tbsp honey (optional)
Tropical Delight – 1 cup mango chunks, 1/2 cup pineapple chunks, 1/2 banana, 1/2 cup coconut milk
Green Machine – 1 cup spinach or kale, 1/2 banana, 1/2 apple, 1/2 cup almond milk, 1 Tbsp chia seeds
Peanut Butter Power – 2 Tbsp peanut butter, one banana, 1/2 cup oats, 1/2 cup almond milk
Chocolate Banana Bliss – 2 ripe bananas, 2 Tbsp cocoa powder, 1/2 cup Greek yogurt, 1/2 cup milk
Very Berry Spinach – 1 cup mixed berries, 1 cup spinach, 1/2 cup Greek yogurt, 1/2 cup orange juice
Mango Peach Medley – 1 cup mango chunks, 1 cup peach slices, 1/2 cup Greek yogurt, 1/2 cup water
Strawberry Kiwi Surprise – 1 cup strawberries, two kiwis, peeled and sliced, 1/2 cup coconut water
Almond Joy – 1/2 cup almond butter, 1 banana, 1/4 cup shredded coconut, 1/2 cup almond milk
Oatmeal Cookie Smoothie – 1/2 cup rolled oats, one banana, 1/4 cup Greek yogurt, 1/2 cup almond milk, 1 tsp cinnamon
These ideas of freezer smoothie bags are so easy for camping. Place all the bags in your freezer or in a cooler. Take one out, add a liquid, and blend right at your campsite. Quick and easy for a refreshing and nutritious breakfast.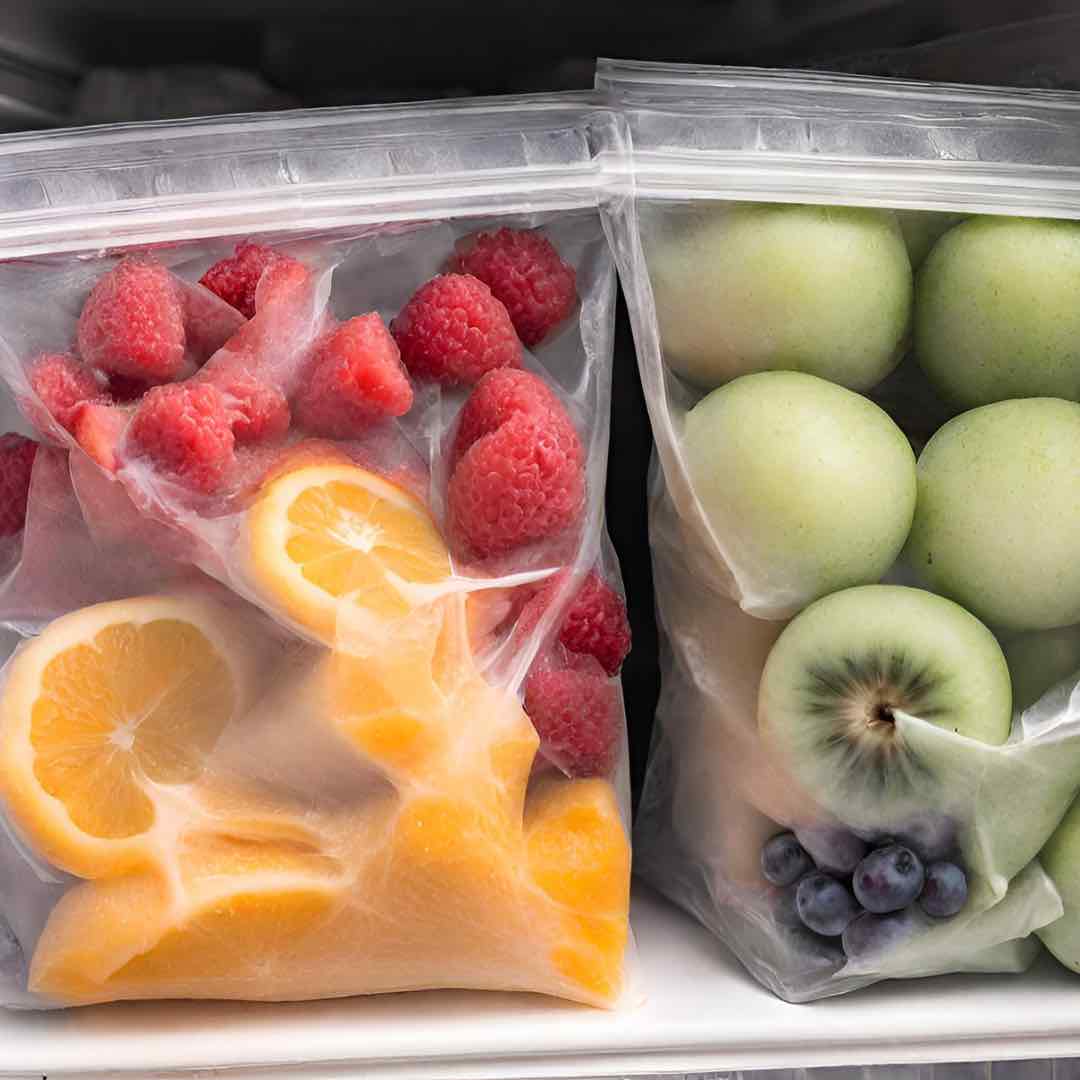 Finally
Remember that the healthiest smoothie ingredients are the ones that align with your dietary preferences and nutritional goals. A well-balanced smoothie should contain a variety of items from different food groups to provide you with a smoothie packed with nutrients to start your day of camping adventures.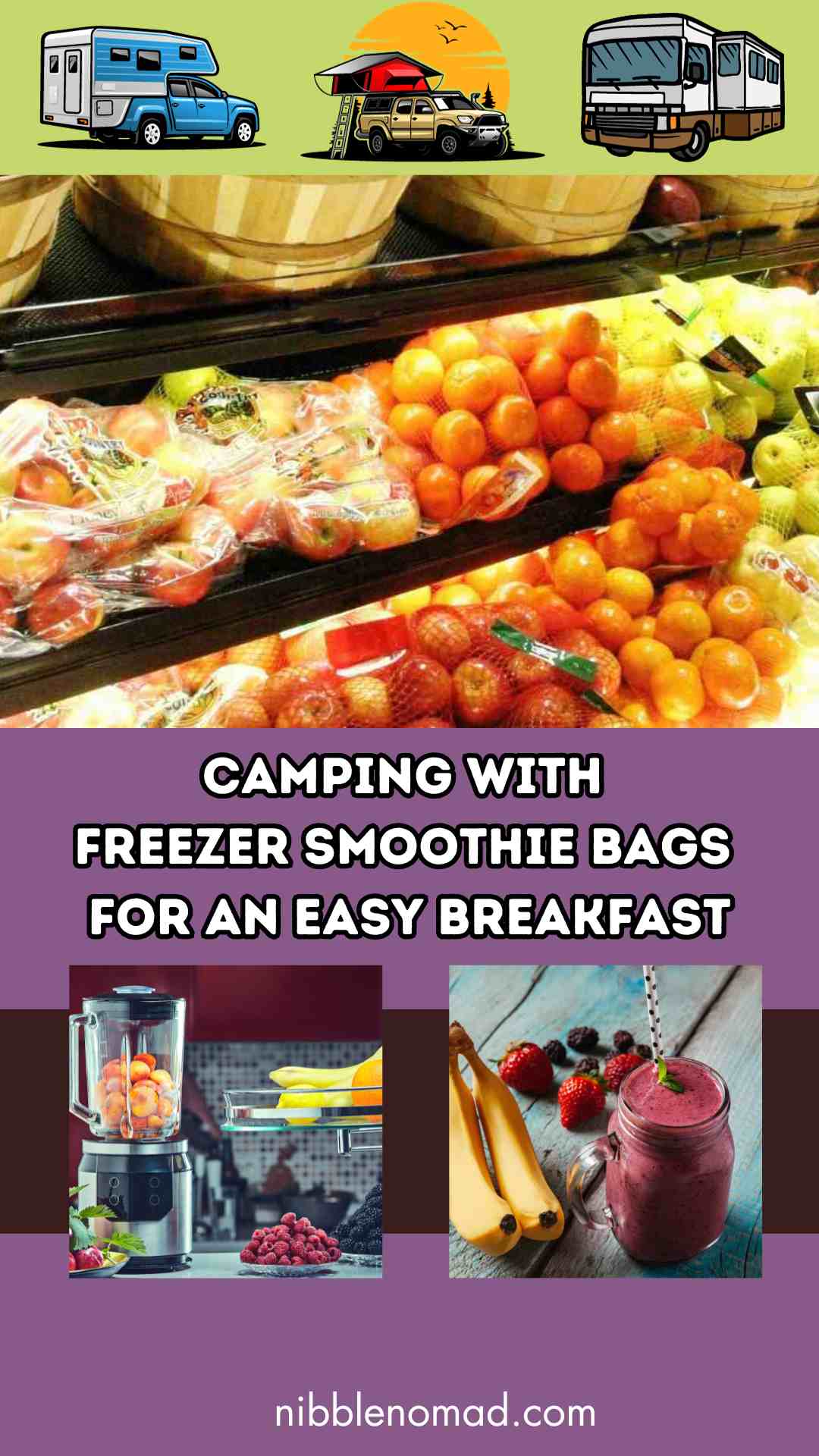 Nibbler Tip: Don't forget your labels when making your frozen smoothie bags. Besides the description of what is in the bag, don't forget to add a date the ingredients were put together.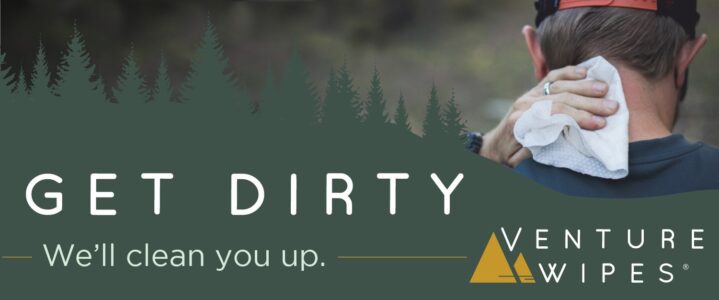 Related Post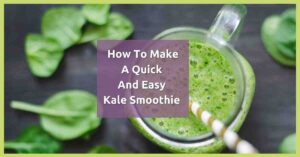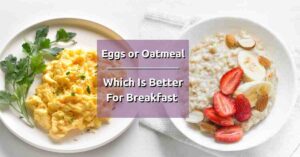 AMAZON DISCLOSURE:  This website participates in the Amazon Services LLC Associates Program, an affiliate advertising program designed to provide a means for us to earn fees by linking to Amazon.com and affiliated sites.