When you are visiting the desert of Southern California, check out all the food near Joshua Tree National Park.  
Joshua Tree, California, is in the middle of nowhere and is known for its stunning desert landscape and is the home of Joshua Tree National Park.  This is a very popular destination for outdoor enthusiasts. 
The town of Joshua Tree is small but has some really great places to eat outside of the national park.
Whether you're fueling up for a day of hiking in Joshua Tree National Park or looking for a relaxing evening out, here are a couple of the best places to eat in and near the high desert of Joshua Tree.
The history of Joshua Tree, California
The area has years of history of Native American heritage.  
The park is home to many indigenous tribes, including Chemehuevi, Serrano, and Cahuilla people. 
These Native American tribes relied on the Joshua tree for food, clothing, and shelter.
In the 18th century, the Spanish explorers established the Old Spanish Trail.
American settlers began moving into the region in the late 1800s.
Joshua Tree was originally a cattle ranching area in the 20th century.
President Roosevelt designated it as a National Monument in 1936. It became a National Park in 1994.
The town of Joshua Tree is known for its natural beauty and outdoor recreation. It has been used as a backdrop for many Hollywood movies.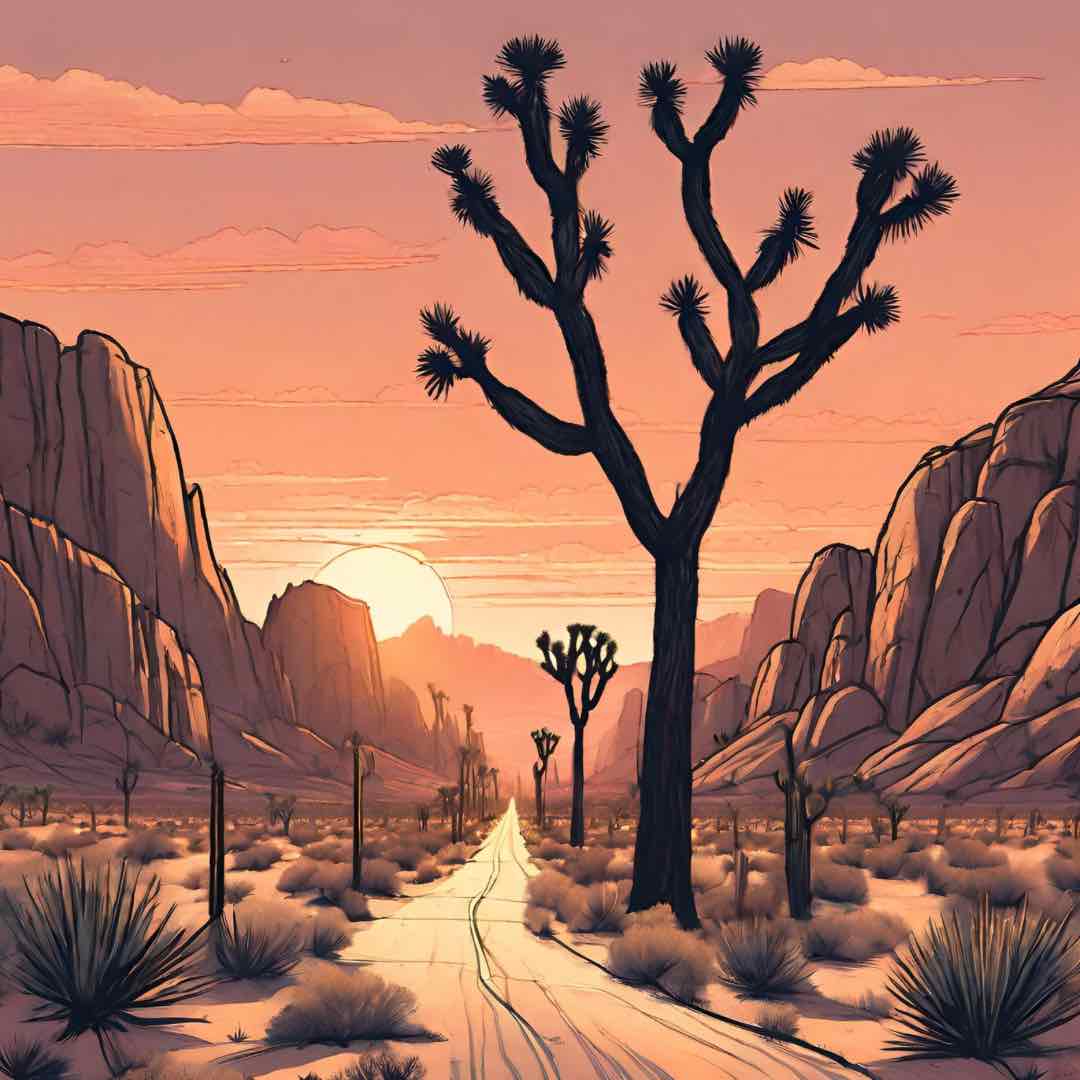 | Disclosure: Please note this post may contain affiliate links. There is no additional cost to you – we earn a commission if you purchase using our links. We only link to products and companies we use and recommend.

What the weather is like
Joshua tree is in the California Desert, so it has a typical desert climate.
Fall (September to November) is the most popular time to visit Joshua Tree due to the milder temperatures. It can range from the 70s to the 90s, with nights in the 40s to 60s.
Winter (December to February) is generally mild and sometimes quite cool, especially at night. Temperatures are in the 50s to 60s and 30s to 40s at night.
Spring (March to May) is another popular time.  The days are starting to warm up from the 70s to the 90s. Nights are milder with ranges from 40s to 60s. This is the wildflower blooming season.
Summer (June to August) is the hottest time in Joshua Tree.  Days can get as high as 100° to 110°, with nights only dropping from the 70s to the 80s.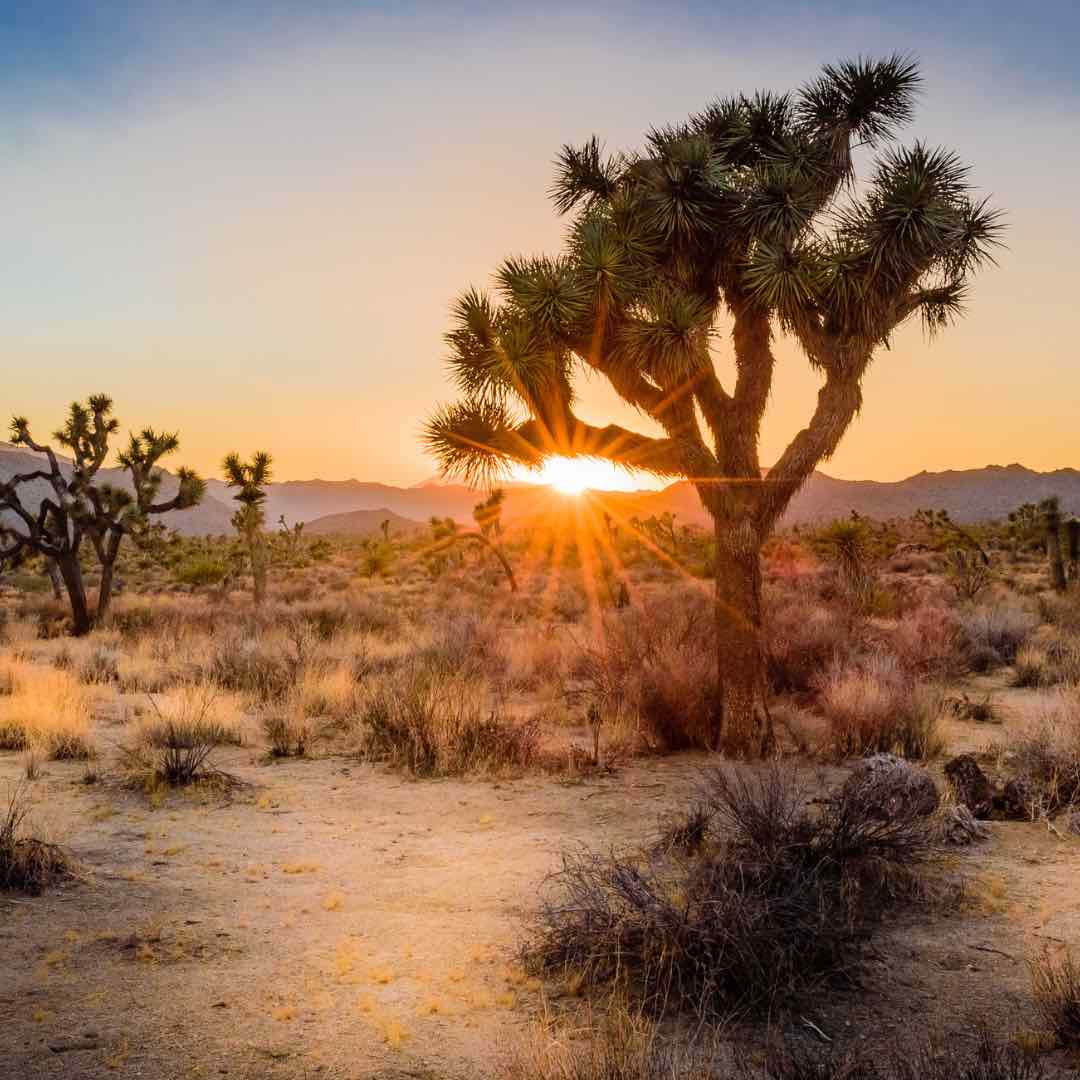 Let's find some food near Joshua Tree
Joshua Tree, California, is known for its stunning desert landscape.  It has a lot of really unique places to eat with the best food in town and friendly staff. Please remember that Joshua Tree is a small town, so check for limited hours or closure on certain days. Here are a couple of the best restaurants in town. Most of the restaurants are on the main Palms Hwy.
Breakfast
Crossroads Café – This place is known as the best breakfast in town.  Its creative spins on diner classics make it a great place to start your day.  The café offers both vegetarian and vegan options.
Joshua Tree Coffee Company – If you're looking for organic coffee, this is a great place for you.  They offer good food like pastries and light breakfast options. If you like the coffee, take some with you in your camper van or RV. Check out some of the work of local artists as well.
JT Country Kitchen – This is the longest continually running restaurant in Joshua Tree.  A perfect place for a quick breakfast with home-cook'n for your soul.
Lunch
Natural Sisters Café – Check out this little fresh juice and organic coffee place.  It's the perfect spot for sandwiches and salads, all in a great vegetarian venue. This is an amazing lunch spot.
Pie for the People – This is a pizza place that gives you the ability to create your own hand-tossed pie for pizza lovers.  They have a fantastic selection of very unusual toppings to choose from. Vegetarian and vegan options are available. This is our favorite place.
La Palapa –  This is a family-owned authentic Mexican cuisine spot that serves traditional Mexican dishes, including tacos, enchiladas, and burritos. They also offer outdoor dining.
Dinner
Joshua Tree Saloon – This awesome place is in the heart of the town of Joshua Tree at the end of the main street on your way out of town towards the park entrance to the National Park.  It's a casual and friendly Western-themed restaurant with burgers, steaks, seafood, and sandwiches.  A quirky place with darts, pool table, and an old-western vibe.
Royal Siam Cuisine Thai Restaurant – Craving Thai flavors in the desert? This is a great place for Thai standards like noodle stir-fries, and some Chinese options as well. They have meat, vegetarian, and vegan options for you to choose from. 
Pappy & Harriet's Pioneertown Palace – Near Joshua Tree is the town of Pioneertown.  Pappy & Harriet's Pioneertown Palace is a legendary restaurant and live music venue that's a must-visit for anyone passing through Joshua Tree. This place has been around for decades.  They serve BBQ, have live music performances, and offer a large vegetarian and vegan menu.  
Joshua Tree Health Foods is a great place for those with dietary restrictions.  It offers a selection of organic groceries, supplements, and a small cafe with healthy meal options like smoothies and salads.
How to find great food in the Joshua Tree area
There are plenty of ways to find good places to grab a bite to eat or sit down for a wonderful meal after a long day of adventuring in the National Park.
One of the best ways is to grab one of the local publications in town to look for coupons or deals on local fare.
It's always fun to ask local shopkeepers what their favorite restaurants are and what they find to be the best off-the-beaten-path places in the area.
Don't be afraid to try something new.  Whenever Paul and I go into a new area, we like to check out all the unique, quirky places that really make the town what it is.
Always check out times of operation and menus online if possible to see if what they are serving is going to offer something for everyone.
Some places require reservations, so don't forget to plan ahead because wait times at some of these restaurants can be long.
Try to explore beyond the main strip.  There are always some really cool-unique restaurants down some of the side roads that really give you the feel of the Wild West.
Camping in Joshua Tree
I think the best way to experience a new area is to stay there for a couple of days.  There are a couple of hotels or AirBnBs in the Yucca Valley area, but I like to go there with our camper van and camp either in one of the many campgrounds or dispersed camping in the wild.
By spending a week or even a couple of days really gives you the opportunity to experience the park's unique desert landscapes and stargazing opportunities.
Although dispersed camping is not allowed inside the park, there are plenty of other options for staying a couple of days in the area.
Campgrounds in Joshua Tree National Park often fill up quickly, especially during the fall, winter, and spring. So just like the restaurants in this very popular area, reservations are suggested. Some of the campgrounds are also on a first-come, first-served basis.
Some of the campgrounds have full hookups, and some of them are more dry camping.  Dispersed camping is not allowed in the park itself, but there is plenty of BLM land all around the National Park.
Remember that desert environments can be harsh, with extreme temperatures, limited water sources, and unique challenges.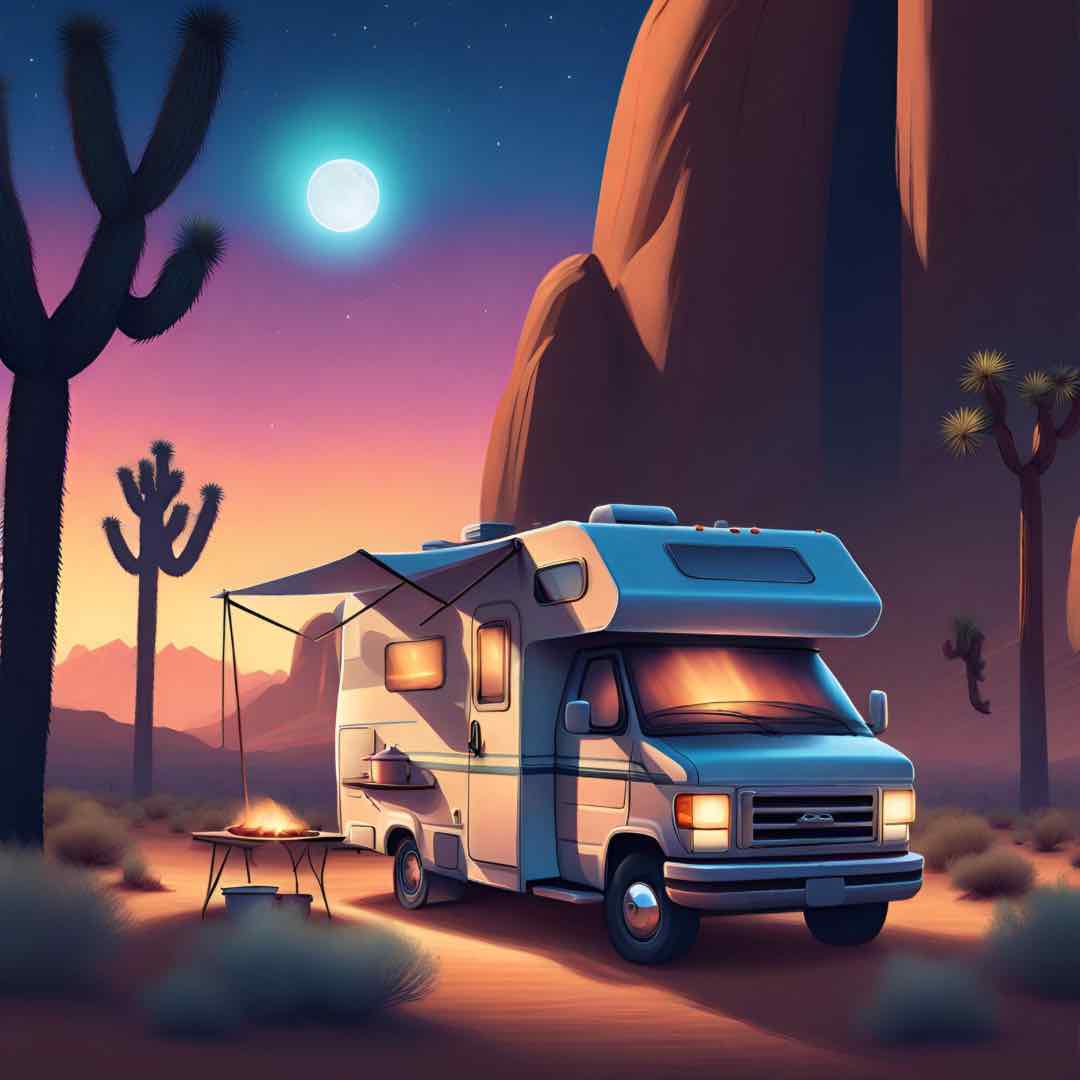 Finally
Spending time in the Joshua Tree National Park area is a great way to really immerse yourself in a unique desert environment.  The Joshua tree itself is quite a unique tree and has been standing strong for many many years.  
Taking our camper van into this area gives us the ability to really explore and find all the cool things that a desert offers.
Nibbler Tip:  Always make sure you have plenty of water for your stay in the desert, as dehydration can happen very quickly.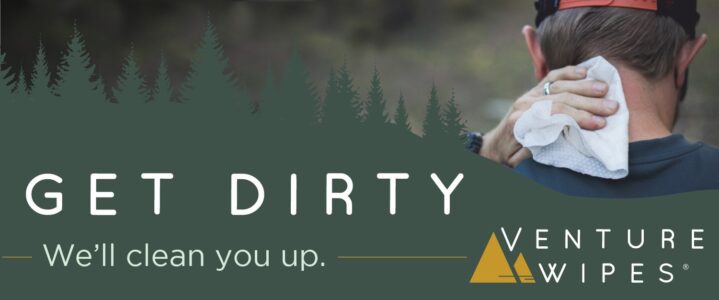 Please let us know in the comments which restaurants you tried in this cute little town of Joshua Tree so others can see if it would be a selection that they would consider for the next Joshua Tree trip.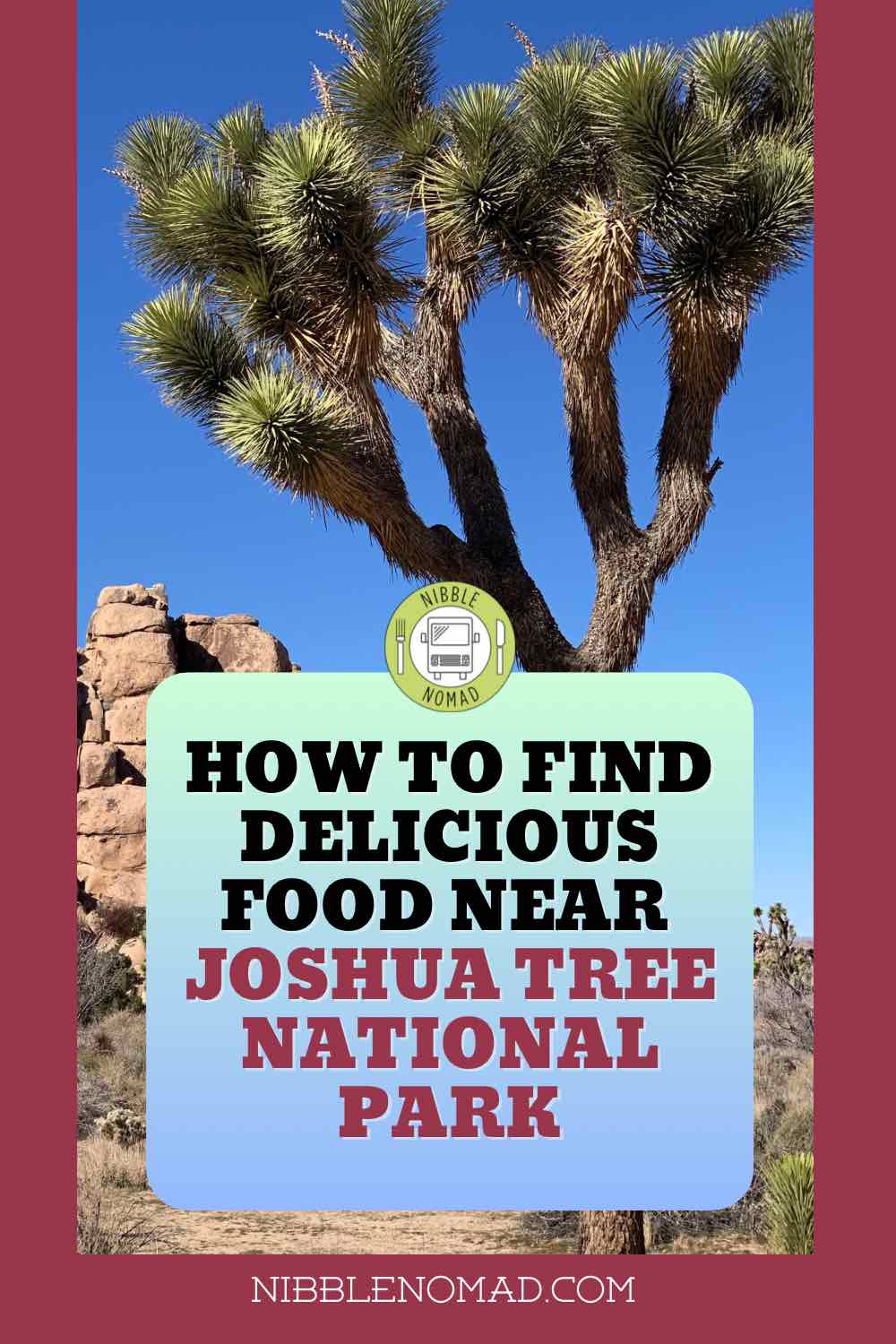 Related Post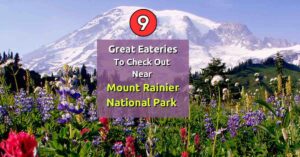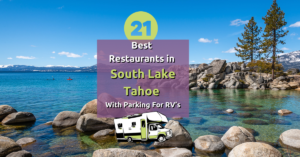 AMAZON DISCLOSURE:  This website participates in the Amazon Services LLC Associates Program, an affiliate advertising program designed to provide a means for us to earn fees by linking to Amazon.com and affiliated sites.