There are plenty of restaurants in South Lake Tahoe.  But which ones can accommodate an RV?  We live near there, so we can help you out with that.
Now, when it comes to eating in a restaurant in South Lake Tahoe, you have quite a variety to choose from.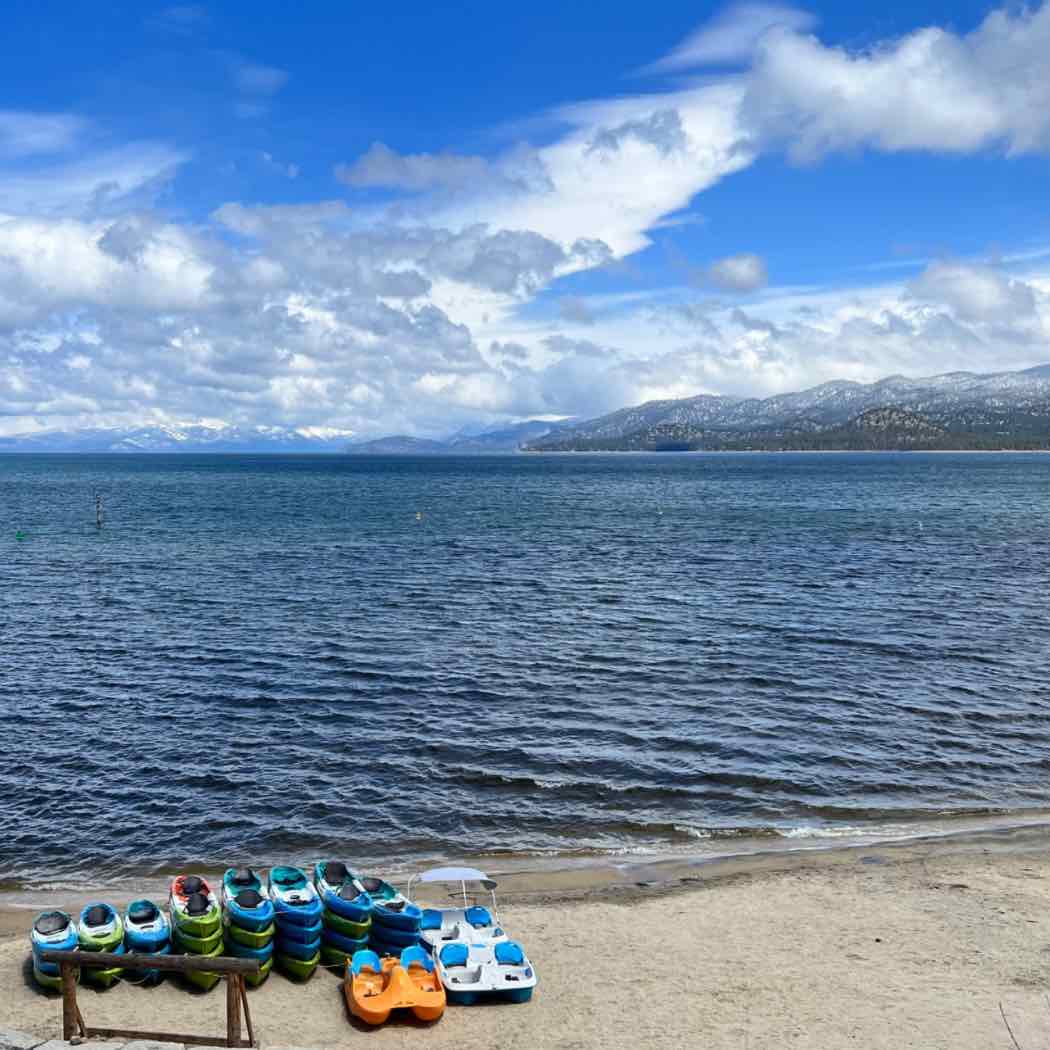 South Lake Tahoe restaurants
While there are plenty of wonderful restaurants to choose from in the South Lake Tahoe area, ones that can accommodate RVs are a little trickier to find.
Most restaurants, of course, have places to park, but having a place to be able to have a large RV park is another thing. There are, of course, smaller RVs and campers that can fit into any size parking space.  But what do you do with a 40′ or longer RV with a tow vehicle?
Where do you find a place to put that RV while visiting the South Lake Tahoe area to stop and have a nice meal?
Let's take a look at some of the options that we found that could help you make a good selection without driving around and around until a larger parking area is located.  
  | Disclosure: Please note this post may contain affiliate links. There is no additional cost to you – we earn a commission if you purchase using our links. We only link to products and companies we use and recommend.  

Easy access restaurants in South Lake Tahoe
When we set out to find a restaurant, the first thing we do is to decide what type of food looks the most appealing.
Once we have a couple of excellent restaurants to choose from, we look into the parking options.
Since we live just around the corner from South Lake Tahoe, we often go to the area for a meal. We are usually only in our car, but we are always aware of the parking situations. That probably comes from living in our own 40′ motorhome for so many years that noticing those features of a restaurant comes second nature to us.
Let's look at some of the meal options in the South Lake Tahoe areas.  
Tahoe Valley area
The Beacon Bar and Grill – This restaurant has been called 'Old Tahoe.'  Beacon Bar is home to the Rum Runner cocktail, a signature cocktail.  This place has won the Best of Tahoe and Best Outdoor Dining for several years.  The entrance to Camp Richardson campground is at the beginning of the driveway, with the Beacon at the waterfront.  They offer burgers, steaks, seafood, pasta, and much more.  There is lovely South Lake Tahoe waterfront dining with an adequate area for RV parking.  Not to mention, it's within walking distance from the campground. Live Music on the weekends
Lake Tahoe Pizza Co. – Cozy and rustic is how I would describe Lake Tahoe Pizza. Pizzas are made from wheat, white, and corn dough.  Parking will be challenging, but an Uber or Lyft ride will make it easier to get to the restaurant.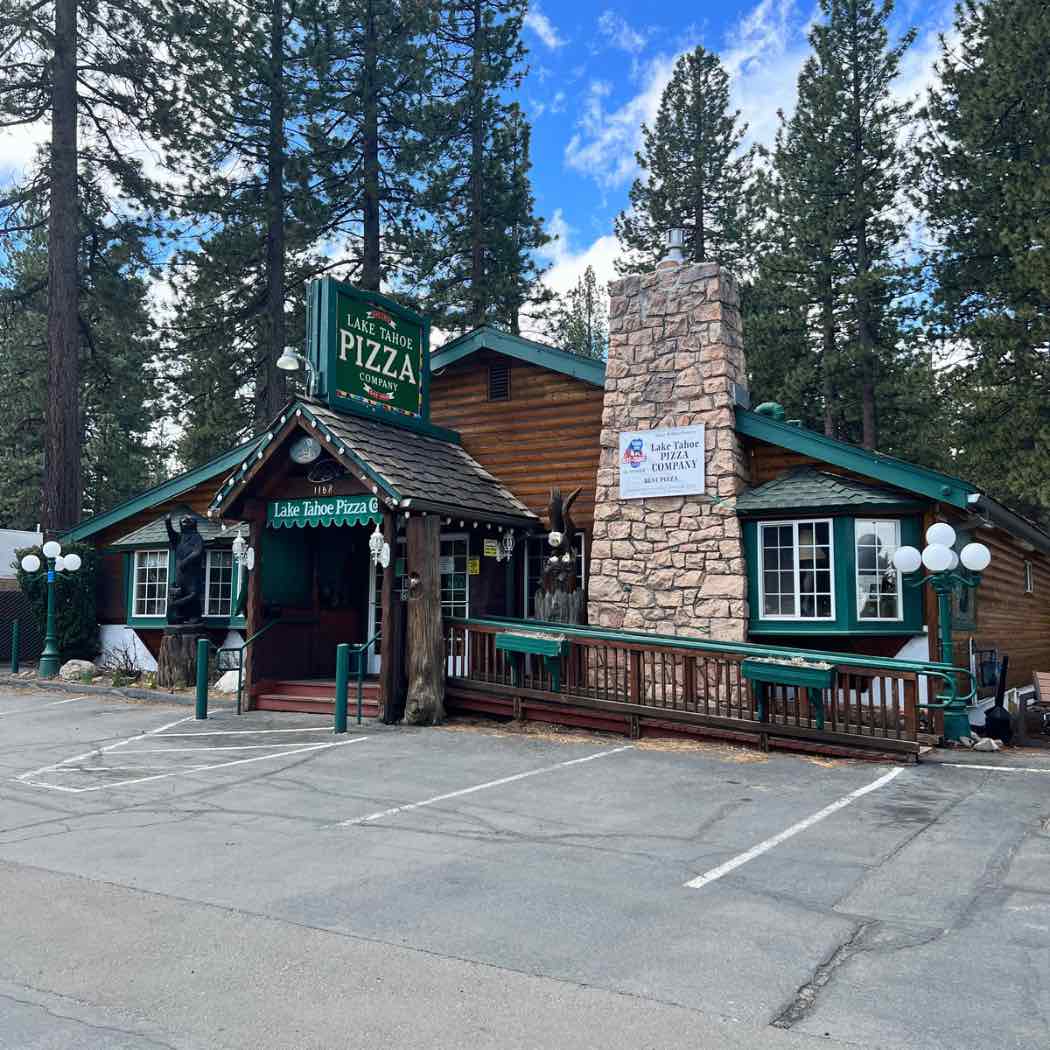 The Lake House – This American cuisine spot offers seafood, steaks, and pasta dishes on South Lake Tahoe.  It's a higher-end restaurant with limited large RV parking, but you have some parking for larger rigs right across the street. Smaller campers would have no problem parking here.  This would be an excellent place for a delicious meal if you are camping in the area and have access to a vehicle or an Uber/Lyft.  
Ski Run Marina area
Riva Grill – A restaurant on the water's edge will always be a great time.  They specialize in seafood, steaks, and cocktails.  This restaurant is located at the Ski Run Marina, which is on the water's edge.  They have dinner cruises from the marina and a large parking lot for RVs, with a giant Whole Foods, Panda Express, and Five Guys Burgers across the street for additional large RV parking.  This is a pricier restaurant, but the food is exceptional.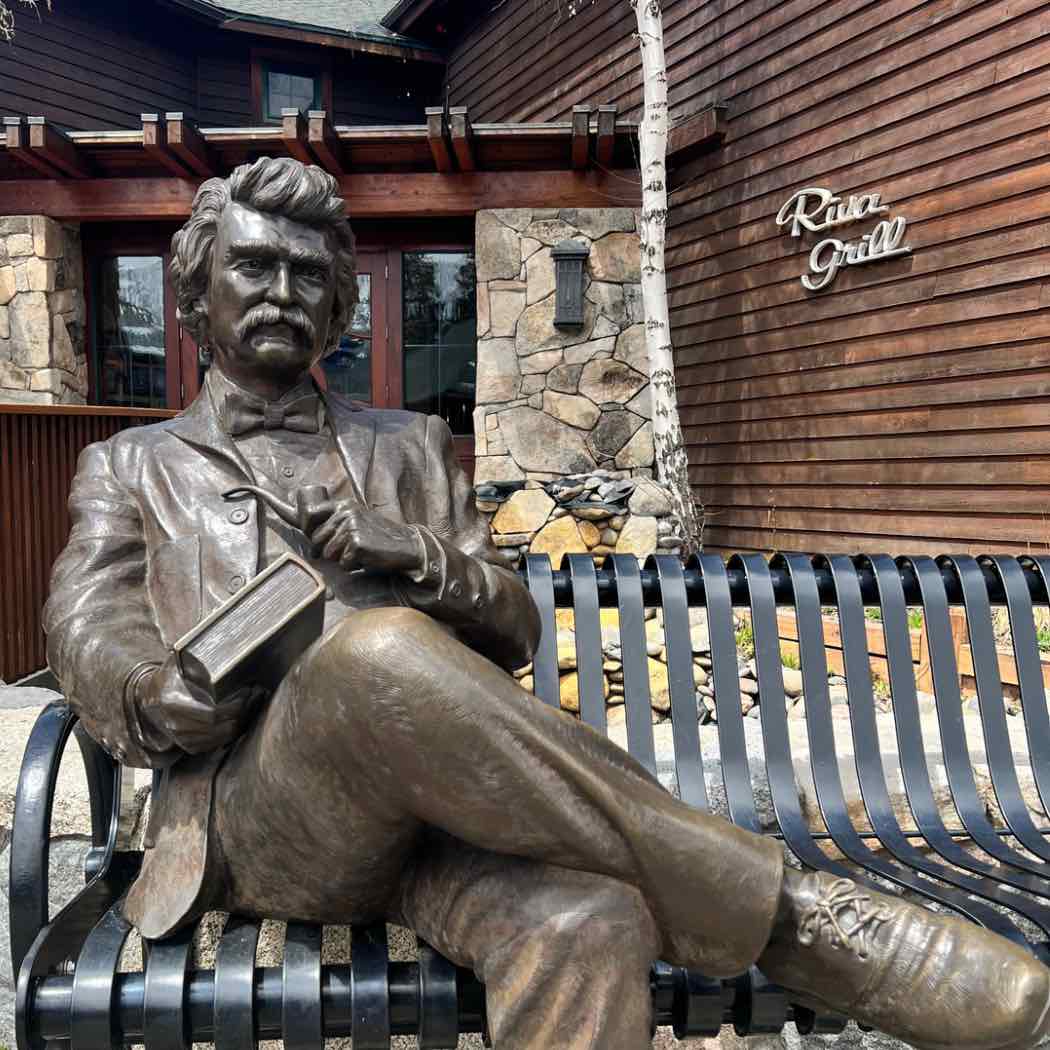 Artemis Lakefront Cafe – This is a wonderful Greek-infused restaurant in the same marina as the Riva Grill.  The Artemis Cafe offers authentic Greek fare in a very relaxing atmosphere.  Inside and outside seating make it a great place to stop for a satisfying meal on the lake.  There is ample RV parking and wonderful sights in the area.
Empanash – Here is a great place to grab some empanadas before a ski adventure or a gorgeous summer hike in the South Lake Tahoe area.  This place is in the same Ski Run Marina courtyard, so the convenient RV parking is available.  
Heavenly Village area
Driftwood Cafe – Known for its breakfast and lunch options, it is located in the Heavenly Village area of South Lake Tahoe.  This place is in the heart of the Heavenly area, with plenty of parking across the street for RVs.  Breakfast is served until 2 pm, followed by a terrific lunch selection to choose from.
Base Camp Pizza Co. – This popular pizzeria and sports bar in South Lake Tahoe is known for its delicious gourmet pizzas, pasta dishes, and salads.  The grocery store across the street with the large lot is where all the larger RVs park.  Keep in mind that the parking there is a 2-hour lot, and they might charge for the parking.
Blue Dog Pizza – A pizzeria known for its late-night slices is in the grocery store parking lot across from the Driftwood Cafe.  You can build your own pizza or grab a slice and continue on with your sightseeing.  The large grocery store parking lot is RV friendly and easily accessed from Heavenly Village Way.
Vinny's Pizza – This is a low-key, upbeat place making thin-crust pies and hearty subs.  It's at the point between Lake Tahoe Blvd. and Pioneer Trail.  It has a large parking lot with areas that could accommodate a larger RV.  With a liquor store right next to it, you can have a cold beer with a hot slice, all in the same parking area.
Azul-Latin Kitchen – A Latin-American menu with a focus on local ingredients. It's a great place to sit outside by the fire pits and enjoy some genuine, authentic Latin cuisine in a relaxed atmosphere.
Fire and Ice – Located in the Marriott Timber Lodge, this restaurant offers a fantastic Mongolian BBQ along with a vast menu of Latin, Italian, and Asian flare.  This is another place that the parking lot is down the street at the grocery store.  All these wonderful restaurants are within walking distance of this large lot.

Roundhill Village/Zephyr Cove area
Harumi Sushi – Known for its extensive and unique menu selections, great prices, and excellent staff. Parking is very limited, so a drive-by, pickup to-go order is your best bet when traveling in a larger RV.  The beautiful artistry of the sushi chefs makes this a definite must for a sushi meal.  
Stateline Area
Gordon Ramsey's Hells Kitchen – This is an upscale restaurant from the Michelin-starred chef.  They serve an American cuisine with all of Gordon Ramsey's signature dishes.  It is a bit pricey, and reservations are required.  The restaurant is located in the Harveys casino, so there is casino parking in the back for cars only.
Friday's Station Seafood Steak and Grill – Located in Harrah's casino near Heavenly Village.  Again, this is at the casino with RV parking in the casino lot.  The fine dining restaurant is located on the top floor, which gives you fabulous views of the lake.
Fatburger – This LA-based chain is a staple in the burger industry.  Fatburger is located across the street from Harrah's and Harvey's casinos, so parking might be challenging.  
Recent Event Update:
The Raley's Store near the Casinos suffered a roof collapse due to the snowpack and has been permanently closed. Target store is slated to take its place in the future, so that you might have luck parking big RVs there, but don't overstay your welcome. SLT Police can be aggressive in parking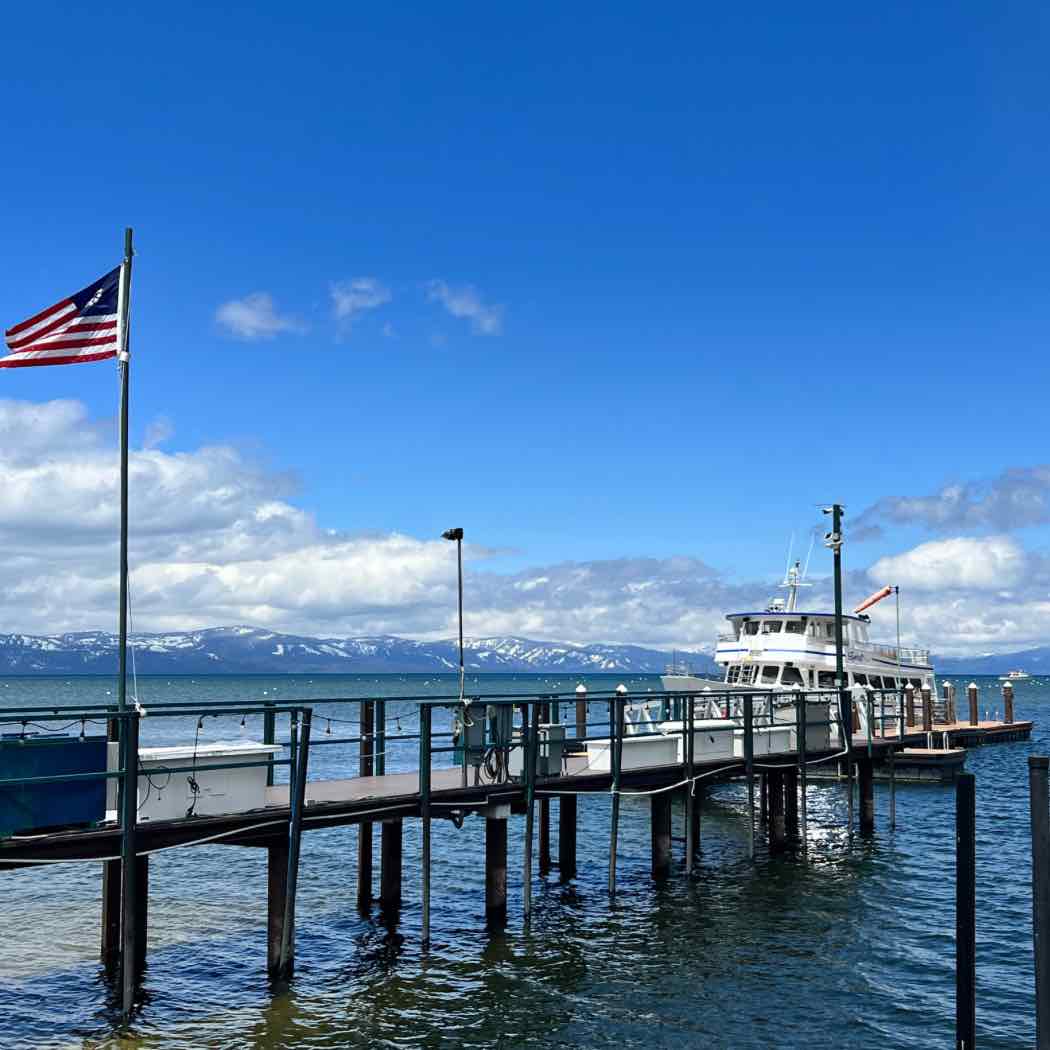 Tahoe Valley area
Off the Hook Sushi – This bustling spot is right on Hwy 50, so parking will be challenging.  Some parking is in the back of the lot or down the street.  Sashimi, rolls, and cooked appetizers are all created in the restaurant that is named the Best Sushi in Lake Tahoe.
Los Portales Jaliscos – A Mexican restaurant with a very laid-back atmosphere.  Classic Mexican dishes with friendly servers make this an excellent place for a quick lunch.  They also deliver if you are camping in nearby Camp Richardson or Tahoe Valley Campground.
Scusa Italian – Traditional classic Italian cuisine served in a cozy dining room. Parking will be tight in the immediate area, but you can always Uber/Lyft in for convenience.  
City of Lake Tahoe Campground area
MacDuff's Pub – An Irish pub is a cottage-like pub serving wonderful Shepherd's Pie and other English fare.  The area has street parking and is within walking distance of the City of Lake Tahoe campground.  We go to this restaurant every year for Paul's birthday because it's his favorite.
Boathouse on the Pier – This is a waterside American cuisine restaurant with amazing views of the lake.  This is an excellent choice for a great meal, from the nautical theme to the great staff.  There is RV-sized parking across the street at Whole Foods.
South Lake Tahoe Dessert spots
Cold Stone Ice Cream – This iconic ice cream spot is located in the Heavenly Village area.
Snowflake Drive-in – Named the best soft ice cream in Tahoe by customers, this classic restaurant is located within walking distance of the City of Lake Tahoe Campground.
Camp Richardson Ice Cream Parlor – When you are in the Camp Richardson area, you have to grab an ice cream cone here.  It's within walking distance of the campground.
Panaderia Ameca Bakery – This Mexican bakery is a small place that most people would miss, but it is one of the best bakeries in the area.  There is a medium-sized parking lot on the side for RVs.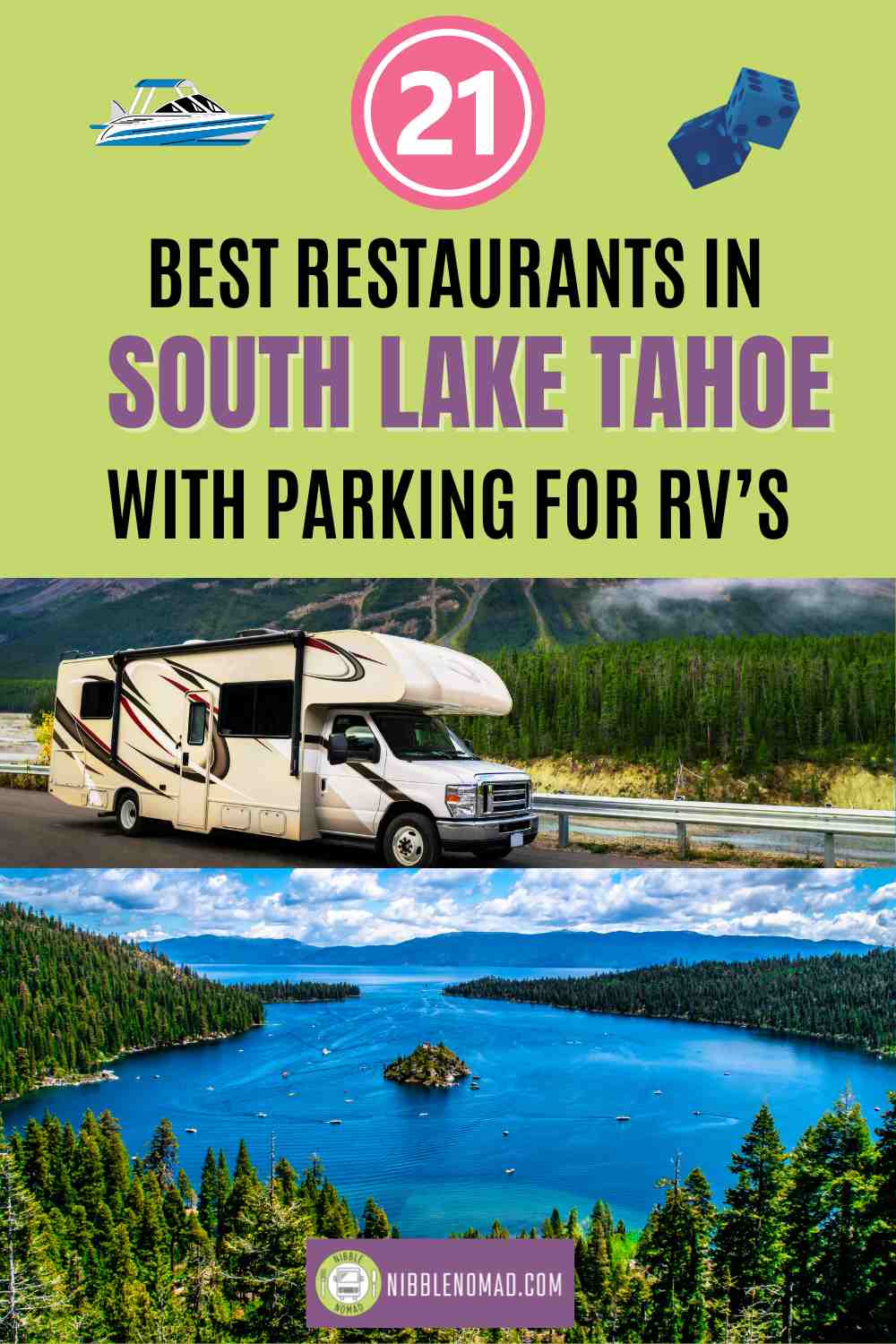 Finally
When you visit Lake Tahoe, remember that it is one of the most populated vacation spots in the United States.  It is a year-round area with unbelievable skiing in the winter and gorgeous boating in the summer. 
The crowds can be overwhelming, but it is totally worth the travel to see the most beautiful lake in the state. 
Keep Tahoe Blue!  
Nibbler Tip: Always check current conditions; special events and concerts in the area can change parking throughout the entire area.
  AMAZON DISCLOSURE:  This website participates in the Amazon Services LLC Associates Program, an affiliate advertising program designed to provide a means for us to earn fees by linking to Amazon.com and affiliated sites.