Mt. Rainier National Park is one of the 63 parks in the National Park Service of the United States.  This is one of the three in Washington state.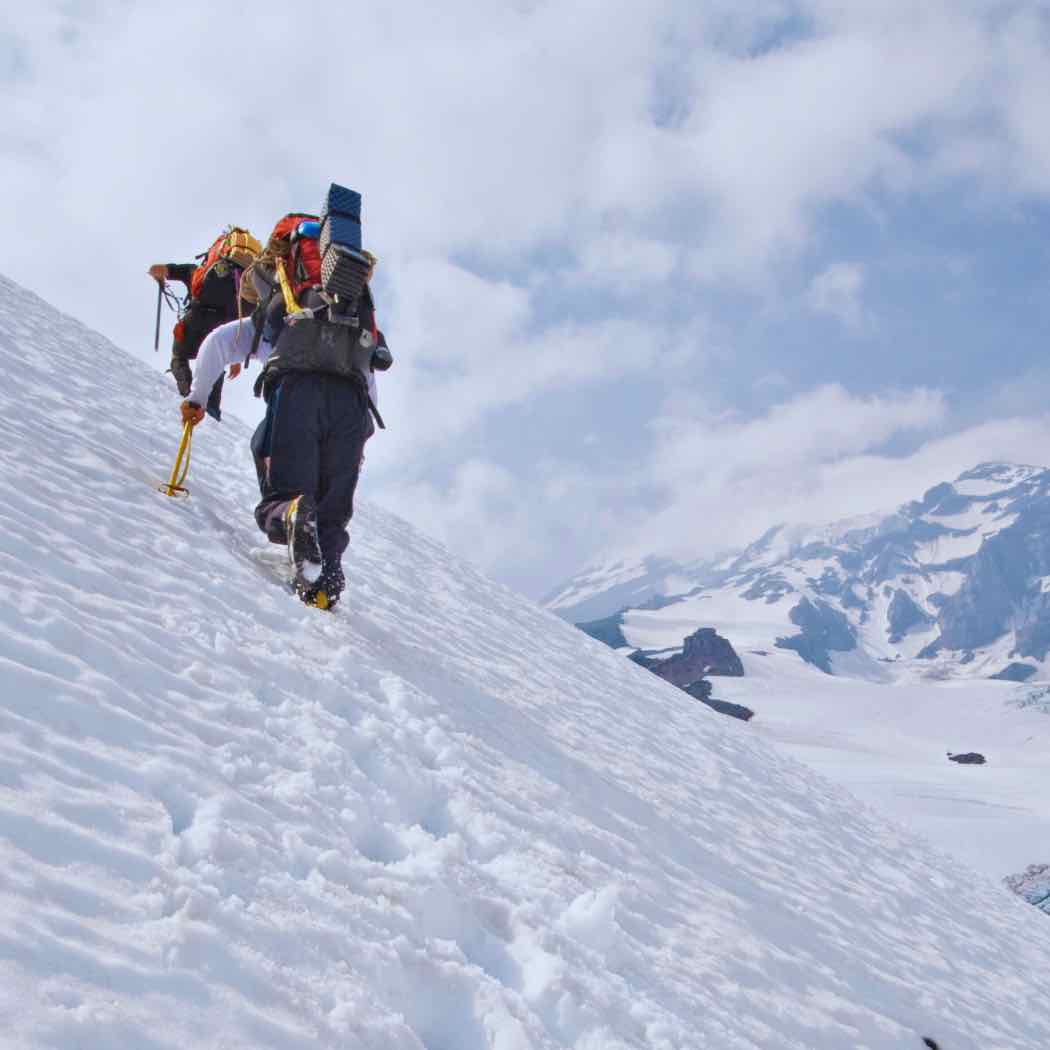 History of Mt. Rainier National Park
Mt. Rainier National Park is located in Ashford, Washington.  It is a stratovolcano that started its activity around one million years ago.  The volcano activity gave the mountains their distinct cone-shaped structure.
Native American Indigenous people have lived in the region surrounding Mt. Rainier for thousands of years.  It holds spiritual and cultural significance for many tribes.
Mt. Rainier was established in 1899.  It's the 5th National Park in the park system covering 236,000 acres, including forests, meadows, and glaciers.
The park attracts millions of visitors every year.  From excellent hiking, camping, wildlife viewing, and winter sports, Mt. Rainier national park has a little something for everyone. 
Of course, if you are well-trained and adventurous, you can attempt to climb all the way to the summit at 14,410 feet.  This will most likely take you two days with a halfway camp at 10,000 feet.
| Disclosure: Please note this post may contain affiliate links. There is no additional cost to you – we earn a commission if you purchase using our links. We only link to products and companies we use and recommend.

Eating in or near Mt. Rainier National Park
We love traveling to national parks, just like many of you.  Finding a place to eat near or in Mt. Rainier National Park can be challenging.
Paul prefers places outside the park because the food at the typical concession stands inside the park can sometimes not be the best.  Paul loves to eat, so that could present a problem. 
Finding good food in relatively isolated areas like national parks can be challenging. However, we discovered some great places on our most recent trip to Mt. Rainier National Park you might consider.
Mt Rainier National Park has three Main entrances; we'll focus on the Nisqually entrance as this is the route the majority of visitors use.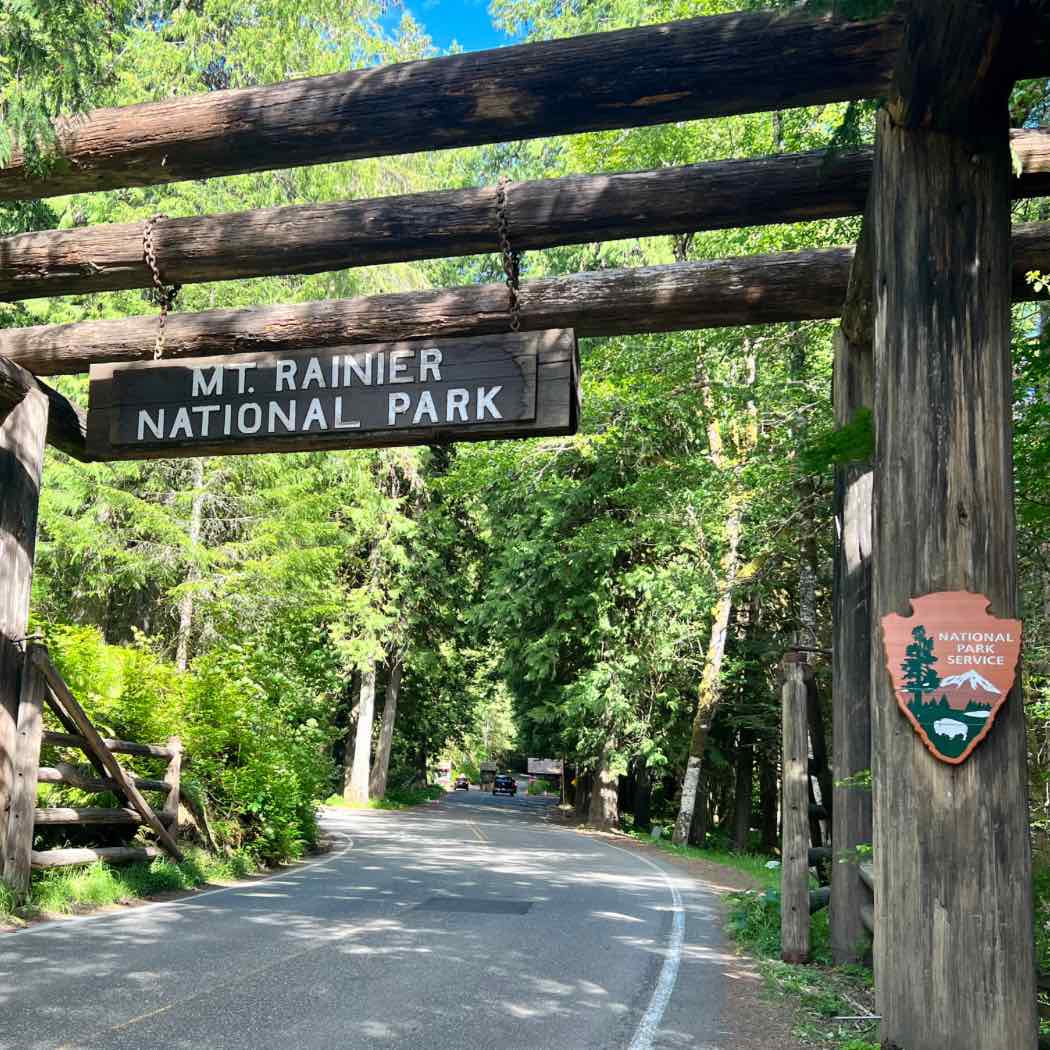 It's easily accessed from the Portland, Seattle, or Tacoma area. It ends at the Paradise Inn and Jackson Visitor Center, where you start with beautiful hikes to the snowfields and then onwards to Camp Muir at 10,000 Ft Elevation.

Elbe area
Scaleburgers –  This is a roadside "cash-only" burger joint. Nothing fancy here, a nice basic tasty burger joint where you can eat burgers, fries, chili, and shakes. Eat at a picnic table or take it to go. This is a wonderful female veteran-owned place that can fill you up after a day of mountain activities.
Pizza Express – This is a railroad car experience. This is another female veteran-owned place near the entrance to the park. There is plenty of parking for RVs of any size. You can enjoy a tasty whole pizza or just a slice to go.   They are closed Tuesday and Wednesday, so check to make sure they are open before you go.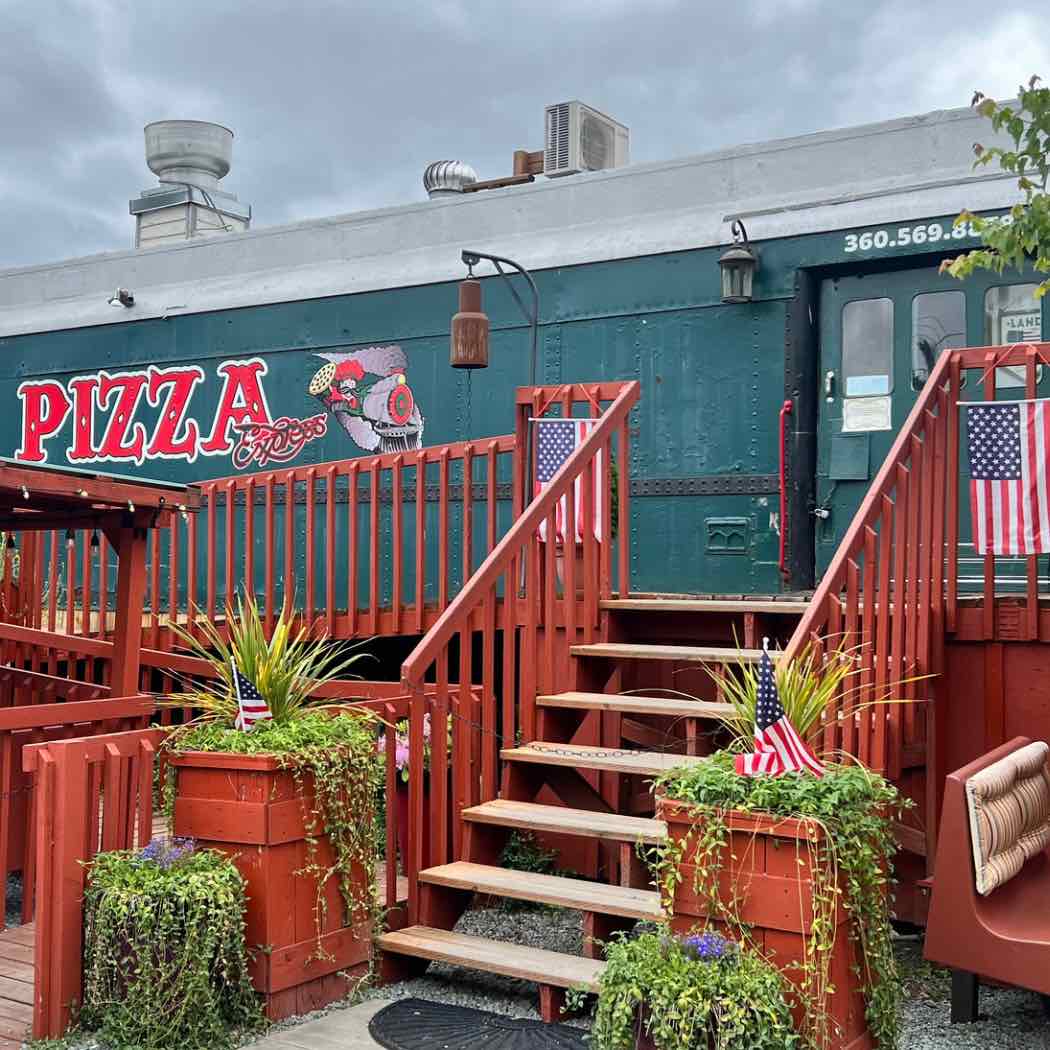 Ashford area of Mt. Rainier National Park
Rainier Basecamp Bar and Grill –  It's a popular spot for those climbing and summiting Mt Rainier. You can rent supplies for your mountaineering here.  The restaurant is behind Whitakers Mountaineering, so you might have to keep your eyes peeled.  They serve burgers, pizza, and beer. Nice outdoor seating with views of the mountain and live music on weekends. It's a seasonal place open from May-Sept. 
Paradise Village – Ukrainian Cuisine –This is a Harvest Host location as well as a lodge with tiny cabins and hotel guest rooms. The host is okay with staying for a day or two.  The restaurant has fantastic food like pierogies, salads (so good), and homemade mac n' cheese.  It's a bit on the pricey side (especially the burgers at $20.00) but oh so fresh. There is plenty of parking for RVs, including Class A's. It was so good we actually ate there three times over two days. Service can be tricky; it's a farm-fresh family restaurant, be patient.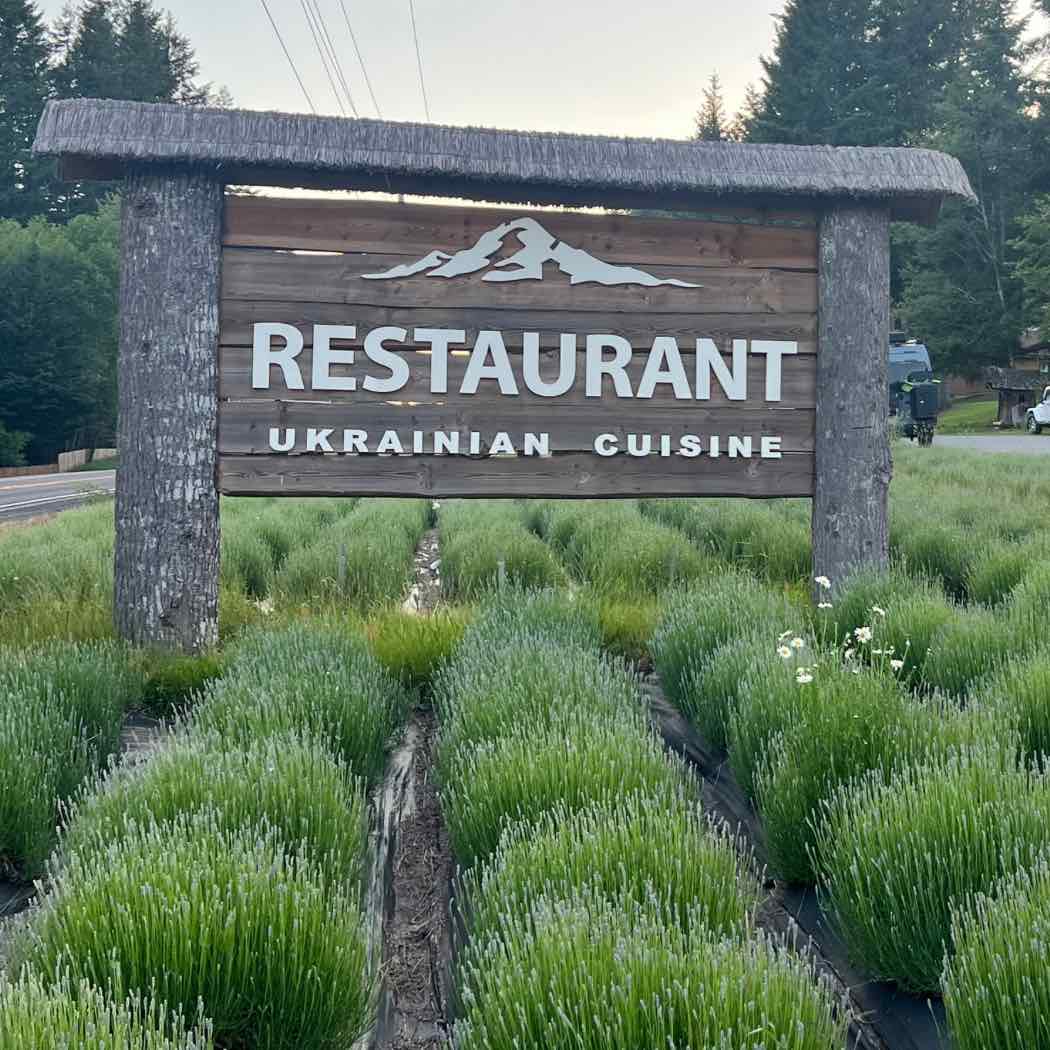 Copper Creek Inn – This place has been in business forever, about 75 years. The food is classic comfort, like pancakes, eggs, burgers, soup, and homemade pie to die for.  A long-time favorite for those traveling through the Mt. Rainier National Park area. Like others in the area, they are closed Tuesday and Wednesday.
Wildberry Restaurant. There is something for everyone here. It's a combination of traditional American and Himalayan food, which is really cool.  Soups, salads, and sandwiches for the American cuisine and Thali (chicken, mushroom, or garbanzo bean plates) for the Himalayan cooking.  A taste of Nepal! So go eat what the Sherpas eat. The owner was a Sherpa that has scaled Mt. Everest!
Inside Mt. Rainier National Park  
The options are limited, just like everything around any National Park.
The Longmire –  This place has a very super limited menu and is very expensive. The restaurant is in the National Park Inn, which is in the Longmire historic district of the park before you get to the Jackson Visitor Center and the lodge.  It has excellent views of the mountain.  They offer Bison meatloaf, white bean ragout, and rack of lamb.  Breakfast and lunch are also offered.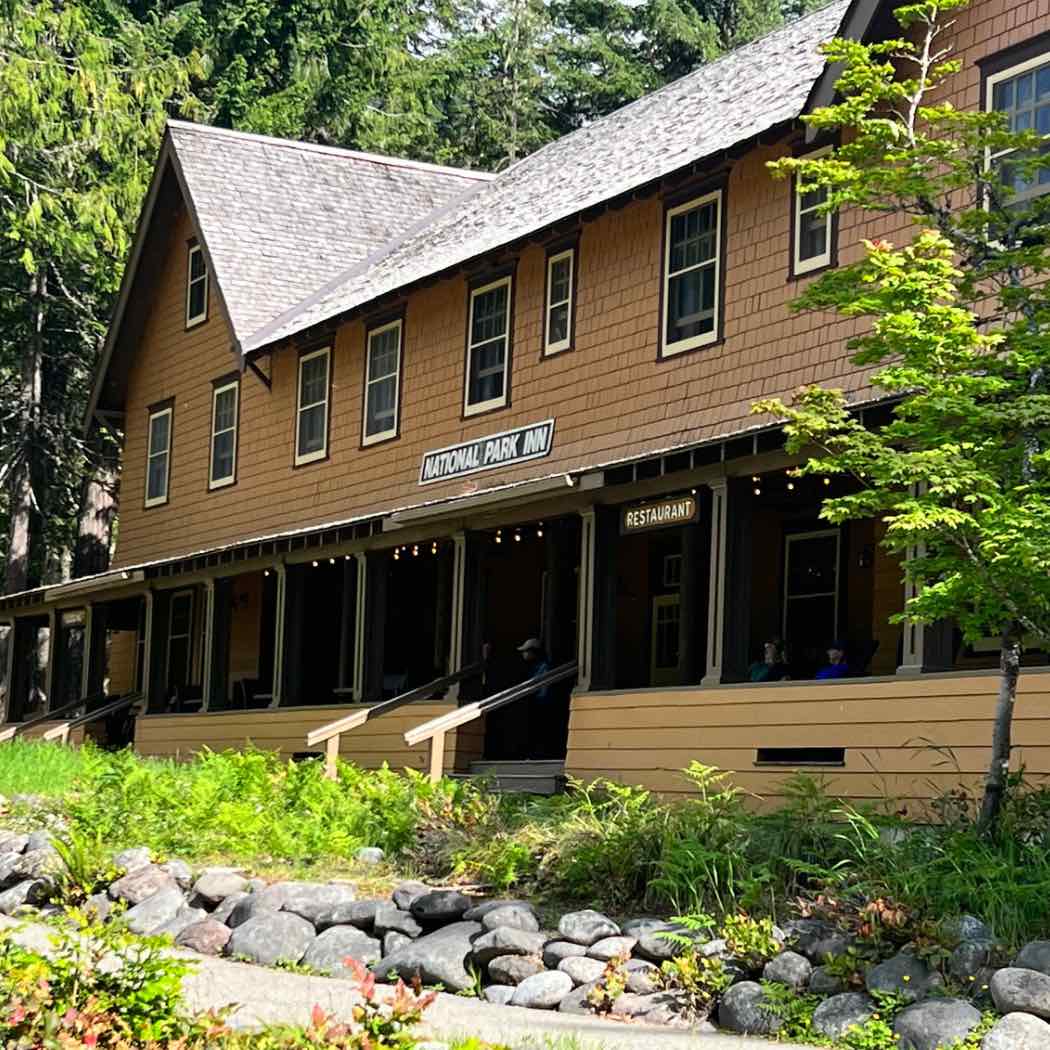 Tatoosh Café – The main dining room in the Paradise Inn Lodge is only open for dinner.  This lodge has been here since 1916.  The dining hall is something you would see in an old movie from the 40s.  Lots of history in that room.  The wonderful pictures from the 1800s and 1900s are all over the walls.  They also have a small grab-n-go cafe at the other end of the lodge for breakfast or lunch items. 
Paradise Camp Deli – This is a lunch-only place located in the Jackson Visitor Center. They have prepackaged sandwiches to eat in their cafeteria setting. There are also some servers to offer some nice hot food.
Nibbler Tip: Always call these locations before you go, as things change according to the seasons.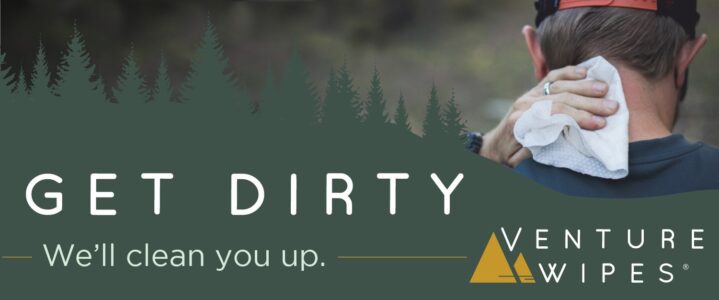 Finally
Traveling to National Parks can be an exciting experience.  We have been to about 15 of the 63 National Parks that are out there. 
This one was meaningful to Paul because he climbed to the summit of Mt. Rainier back in the 80s when he was in the Army.  He received less training than the average person before climbing because he was already trained for survival by the Army.
It had been 40 years since the last time he was here, but all the memories came flooding back as we approached the mountain.  Experiencing something like climbing to the summit of Mt. Rainier National Park is something that stays with you forever.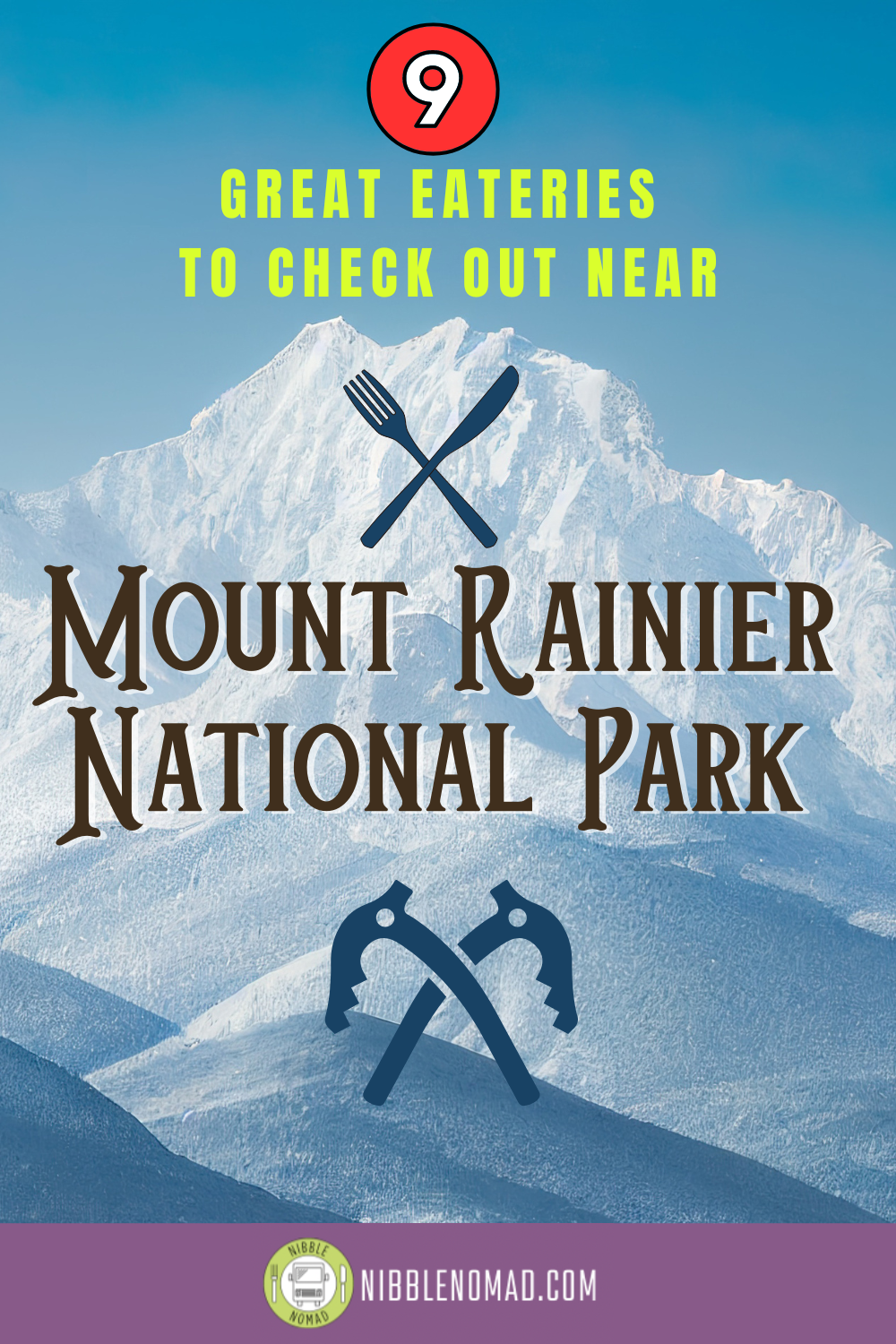 AMAZON DISCLOSURE:  This website participates in the Amazon Services LLC Associates Program, an affiliate advertising program designed to provide a means for us to earn fees by linking to Amazon.com and affiliated sites.