The summer is almost over.  That means that Oktoberfests, an annual event, are starting to get underway. Oktoberfests are a German tradition that started in Munich, Germany.  In my opinion, Bavarian food is the best part.  Paul would disagree, loving the beer selections.
What better way to get around to see one or more of these enjoyable festivals than with an RV or campervan?
They are a great way to enjoy German culture, food, and, of course, beer.
There are West Coast Oktoberfest celebrations and East Coast Oktoberfests.  You can pretty much find a great Oktoberfests in any town you are visiting.
If you can't get over to Munich, Germany, then an Oktoberfest in the US is the next best thing.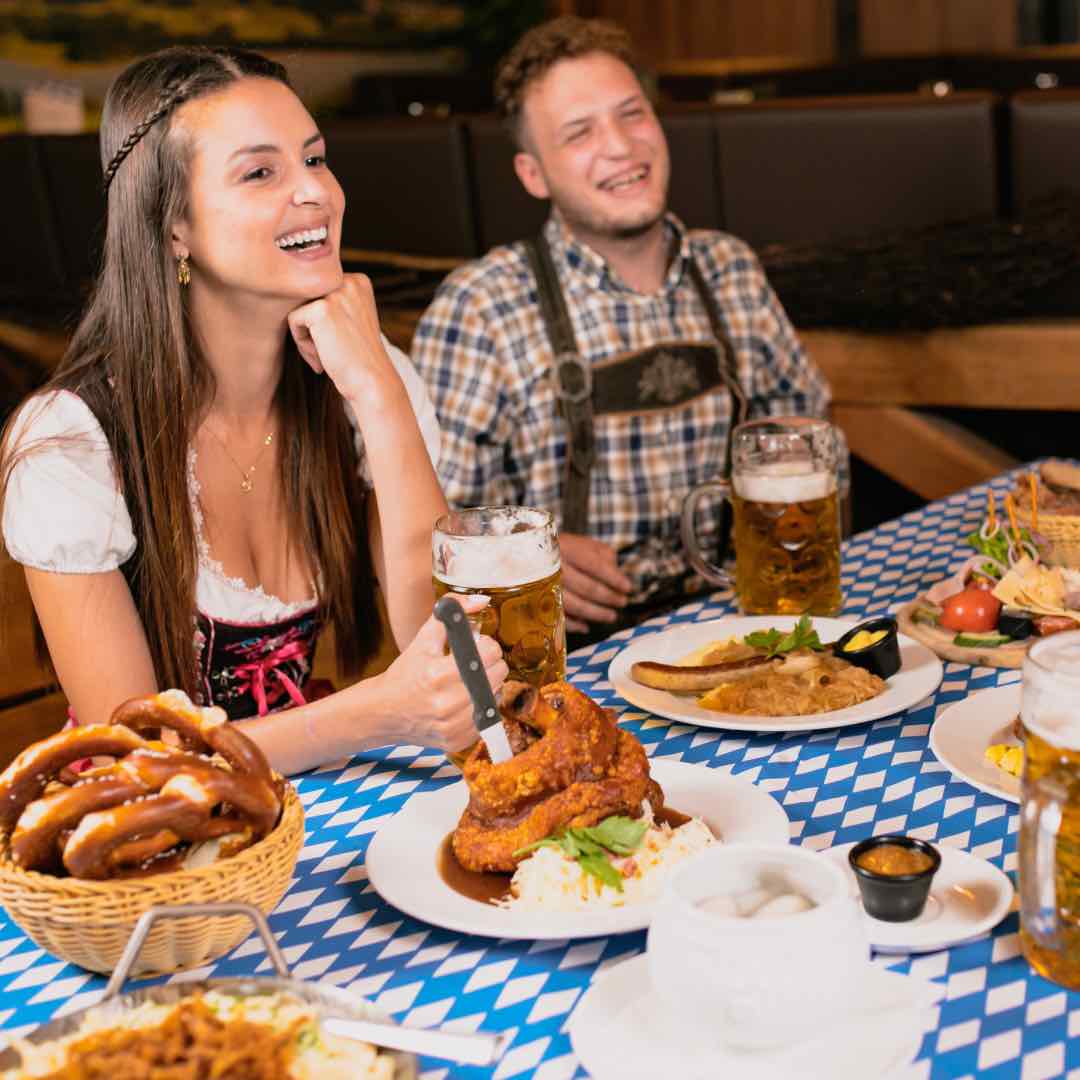 What to expect at great Oktoberfest Celebrations
Octoberfests have changed over the years. Like the festivals in Germany, the main focus of the American Octoberfest is plenty of authentic German beer.
Oktoberfest beer used to be a maltier Märzen, but some time ago, the beer was changed to a lighter, smoother lager, which was easier to drink.  It had a better balance and drinkability, which in turn made it easier to drink more and eat more. This, of course, was great for all the beer and food vendors.
A wide variety of German-style beers and craft beers, like lagers and ales, all being served in a large beer stein from different breweries. At the beginning of every great Oktoberfest is the ceremonial tapping of the keg where usually the mayor of the town taps the first keg of the festival and then yells 'O'zapft is!' which means 'It is tapped".
| Disclosure: Please note this post may contain affiliate links. There is no additional cost to you – we earn a commission if you purchase using our links. We only link to products and companies we use and recommend.

Music and dancing
Live entertainment like live German music, folk festival music, local bands, and dancing are essential parts of a traditional Oktoberfest: Polka bands, brass bands, and accordion players.  
A lot of people like to participate in dancing like Schuhplattler, which is a Bavarian dance style that has rhythmic slapping of the thighs and soles of the shoes. 
They have parades with floats, marching bands, and participants in traditional German attire to add to the festive atmosphere.
Some of the things that people who go to the events will be wearing Lederhosen, which are short leather pants with suspenders, and Dirndls, which are traditional dresses with aprons.

Competitons and Contests
A lot of Oktoberfests have fun competitions.  The most popular is the stein-holding competition, where you have to hold a full stein of beer out in front of you, and whoever can hold it out the longest wins.  
Yodeling contests are always a big part of an annual Oktoberfest celebration. Traditional dance-offs are always a big favorite, especially the chicken dance. This fun dance is done to authentic oompah bands.
Cultural Demonstrations include glass blowing, beer stein painting, traditional baking methods, and wiener dog races.
There will always be some special events during the Oktoberfest, so make sure you look at the directory you receive when checking in.
The Bavarian Food at an Oktoberfest
One of the things that we like to do the most at an Oktoberfest, besides drinking all different types of beer, is to try all the traditional, authentic, great German Bavarian food options that are offered.
Authentic Bavarian food vendors are everywhere at an Octoberfest, serving delicious food from local restaurants.
After you try some of the Bavarian food that you will be able to find at an Oktoberfests across the country, you might want to have them at other times of the year.  The best way to do that is to know more about the food items that make an Oktoberfest as memorable as possible.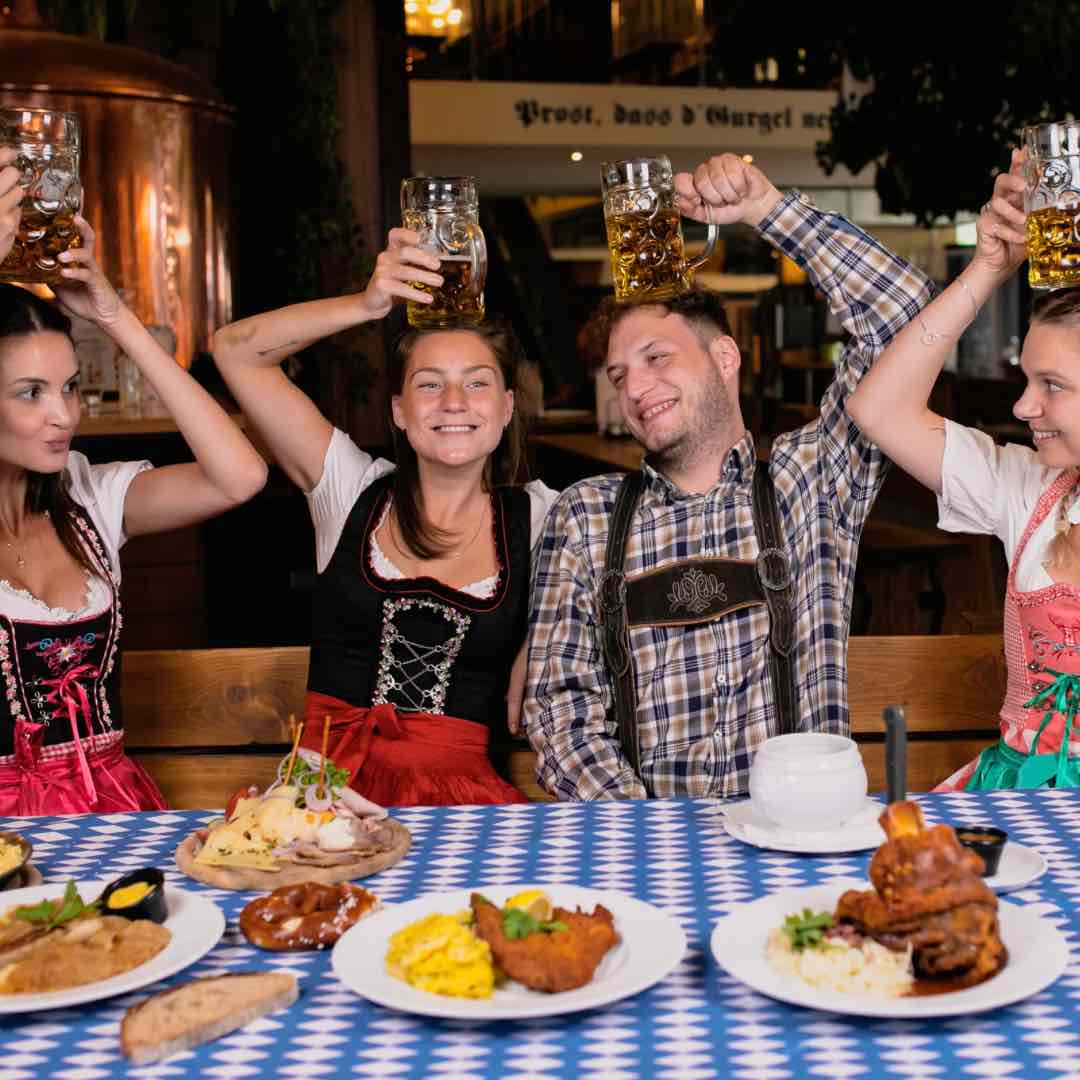 Bavarian Pretzels
The first and most popular item to eat at any Oktoberfest is the Bavarian pretzels, also known as Laugenbrezel. These things are usually the size of your head. 
They are warm and soft with a light sprinkle of pretzel salt, which is a coarse food-grade salt.  It's a large white-grain soft compressed salt that sticks to the moist pretzel when it comes out of the oven. 
These can very easily be made at home to be able to continue the Bavarian food theme long after the Oktoberfest is over. Don't forget the mustard, which is really the finishing touch to your pretzel-making. If mustard is not your thing, then fear not; plenty of other ideas have made their way to the Oktoberfest table.  Try some dressings, dips, and sauces that you might not have thought to pair with a pretzel.
Oktoberfest Bratwurst
The next food option at an Oktoberfest that is usually very popular is the German Bratwurst, a German sausage.  This is an old German tradition that dates back to the 9th century.
The word itself means a mixture of meat without waste, which is exactly what the Germans did back then.  They would make sure that all the pig was used except the tail and the oink.
This kind of food was great to help our German ancestors survive the long, harsh winter months.
Bratwurst is excellent when you are attending an Oktoberfest, but what about when you want it at other times of the year?  Well, you can make it yourself and put anything into it. Homemade bratwurst is very simple if you have all the ingredients. When you make your first batch, you are going to wish that you made a double batch for freezing!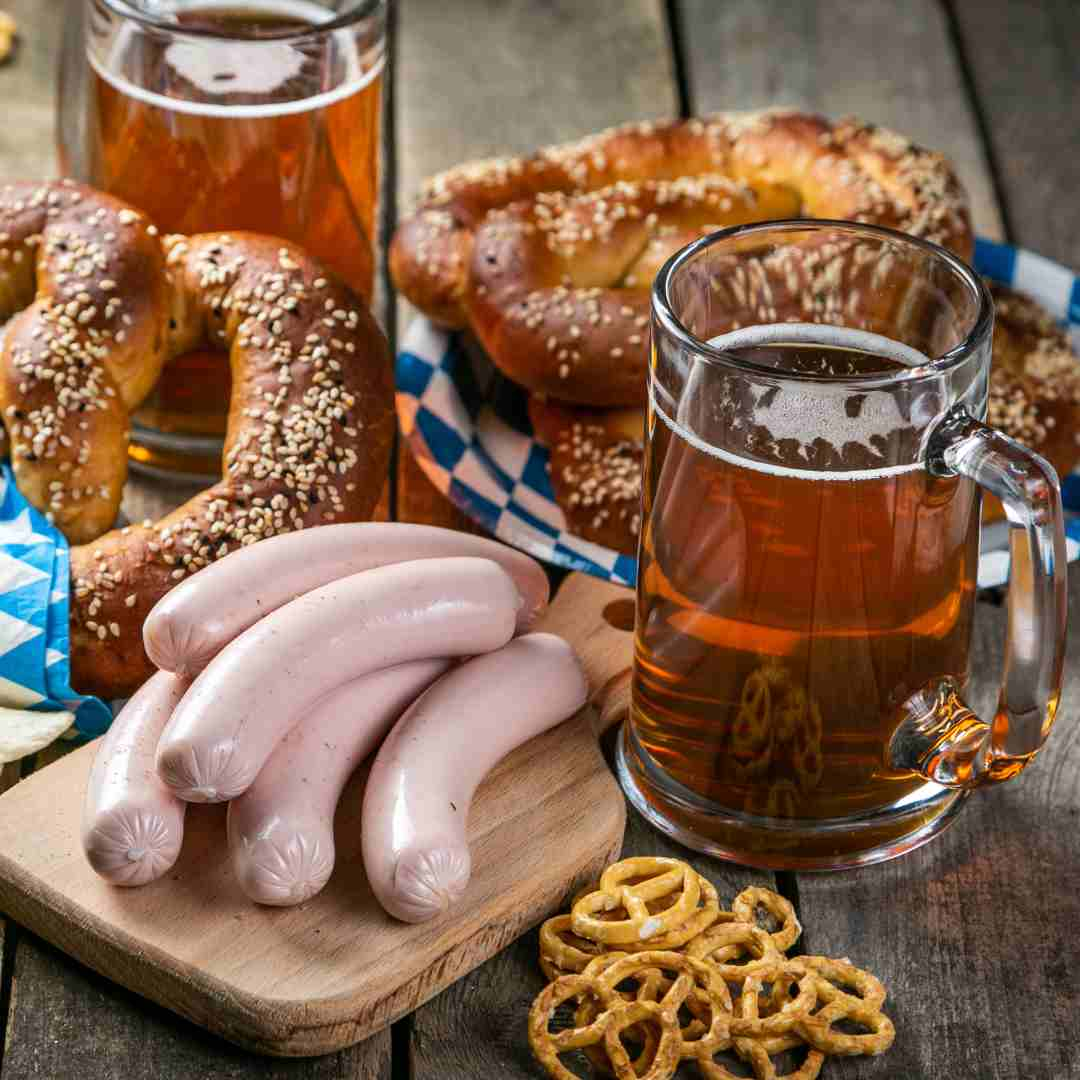 Authentic German Sauerkraut
When you think of sauerkraut, you probably think of German food, but the truth is that it originated in China 2,000 years ago.
The Germans have deemed it a superfood back in the 1600's.  The Sauer is sour, and the kraut is cabbage.  Because of the amount of sauerkraut that the German people eat in their diet, they received the unflattering nickname "kraut'.
Sauerkraut is an excellent addition to any type of German cuisine, especially bratwurst.  It is great with many dishes, like Pierogies, Swiss cheese, fresh vegetables, or kielbasa.
Other Sauerkraut options
Outside of having sauerkraut with your bratwurst at home or at an Oktoberfest, you can serve it on a Rueben sandwich, added to a grilled cheese sandwich to boast the wow of the sandwich, or my favorite, Kielbasa with sauerkraut.
If you haven't found the sauerkraut that you really have fallen in love with, then just make it homemade yourself. It is actually really easy, and making smaller batches makes it easier to have jars ahead of time.
The authentic Oktoberfest Schnitzel
Another one of the most traditional foods of an Oktoberfest would have to be Schnitzel, Sweineschnitzel, which means pork schnitzel.  
Schnitzel can be made with pork, chicken, or veal and is usually served with spätzle and gravy.  It can also be served with Pommes (fries) or Schwäbischer Kartoffelsalat (German vinegar-based potato salad).
When you go to an Oktoberfest, you can order Schnitzel in many variations, like Jägerschnitzel served with mushroom gravy; this one is usually pork cutlets.  It's breaded and fried on both sides.
The most common Schnitzel
Wiener Schnitzel is always served with a wedge of lemon. A very common Wiener Schnitzel side dish is cucumber salad. This kind of salad is super easy to make and enjoy with the Wiener Schnitzel. 
The definition of Wiener Schnitzel means Viennese Cutlet in German.  The definition is protected by Austrian law to read that it has to be made with veal.  It cannot be called Wiener Schnitzel if made with any other type of meat.
Some of the more unique Schnitzel varieties
Ziguernerschnitzel served with a bell pepper sauce. After this pork or veal schnitzel is made, you wait to pour the bell pepper sauce over it until it is served. 
Rahmschnitzel is served with a rich cream sauce. The heavy cream used for this type of schnitzel mixed with the spices and the Reisling wine is what really sets this style out far ahead of the rest.
Traditional Sauerbraten
The one food item I am always looking for at an Oktoberfest is sauerbraten, the national dish of Germany.
Sauerbraten is a beef roast made with carrots, celery, onions, and red wine cooked slowly and long to make the roast tender and moist. The cut of meat is a round or rump of the cow and is marinated for 3 to 4 days in red wine and vinegar. It's usually served with gravy, potato dumplings, and, of course, one of the most traditional sides, red cabbage.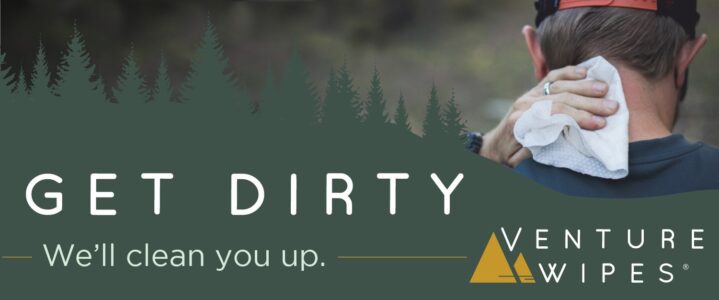 An Oktoberfest favorite, Potato Pancakes
When it comes to the end of your authentic German Bavarian Oktoberfest meal, what is more fitting for dessert than potato pancakes?
They are nothing more than potatoes, eggs, flour, and water, but when mixed together and fried on both sides, they are the perfect ending to a wonderful German meal or served as the main course. 
Top them with some apple sauce, sour cream, and chopped chives, and you have a whole meal.
Wonderful Crisp Apple Strudel for Dessert
When your Oktoberfest experience is over, and you are looking for that last sweet taste of Germany, then find some Apple Strudel for dessert. The only thing, though, is that it originated in Austria, not Germany. 
The word strudel actually means 'whirlpool' because of the way that the strudel is layered.  It gives a swirl look from the layers of pastry and apples.
It's been served for dessert at all German festivals for many years.  It's even a line in the song 'My Favorite Things' from 'The Sound of Music.'
My German father taught me how to make a great homemade apple strudel.  It's very easy to make and well worth the effort.  With only a few ingredients, it can easily be made in a small kitchen, RV, or camper in an Omnia Oven or Solar Oven.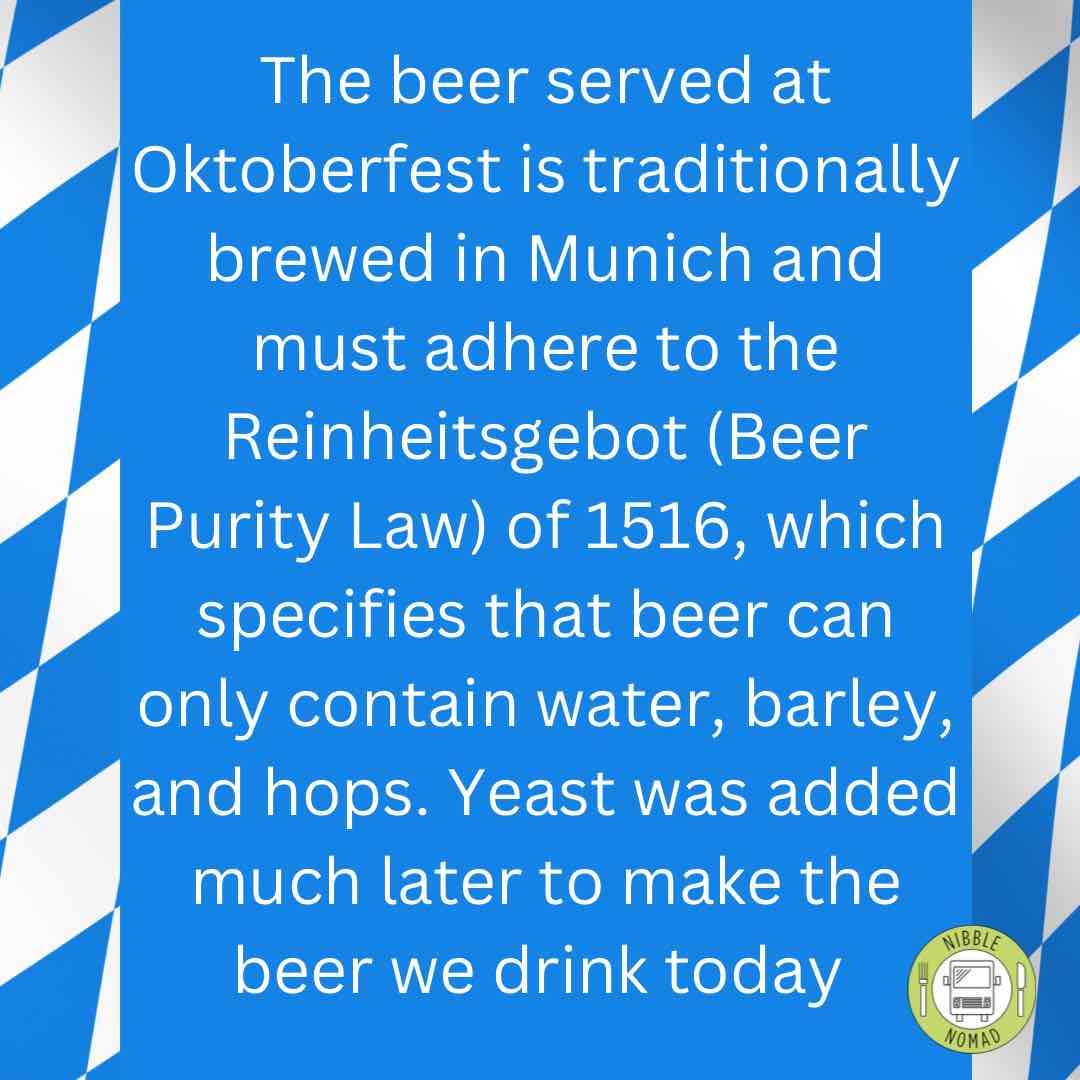 Let's not forget the authentic German Beer
One thing is certain: Oktoberfest people are drinking German lager.
Oktoberfeistbier or feistier is a style of low-fermentation beer with a very blonde color and fermented at a cooler temperature than any ales.
Märzen is the official beer of Oktoberfest in the US.  The word märzen means March.  The reason for this name is that Oktoberfest beer was usually brewed in the cooler months, like March. This was done to be able to use up the hops from the last year.
Märzen style beer was all there was until the 1970s when a lighter-style beer was introduced.  This then was known as the Wiesn-style beer.
The US version of Oktoberfests sticks to the traditional festivities of Munich, Germany, but also incorporates some of the styles of beer that have been created in the US.
It's interesting to try all the local beer varieties from the area where you are enjoying the Oktoberfest.
The Stein Choice
Most of the time, a good lager beer in Germany is served in a stein.  Traditional steins are made of stone or earthenware, but todays, Oktoberfest brings with it a newer type of stein.  They are made of glass now.  It's not as traditional, but still an excellent way to drink a fantastic lager.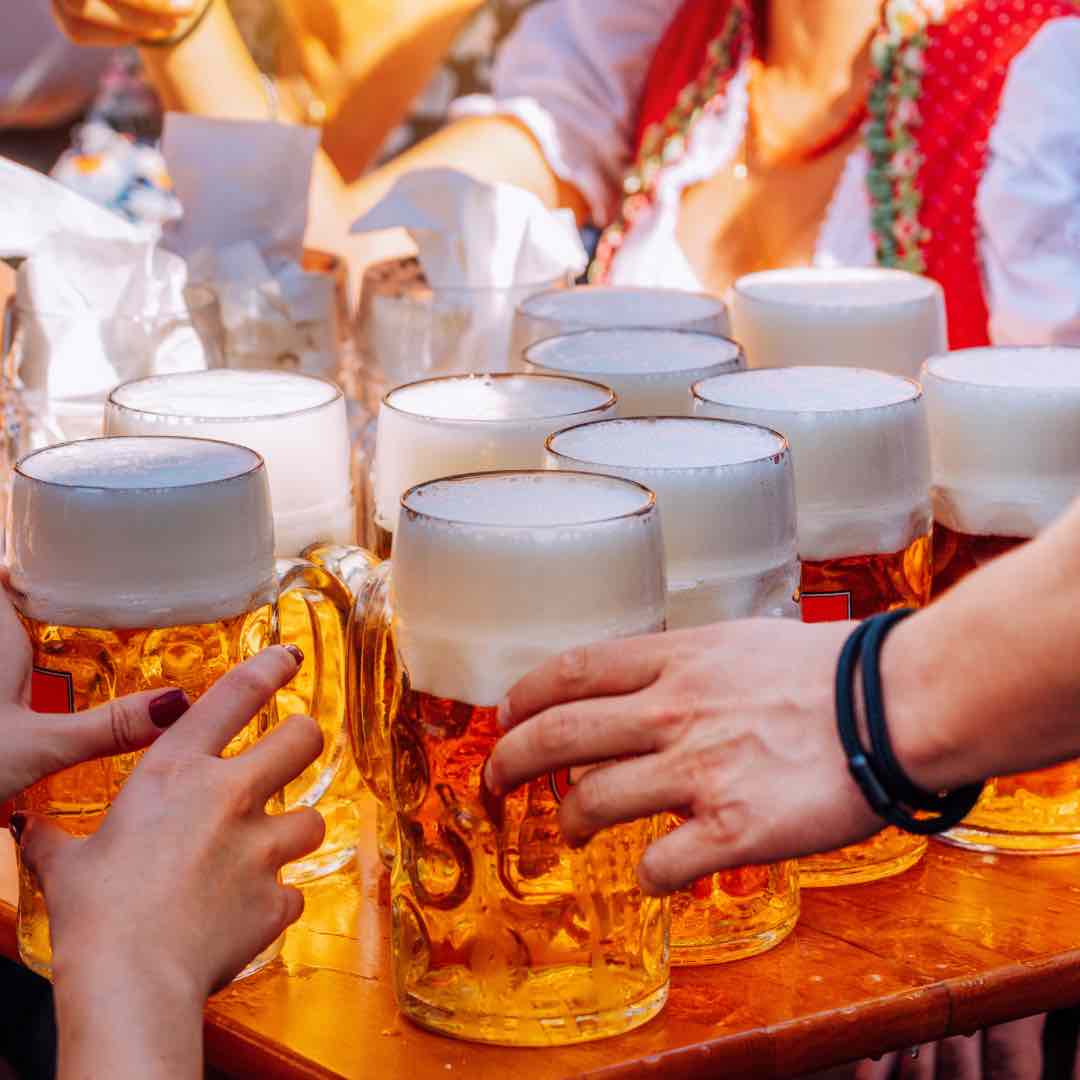 Our Favorite Oktoberfest
Out of the top 5 festivals, we like the Tulsa, Oklahoma one the most.  This one is not your typical small-town festival. 
It's 170K sq ft of tents, stages, and crafts.  They hold this one on the bank of the Arkansas River. 
It has one of the largest beer selections from authentic German brands and over 200 beer taps. 
Oklahoma is definitely not the first place that I would think of to have a traditional Oktoberfest, but the German influence in Tulsa is strong and has been going on for over 44 years.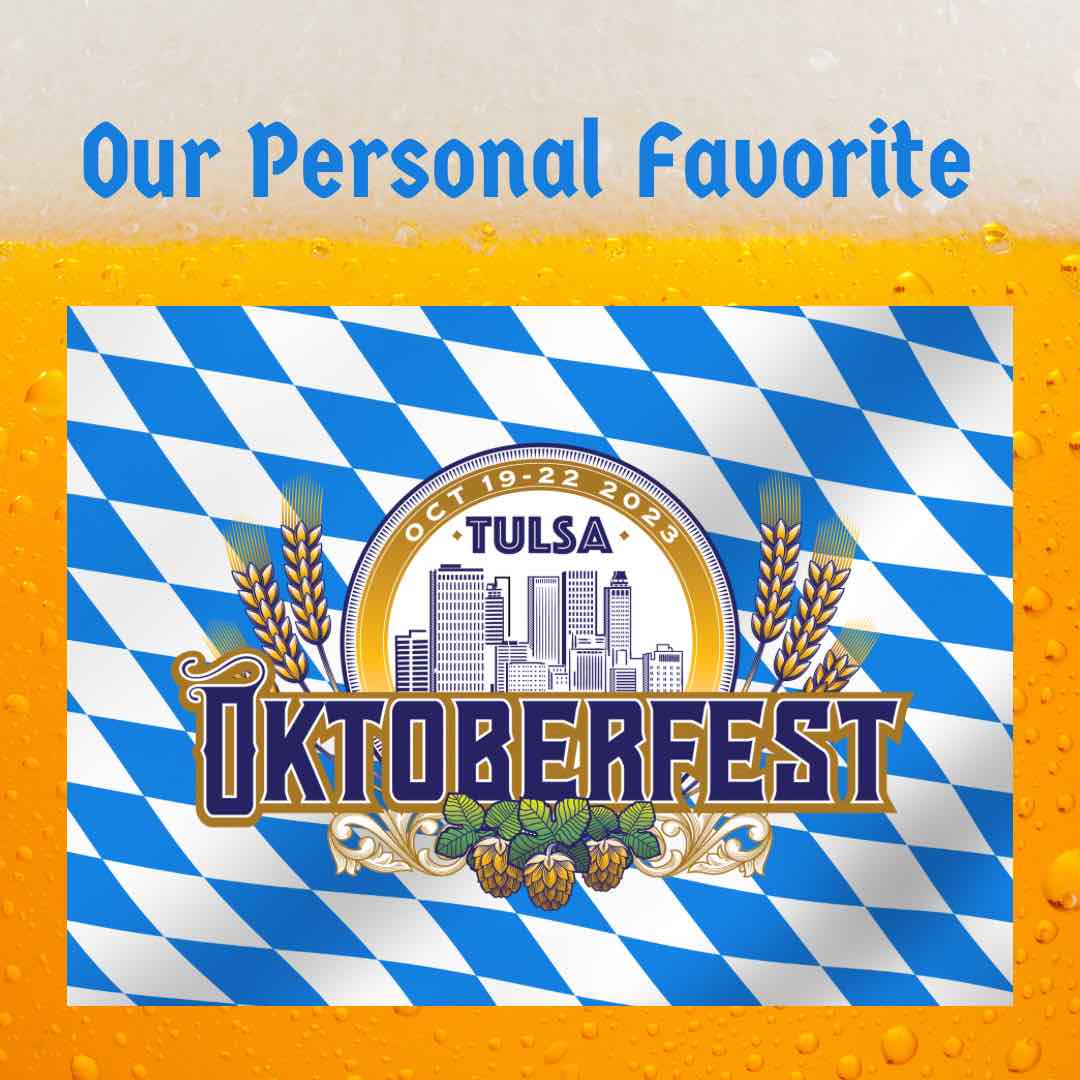 Nibbler Tip:  Always check the internet to ensure that the Oktoberfest you want to go to has all the Bavarian food and beer you are looking for.  All festivals are different according to the region they are held in,
Finally
When you find an Oktoberfest in an area you are living or have traveled to in an RV or camper, you can start to enjoy a long-time tradition of German heritage.  These are usually a free event, and then you pay for the food and drinks.  Others require an entry fee, but then everything is free.  
It's a lot of fun to get yourself some of the traditional clothing and enjoy dancing to some great Bavarian music from German bands. have a nice plate of Sauerbraten and plenty of beer to help celebrate the beginning of the fall season.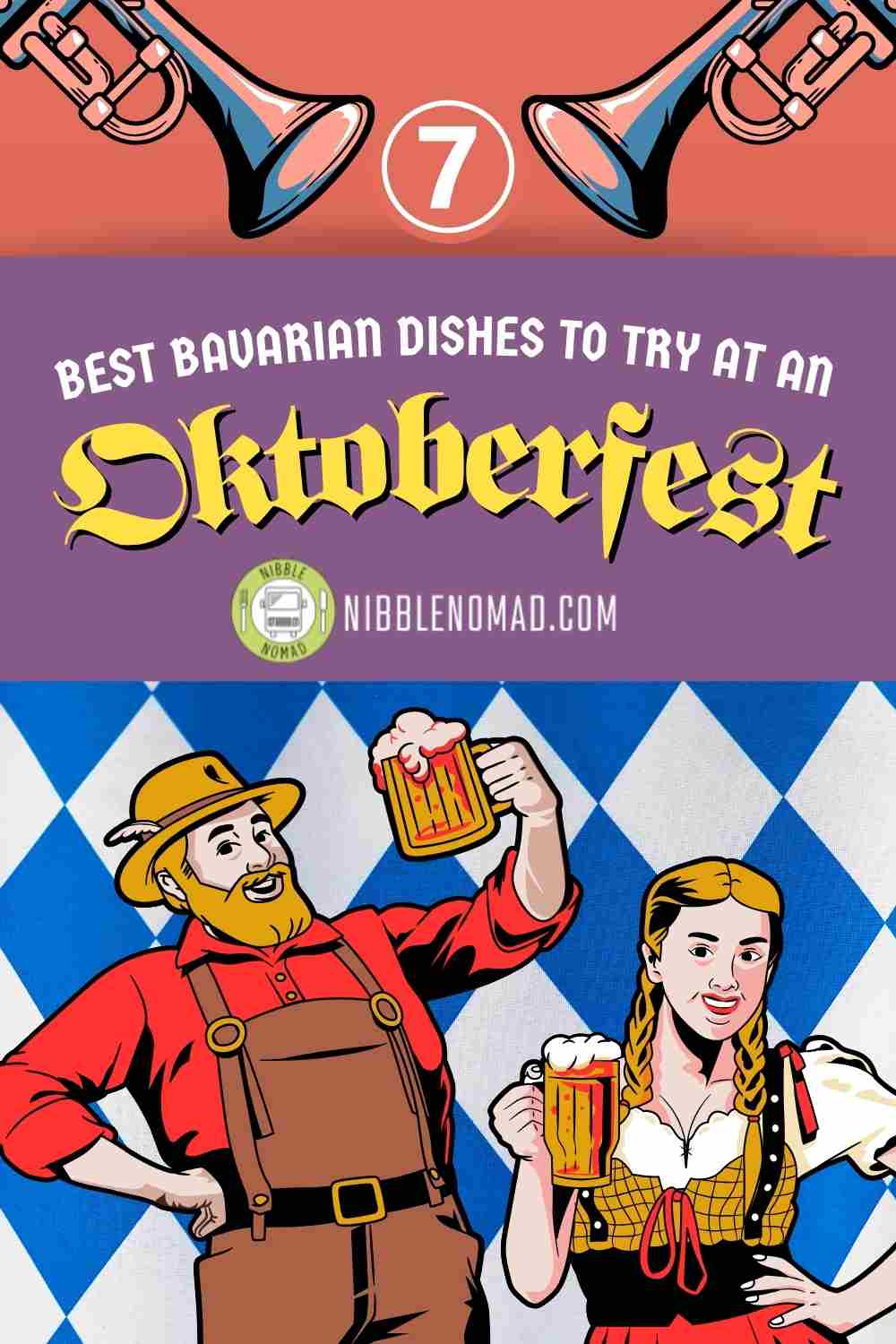 Related Post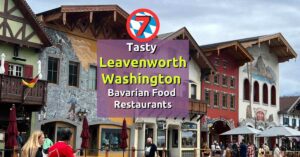 AMAZON DISCLOSURE:  This website participates in the Amazon Services LLC Associates Program, an affiliate advertising program designed to provide a means for us to earn fees by linking to Amazon.com and affiliated sites.