Oatmeal date bars are really fun to make because you get to play with your food.  Just don't tell your mom!
I know there are plenty of snack oatmeal date bar recipes, but this one is so easy and tasty that you'll want to make them take you wherever you go.
Variety is the spice of life
You can add any ingredient you like as long as you stick to the main recipe to maintain the cohesion that you need to form the oatmeal date bars.
Using the full 1 cup of butter is very important.  The butter is what's holding everything together.  With less butter, everything will fall apart.  Not a bad granola, but not an actual bar.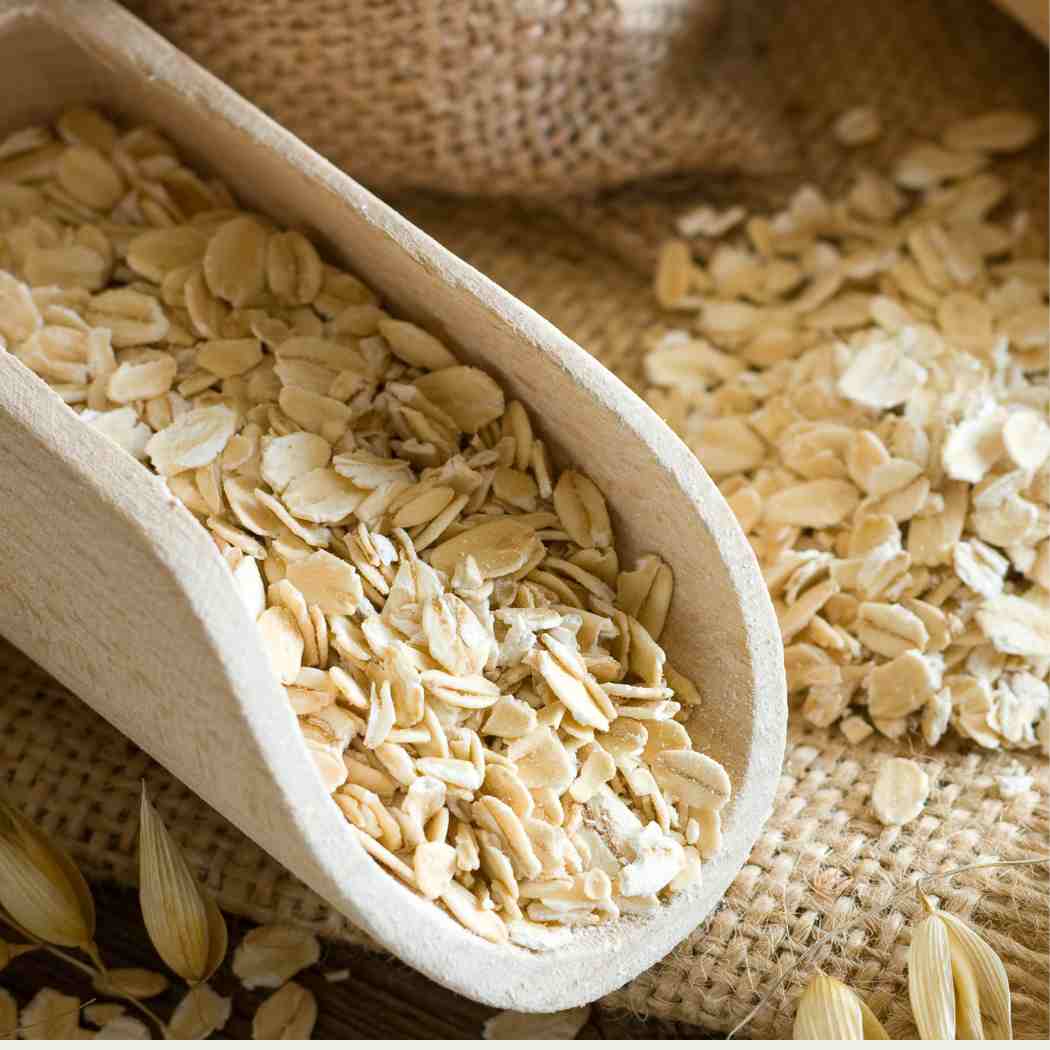 | Disclosure: Please note this post may contain affiliate links. There is no additional cost to you – we earn a commission if you make a purchase using our links. We only link to products and companies we use and recommend.

Adding oatmeal date bar ingredients
Now, I know that I say in the recipe that you can add any nut or seed you want, but remember that the more you add, the dryer the mixture will become.
I limit the seeds because Paul isn't much of a seed guy.  However, tiny seeds like hemp seeds or flax seeds work great.  That way, he doesn't see them.
I like to add pistachio, almond slivers, or walnuts for my nuts.  The secret to maintaining a good consistency is to chop the nuts up finely.
When the oatmeal date bars are ready to go into the oven I like to sprinkle seeds and nuts on the top.
Baking the oatmeal date bars
Mixing the ingredients of the oatmeal date bars enough to ensure it sticks together is only half the process.
The other part of making these bars is baking them.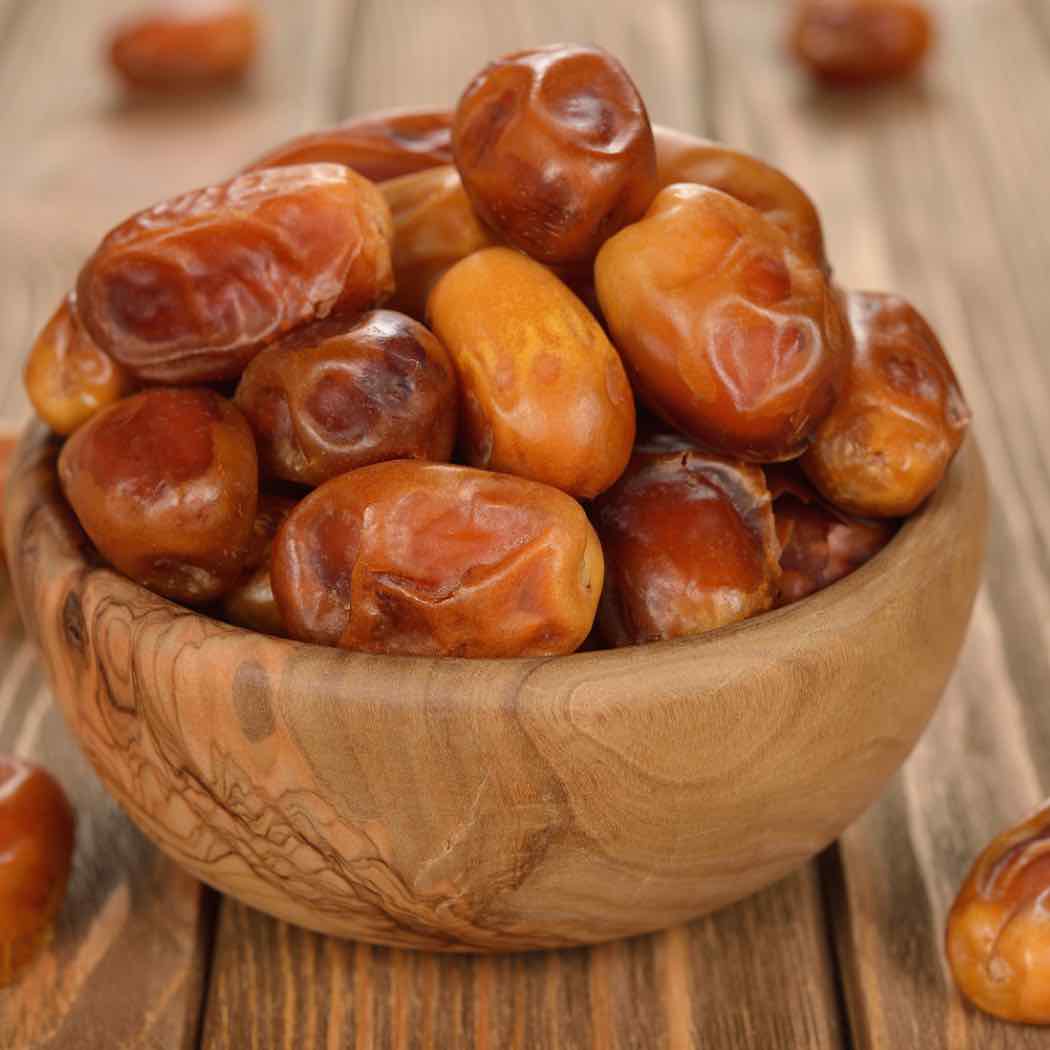 The Omnia Oven makes baking the bars easy
When I use my Omnia Oven to bake the bars, I check them frequently to ensure they don't burn.  They tend to burn of the sides if the heat is too high.
All you need is the sun to bake oatmeal date bars in the GoSun Solar Oven
The other way to bake these bars is to use a GoSun solar oven.  This is my favorite way to bake them.
The solar oven tray can be a little tricky to load due to its shape.  You have to load the mixture into the tray evenly so it stays 1/2 inch thick.
If you have too much oatmeal date bar mix to put in a tray to be able to stay 1/2 inch thick, make more than one batch.
Leave the tray open towards the end of the baking.  It lets the bars get nice and crispy on the edges. Yum!!
Baking time for the oatmeal date bars depends on which oven you are using.  So check them occasionally for firmness and remember the oatmeal date bars will firm up even more after they come out of the oven.
Be patient, the wait for the oatmeal date bars is worth it
Please let the baked mixture cool completely before you cut them into bars.  If you cut the bars too early, they will break apart.
Enjoy your oatmeal date bars
Once these bars have been baked, you get to enjoy them.
It's really great to eat the bars when they have just come out of the oven.  Keep in mind it's always nice to enjoy them with some cool, smooth, tasty, nice cream.
We take oatmeal date bars with us on our hikes for a quick, convenient snack that travels well, or we just eat them at home anytime.
I like to take these bars along to share when we go to any get-togethers.
The oatmeal date bars are great to break up and add to a bowl with some nice cold nut milk for a tasty breakfast.
Please let me know what you add to your oatmeal date bars.  It's always nice to see what everyone comes up with.
AMAZON DISCLOSURE:  This website is a participant in the Amazon Services LLC Associates Program, an affiliate advertising program designed to provide a means for us to earn fees by linking to Amazon.com and affiliated sites.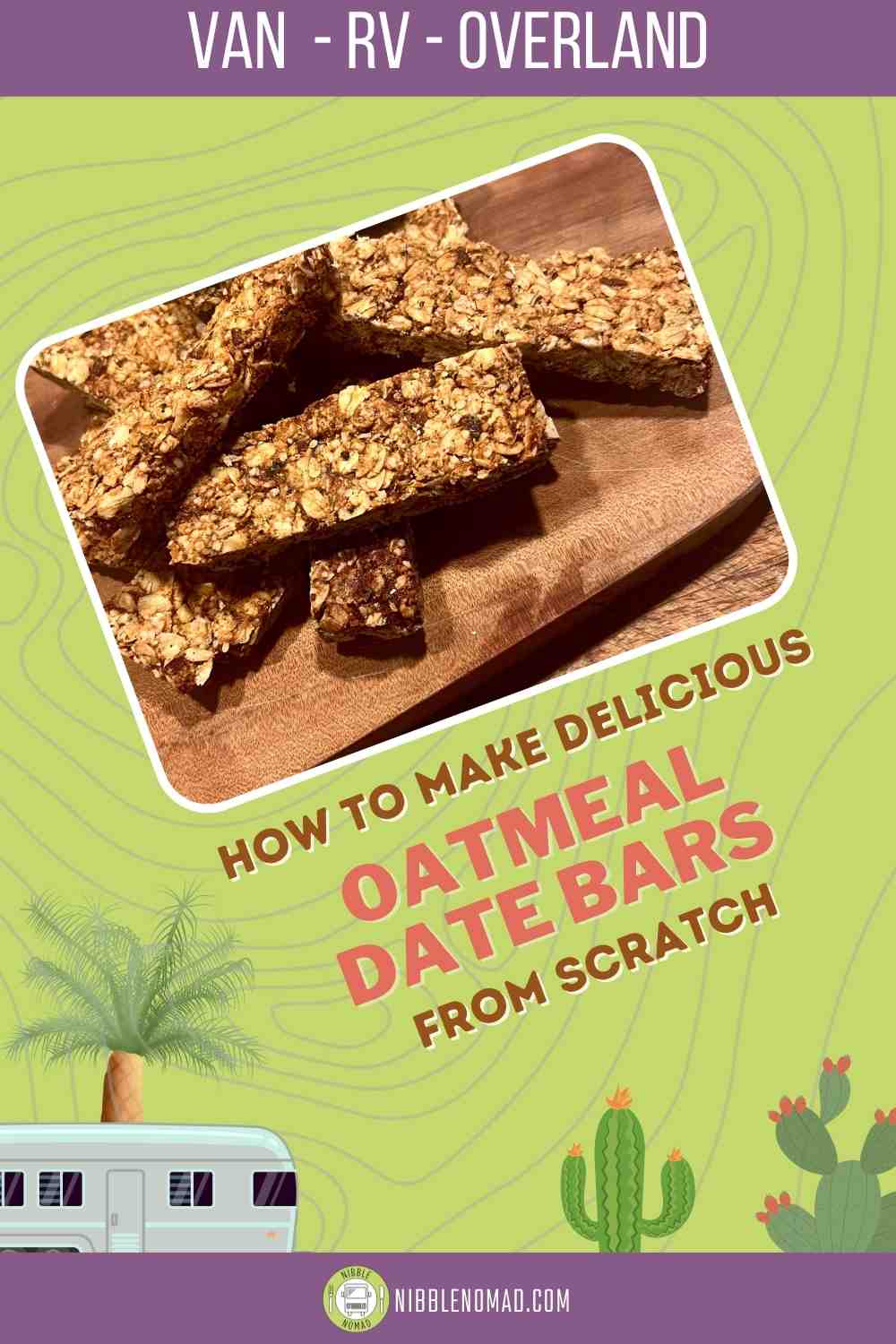 Nibbler Tip:  Add more dates if you want it to be sweeter.
Oatmeal Date Bars
Quick and easy snack bars to make on the road
Equipment
baking pan for oven, Omnia or solar oven
Ingredients
1 1/2

cup

pitted dates

chopped - about 10 dates

1

tsp

baking soda

1

tsp

vanilla

2

cups

quick oats

1/2

cup

almond flour

any flour will do

1/2

cup

sweetener

1/3

cup

seeds

I like to add hemp seeds

1/4

cup

nuts

chop up your favorite nuts

1

cup

butter

melted
Instructions
chop the dates and cook in a small pot with 1/2 cup of water until the water is gone. About 10 minutes. Slightly mash the dates

remove from heat and add vanilla and sweetener

combine flour, baking soda, oats, nuts, and seeds

stir together and add melted butter. Really get in there and smush it together to make a nice compact consistency

place silicone sheet onto a cookie pan if using a regular oven

add the mixture to the pan and spread to 1/2 thick

bake for 30 minutes at 350 degrees. Ovens vary. Solar oven is about 40 minutes
Nutrition
Serving:
1
bar
|
Calories:
337
kcal
|
Carbohydrates:
62.8
g
|
Protein:
7.7
g
|
Fat:
7.9
g
|
Saturated Fat:
1.1
g
|
Sodium:
290
mg
|
Potassium:
471
mg
|
Fiber:
7.6
g
|
Sugar:
29.1
g
|
Calcium:
41
mg
|
Iron:
3
mg