If you follow a gluten-free diet, having access to 31 easy gluten-free breakfast ideas can be incredibly useful, especially if you have limited kitchen space or live a nomadic lifestyle.
Finding gluten-free items in the grocery store is much easier than it used to be as more and more people are becoming conscious of their gluten consumption.  This could be because of medical restrictions or just an attempt to cut back on their gluten intake.
So, sit back and check out all these wonderful ideas to make your breakfast more exciting and versatile while staying gluten-free.
What is gluten?
Gluten is a natural protein that is found in wheat, barley, and rye.  However, gluten was started to be added to food products as a way to improve the texture of the food and give it a longer shelf life.
It is a binding agent to help the dough stick together and prevent it from crumbling.  Gluten also helps give the food product the ability to retain moisture.
The attention to gluten really took off in the 1970s and 80s as the convenience of processed foods became more popular.en was not only used for bread, cereals, and pasta.  The manufacturers of processed food started to use gluten in sauces, processed meats, and crackers to help them have a longer shelf life.
Due to more and more people becoming aware of gluten sensitivity and celiac disease, an autoimmune disorder that affects the small intestine, the market for gluten-free food products has grown extensively.
That is why I list 31 easy gluten-free breakfast ideas for nomadic living.  Just because you have a small kitchen or do a lot of your cooking in an RV or van doesn't mean it shouldn't be easy to stay with gluten-free ideas.
| Disclosure: Please note this post may contain affiliate links. There is no additional cost to you – we earn a commission if you purchase using our links. We only link to products and companies we use and recommend.

What is Celiac disease
When a person with celiac disease eats gluten, their immune system attacks the lining of their small intestine and creates inflammation.
Because there is no cure for celiac disease, eating a gluten-free diet is the only way to prevent the symptoms.
This has become easier now more than ever.  
Plenty of gluten-free foods can be purchased at your local grocery store, but you can also very easily make your food at home with these 31 easy gluten-free breakfast ideas.
Finding food products without gluten can be challenging for someone with celiac disease.
Labels must be read to ensure no cross-contamination of products that include gluten has come in contact with gluten-free foods.
Can breakfast foods be gluten-free?
The answer is a resounding Heck Yeah!
When it comes to making gluten-free foods at home, there are a couple of things to keep in mind.
Not all flours have the same texture or taste, so it is important when making homemade food to taste to see which flavor fits with which recipe.
Remember that not only people with celiac disease stay away from gluten.  So these ideas are for everyone.
Having a small kitchen or living a nomadic lifestyle can also be challenging.  It's always best to make recipes that are easy to make with just a few ingredients.  The ability to cook in one or maybe two pots is ideal and much easier to clean up.
Here are 31 easy gluten-free breakfast ideas 
I have found the best breakfast ideas for you so please check out the websites for the recipes and show all these creators some love.
Remember that these wonderful gluten-free breakfast ideas are easy to make in a small kitchen, RV, or camper van.  They are full of flavor and easy to make.
Quiche Cups
These easy little egg bites from seasonalcravings.com that bring grape tomatoes, kale, and prosciutto together for a hearty breakfast. This one is very easy to make and they are great for on-the-go days.
Gluten-Free Cinnamon Apple Scones 
Here's a sweet breakfast treat that is sure to please.  Check out fearlessdining.com to see her secret to the perfect cinnamon swirl.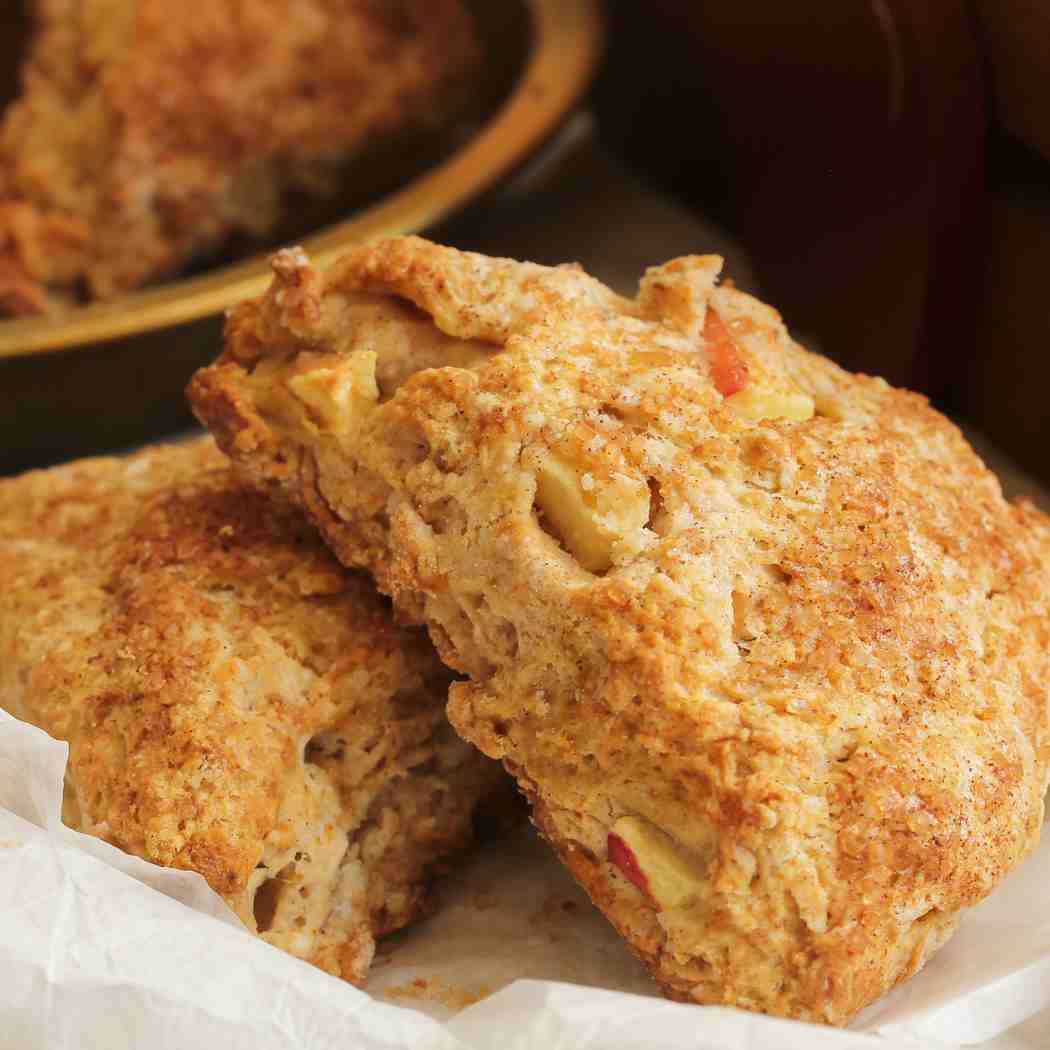 Cherry Pie Energy Bites
The cherry pie energy bites by lemonsforlulu.com are an excellent quick way to start your day on the go.  You can replace them with any berry.  They are filled with healthy seeds and nuts to give you that full feeling.
Breakfast Baked Potatoes
Try this easy breakfast idea from nutritioninthekitch.com that bakes so quickly in your air fryer.  They can also be made in a regular oven if you don't have one.  Having these around are great for busy travel days.
Gluten-Free Breakfast Pizza    
Did you say pizza?  For breakfast?  You bet. Paul and I, fortunately, don't have to steer clear of gluten, but this breakfast idea from creationsbykara.com is excellent for anybody to enjoy.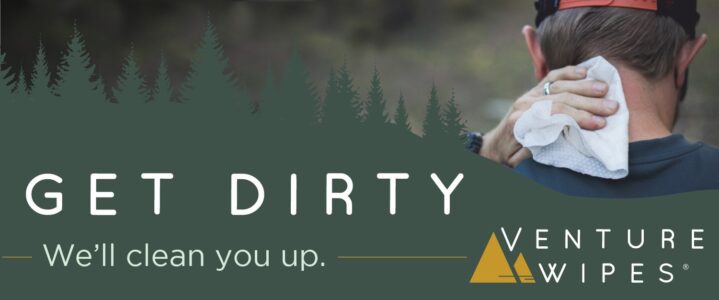 Huevos Rancheros
This is a traditional Mexican breakfast that everyone enjoys.  These gluten-free huevos rancheros by yourglutenfreekitchen.com are sure to please your hungry crowd.
Shakshuka
Here is a wonderful recipe from toriavey.com that brings a little North African flare to your breakfast. This healthy vegetarian dish is sure to please everyone at the breakfast table.
Mediterranean Breakfast Egg Bake
When you want a little spice in your morning, this dish from lemonsforlulu.com is perfect for you.  It's very similar to the Shakshuka but with a little kick to get you going to work or just starting a long travel day in your RV.
Ham, Egg, and Cheese Muffins
This hearty breakfast option is a sure winner for you and your family.  The classic ham, egg, and cheese flavor in a muffin from tablespoonforone.com makes it great for on-the-go breakfasts.
Breakfast Chia Pudding Parfait
Here's a quick 'make the night before' breakfast idea from smallfarmbiglife.com that gives you that full feeling to go the whole day.  They are tasty and good-looking to boot.
Instant Pot Breakfast Egg Casserole
When it comes to quick and easy, this one is perfect.  Making your food in an instant pot is one of the fastest ways to get your day started.  An egg casserole from lemonsforlulu.com is excellent for breakfast or any time of the day.
Gluten-Free Fried Apple Oats
Fried apple oats are great for that warm, cozy breakfast we all look for in the morning.  Seasonalcravings.com has come up with a breakfast idea that is just what the doctor ordered.
Bacon and Egg Cups
If you want a quick and easy gluten-free breakfast idea, here it is.  This bacon and egg cup recipe from kathleenashmore.com can be made in an oven or Omnia Stovetop Oven to start your day with lots of protein.
Gluten-Free Banana Pancakes
Ah, pancakes, the quintessential breakfast food. They can very easily be made gluten-free for everyone to enjoy.  Here is a wonderful recipe from eatwithclarity.com that is sure to please. This is Paul's favorite of all 31 easy gluten-free breakfast ideas.
Overnight Oats
Overnight Oats have to be the easiest thing to make for the following day.  If you are like me and don't really do mornings, this recipe made the night before from glutenfreepalate.com is just right for you.
Air Fryer Breakfast Burritos
Here's another breakfast idea that is great when cooked in the air fryer.  Glutenfreesupper.com shows you how to make these wonderful burritos by crisping up the outside and keeping the inside nice and soft.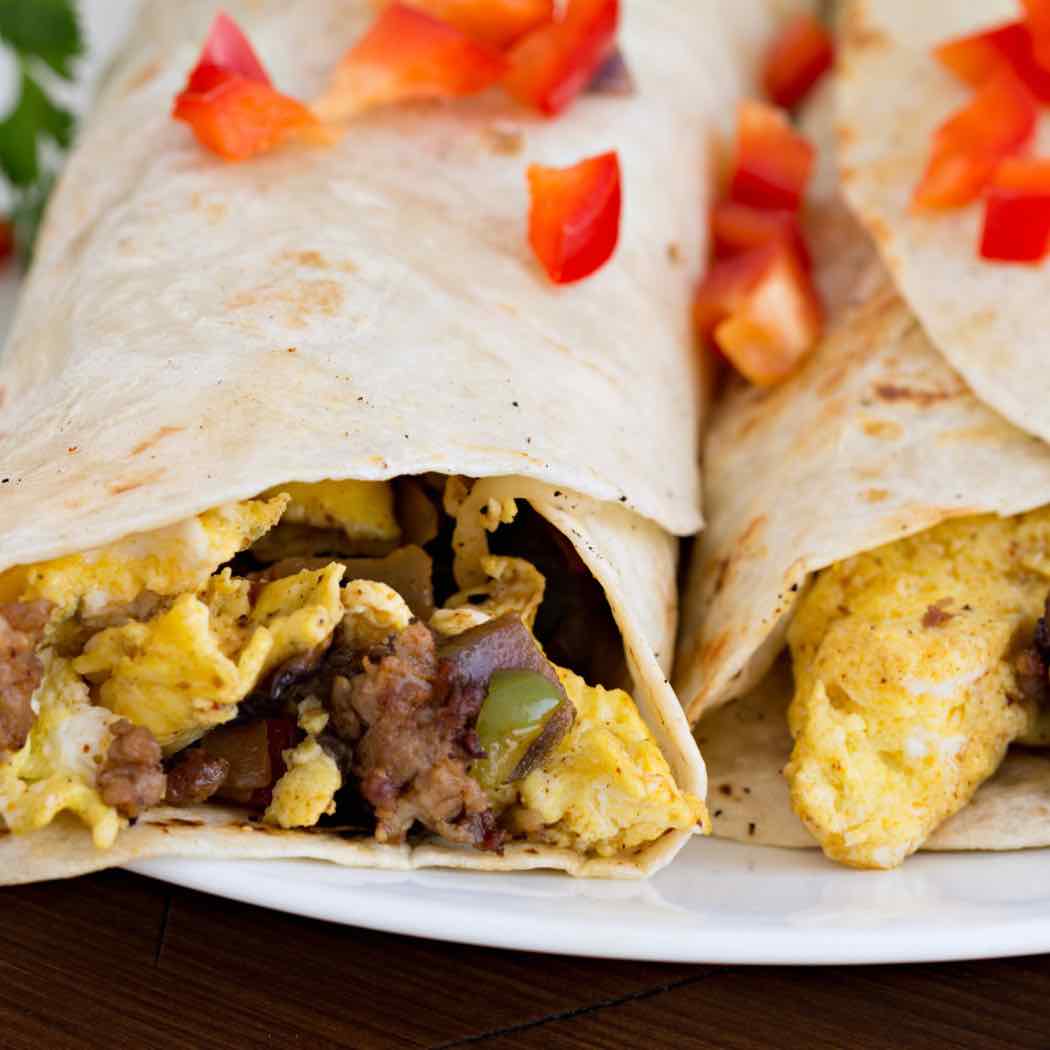 Gluten-Free Yogurt Parfait
Yogurt is a classic breakfast item that goes well with fruit and granola.  Lifeafterwheat.com has a wonderful recipe for just that.  Make sure that you get gluten-free granola and enjoy.
Egg and Veggie Muffins
When it comes to convenience, these muffins hit the spot.  You can make these the in the morning or anytime for a quick get-up-and-go breakfast from goodness.com. 
Yummy Baked Oatmeal
This is one of Paul's favorite breakfast options.  I make this practically weekly because it is easy and tasty.  It can be made the night before and baked in the morning.  I like this blueberry version from chewoutloud.com, but you could use any fruit you want. 
Easy Gluten-Free Sweet Potato Hash
Sweet potatoes are a favorite in our house.  Making a warm batch of gluten-free sweet potato hash is a great way to get that lovely crispy goodness to go with your eggs or just by themselves.  Here is a fantastic recipe from buildyourbite.com that will fill you up for a day of adventure.
Classic Breakfast Smoothie
When it comes to a quick breakfast, a smoothie is a winner.  I make up bags of all the ingredients to make the smoothie and then freeze it.  That way, Paul or I can just grab a bag from the freezer and put it in a high-powered blender.  Skinnykitchen.com has a very simple but delicious recipe for your classic gluten-free breakfast smoothie.
Mix it up With a Smoothie Bowl
Smoothie Bowls are made the same way as a breakfast smoothie, but darngoodveggies.com has the secret to getting the perfect consistency for your bowl. It tastes so refreshing that you think you are sitting down with a big bowl of ice cream for breakfast. 
Gluten-free Avocado Toast
This is something that Paul and I have for breakfast quite often because it is so easy to make.  Get a hold of some gluten-free bread and boil some eggs.  Put it all together, and you have a wonderfully filling breakfast that will make you feel satiated all morning.  I have a recipe here from cupcakesandkalechips.com that shows you the easiest way to put this together.
Strawberry Cake Gluten-Free Style
Here is an amazing breakfast strawberry cake that will make you smile.  It's nice and light and not super sweet.  Healthiersteps.com has put together the best breakfast cake recipe that I have seen in a long time.  Who says you can't have cake for breakfast!
Veggie Mini Frittatas Muffins
What better way to get your greens in than to make these wonderful veggie frittata muffins?  Livelovenurish.com has a great recipe to make these easy breakfast muffins that will start your day correctly.
Gluten-Free Acai Bowl
The Acai bowl is becoming a staple for breakfast.  Once you have the Acai powder, you can make your bowl with any toppings. These refreshing cold bowls are great for a lovely sunny, warm morning.  Theharvestskillet.com has a recipe that makes it so easy to put one of these bowls together.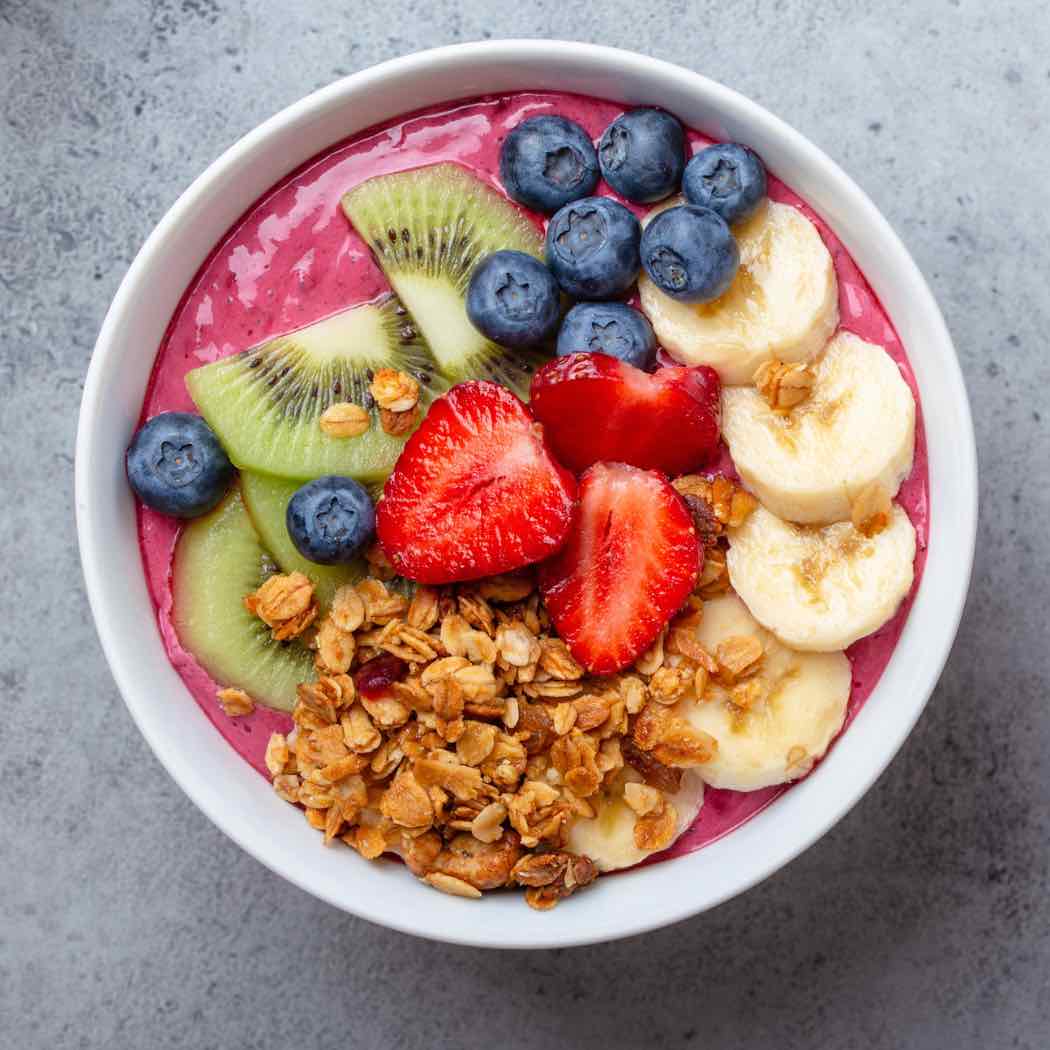 Healthy Easy Granola
Granola has been around for a long time.  It's not just for breakfast anymore.  So the next time you are going for a hike, bring some of this healthy gluten-free granola along for a quick, nutritious pick-me-up.  When it comes to a quick and easy recipe, I think you will agree that Cookieandkate.com have put together the best one to make an excellent breakfast or snack.
Easy Gluten-Free Breakfast Skillet
Ready for a full breakfast that will stick to your ribs?  Well, this recipe from iowagirleats.com will do just that.  Eggs, sausage, potatoes, and cheese make up a nice hearty, easy-to-make gluten-free breakfast skillet.
Spinach and Sweet Potato Toast with Eggs
Who needs toast with gluten when you can have spinach and sweet potato toast with a fried egg on top?  Think about all the natural sweetness from the sweet potatoes and the excellent spinach to add to it.  Throw that egg on top, and you have a complete breakfast meal. You should check out eatingwell.com for the easiest breakfast recipe.
Hashbrown Breakfast Casserole
I am always the first to try and find a quick one-pot breakfast for just the two of us or for a crowd to share.  This recipe from spendwithpennies.com is just what I was looking for.  This is so easy to just throw sausage, hash browns, peppers and onions, and cheese into a baking dish or Omnia Stovetop Oven.  Pour the egg mixture over the top and bake.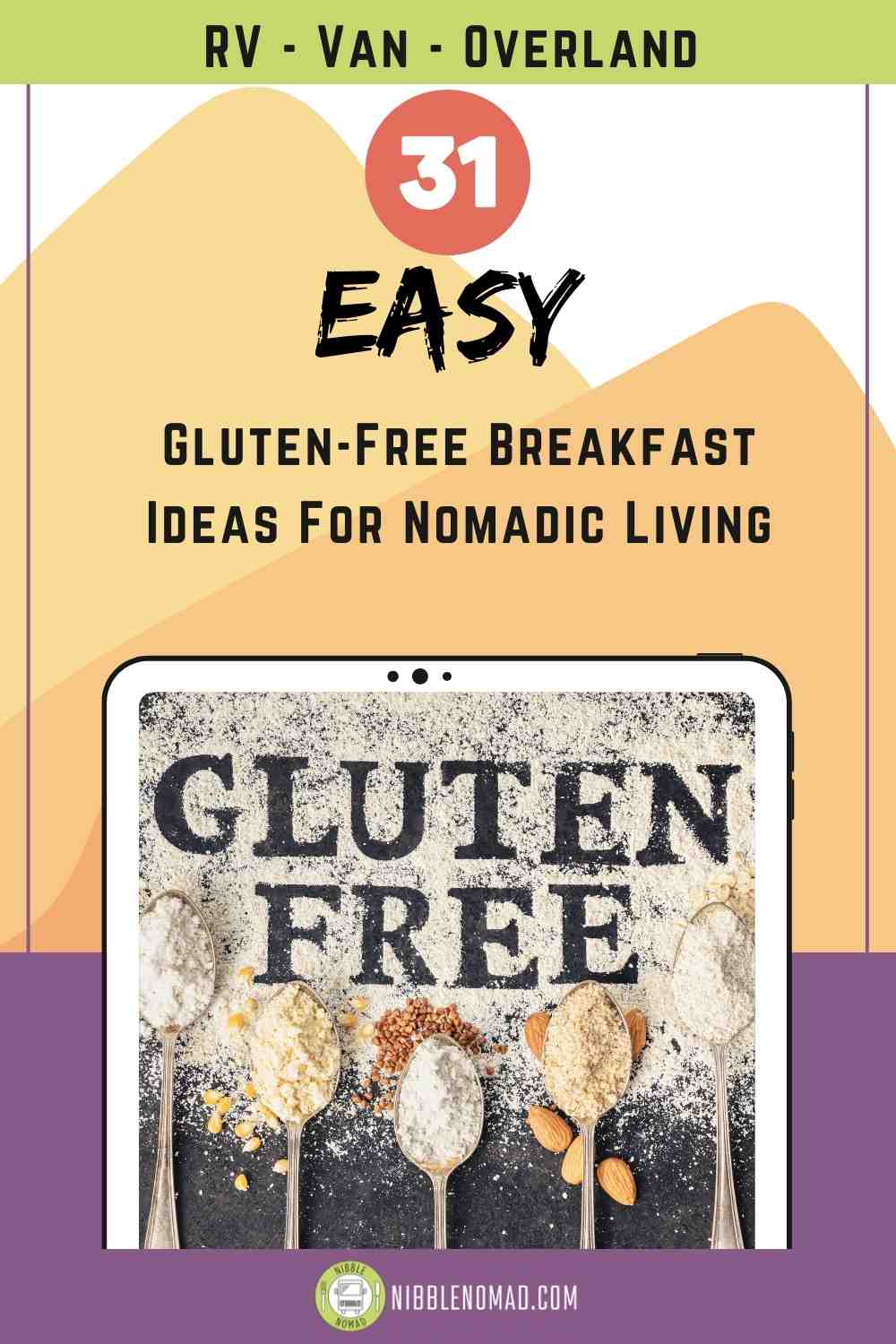 Well, that's my list of 31 easy gluten-free breakfast ideas for nomadic living or just anyone with a small kitchen.  
They are all quick to prepare and bake and then clean up easily.
Always remember that any of these recipes can be made gluten-free or not.  The taste really won't be different between the two.
AMAZON DISCLOSURE:  This website participates in the Amazon Services LLC Associates Program, an affiliate advertising program designed to provide a means for us to earn fees by linking to Amazon.com and affiliated sites.