Have you ever been hungry on travel days in your RV, truck camper, or Van? How to find healthy food options at Truck stops can be tricky if you're not sure what to look for.
Some ways and options can help you get through some of those long travel days.  Without having to prepare something on the road that can slow you down.
We have traveled around the United States for 8 years. Some have been full-time and the rest part-time.
I like to prepare some food options before we leave but there are those times when you stop for fuel and you just want a little something to hold you over until you arrive at your planned location.
That is where truck-stop food comes in handy.  When it comes to eating well from truck stops, some options can be considered healthy or healthier.
The problem is that these stops don't usually tend to cater to eating well.  They are made to have something quick, and easy, to grab and go.
Some alternatives can be found at these stops.  Here are some options to help you eat well while at a travel center.
| Disclosure: Please note this post may contain affiliate links. There is no additional cost to you – we earn a commission if you make a purchase using our links. We only link to products and companies we use and recommend.
Love's healthy truck stop food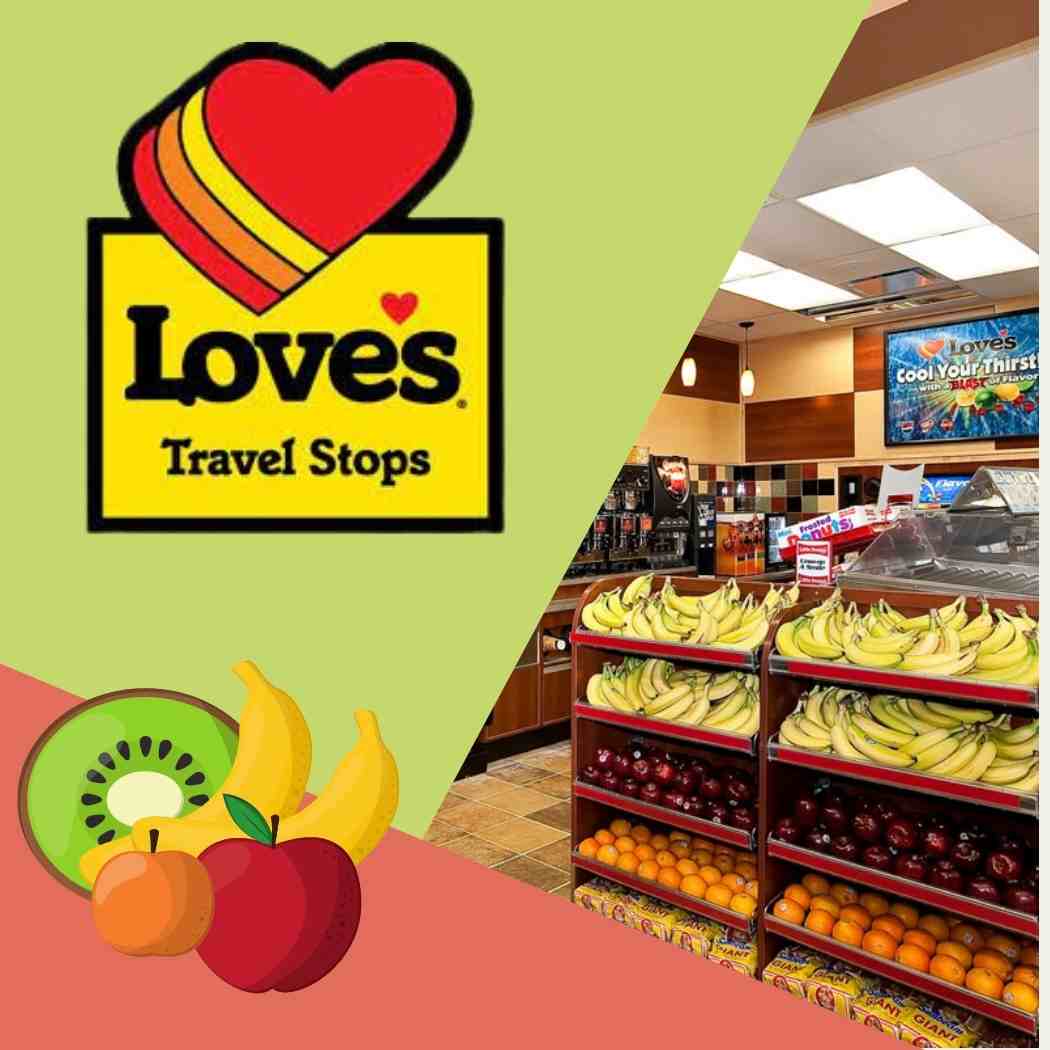 Let's start with Love's Truck Stop. This is one of the US's largest truck stop convenience stores.  It has been around for more than 50 years.
These stops were originally made to give the long-haul truckers a place to stop to get off the road and rest and have a bite to eat.
The problem is that they weren't thinking about nutrition back when they started. So that means it has always been harder to find healthy food options at truck stops.
Nowadays they are much more conscious of the travelers that want to stop for a bottle of water and something that will give them the energy to continue with their travels.
Now, of course, you can grab one of the rotating hotdogs on the grill or maybe a piece of pizza from the warming ovens but how is that healthy?
It's getting easier to find healthy food options
I have noticed there are a lot more options than there used to be to eat well at the Love's.
You can grab whole fruit like bananas, apples, oranges, and berries.  You can also decide on a fruit cup with or without yogurt.
Hard-boiled eggs are always a good option for a little protein pick-me-up.
Nuts and seeds are a great way to get some of your needed nutrients.  Walnuts are always the best nut to select followed by pistachios, peanuts, and almonds. Try to stay away from Macadamia nuts as they are loaded with unnecessary fat and hardly any protein.
Sesame seeds and pumpkin seeds are also great hearty choices.
Prepared garden salads usually have plenty of veggies.  Just try to avoid the croutons and limit the dressing as it is quite high in calories and fat.
They are all starting to carry these little Keto-friendly packs of meat and cheese without the crackers or bread.  That can be a great option.
I love the little bags of sliced pickles.  They are great for settling your stomach if something you ate isn't quite sitting right in your belly.
Now, they will always have a fast-food option attached to the Love's.  Try to stay away from those options as they are very heavily processed and really not good for anybody.
https://www.loves.com/en/store-offerings/food-and-beverages
Nibbler Tip: Always walk around the truck stop to see what is in all corners of the store.  A lot of the healthier foods are usually not front and center.

TA Truck Stops (Travel Centers of America) also have healthy options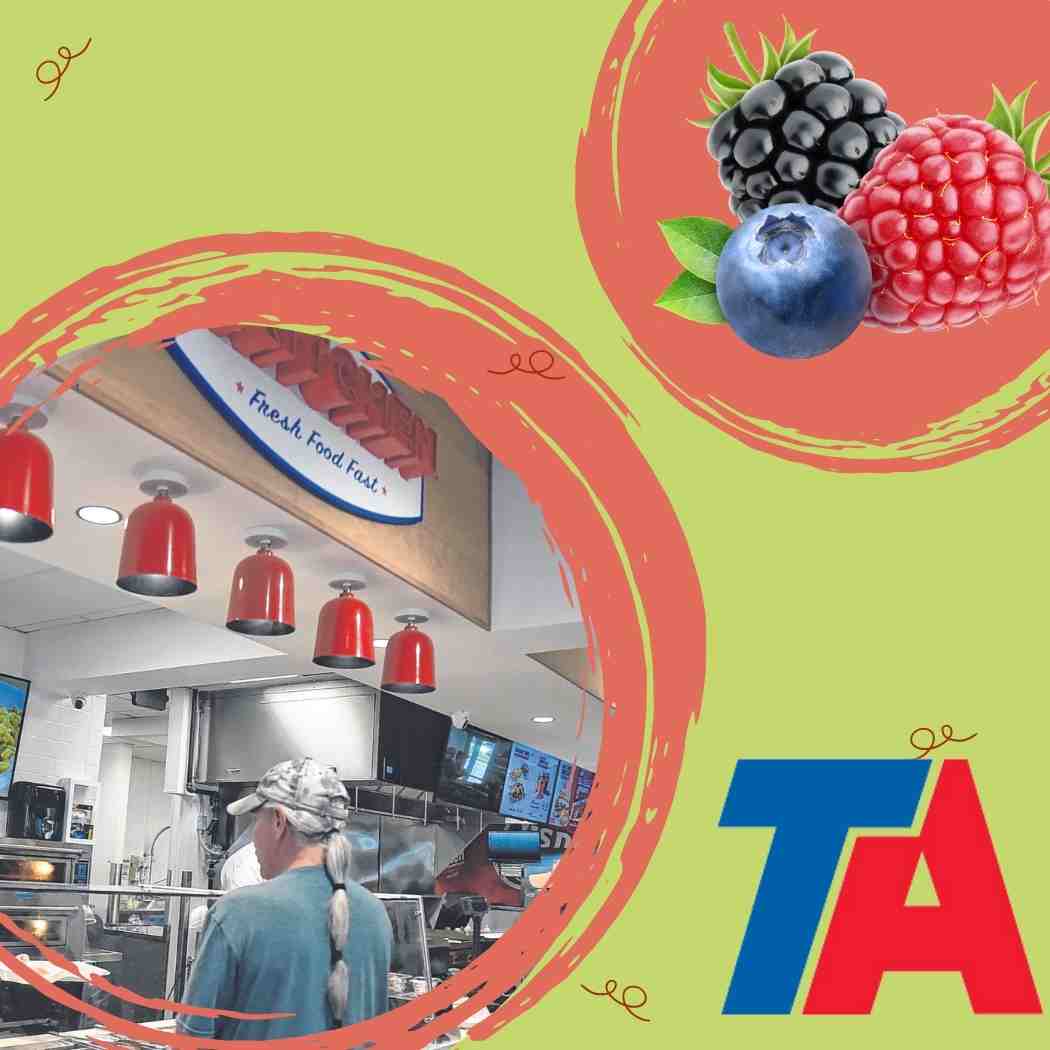 This is another truck stop that has been serving drivers for more than 50 years.
The company recently said that they are taking a good look at the past 50 years and working to improve the overall look and feel of the truck stop.  How to find healthy food options at truck stops is becoming their main objective.
Most of these places pretty much have the same grab-and-go options that all the other truck stops have. This is actually a great thing for the traveler as it makes it so you already know what healthy options will be at the truck stop you happen to go to.
They are incorporating more sit-down restaurants at the TA to create a more warm and homey feeling for the public. This will be very helpful when it comes to making healthy options.
You will, of course, have to get off the road for a longer period of time to enjoy a nice home-cooked meal but more options are always better.
A lot of these truck stops offer pre-made sandwiches like egg salad or chicken salad.  They also have chicken or veggie wraps which is a less carb option.
The ham, cheese, turkey sandwiches, and wraps are always an option but would not be the first thing I would reach for.
Try to stay away from all the chips and candy that are offered.  These are always great when you are eating them but they won't sustain you for more driving.
https://www.truckersnews.com/life/article/15280255/travelcenters-of-america-unveils-new-look-new-food-options-with-the-kitchen
The Famous Buc-ee's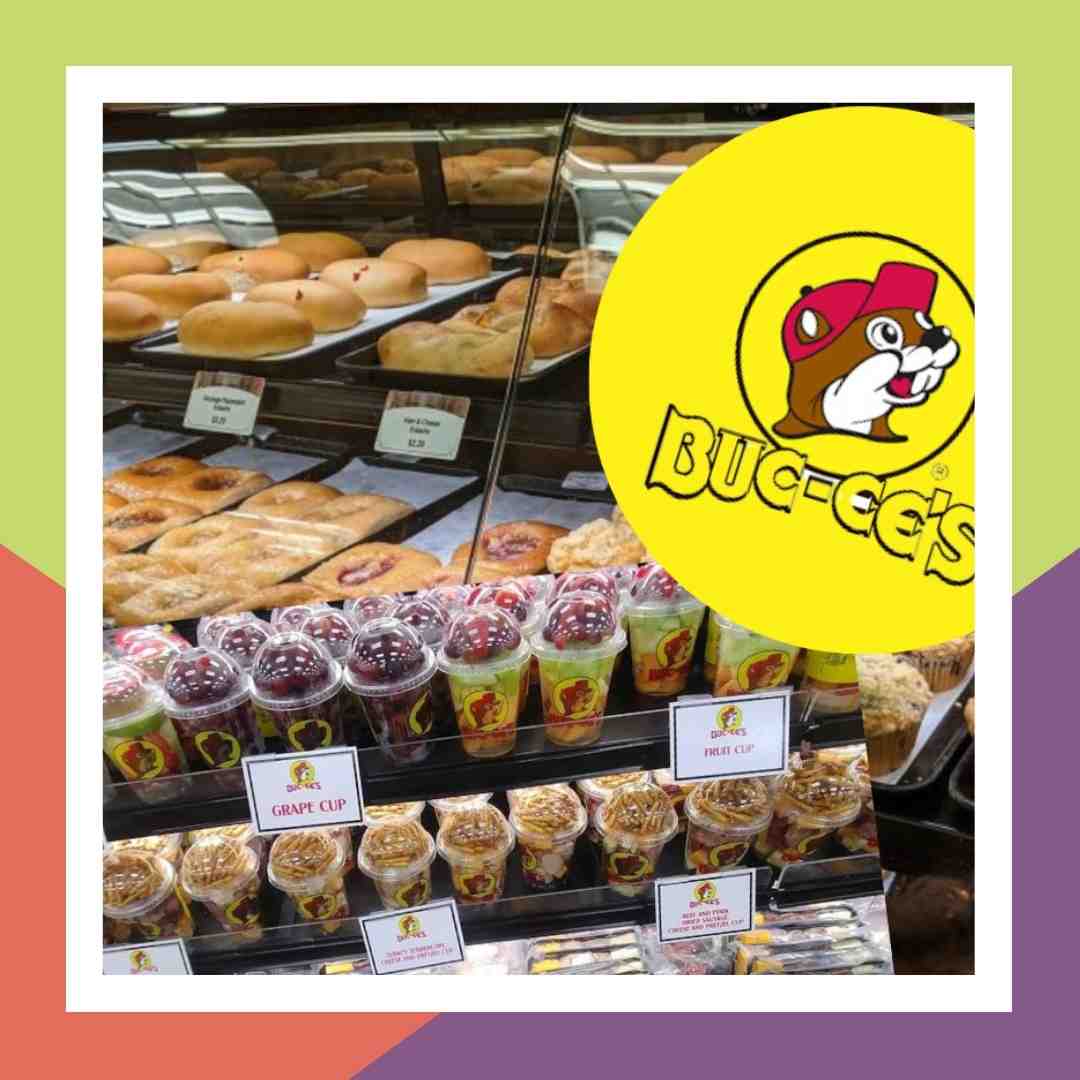 While not technically a truck stop, they are quite an experience. It is the largest travel stop in the world, not just the US.  It was started about 40 years ago by two Texans and it is still privately owned today.
This is a powerhouse of travel stops.  If you have ever been to a Buc-ee's then you know what I am talking about.  They are on a scale of their own.  Trucks are not allowed so it cannot be truly called a truck stop, but it is more than a travel stop.  It has grab-and-go food but also has signature-made foods, clothing shops, souvenirs, auto supplies, and much, much more.
Buc-ee's has a wide variety of dried fruits and nuts.  There is plenty of different flavored trail mixes and a huge jerky bar.
This place is not just a travel stop to get fuel, which by the way has about a100 pumps at each location.
There really is plenty to choose from to eat at Buc-ee's but you have to look for the food that will give you the most for your buck.
https://heworkssoitravel.com/best-bucees-snacks/
Smaller gas station convenience stores have healthy food
Not all gas stations are the same.  The smaller ones will most likely not have very many healthy food options as space is at a minimum.
In that case, the best bet is to get some veggies and hummus if it is available.  Also don't forget the nuts, seeds, cheese, and fruit.
To wrap up how to find healthy food options at truck stops
The best way to eat healthy at truck stops is to always prepare your own containers of veggies, dips, nuts, seeds, fruit, and even some jerky if you eat meat.
My go-to when packing for a travel day is always grapes, raisins, nuts, and popcorn.
Remember to drink plenty of water and try to avoid sugar-charged sodas.  Keep in mind that by the time you feel thirsty, you are already dehydrated.  Stay ahead of the thirst.
Another great overall option is to look for places that offer some grilled ideas as opposed to fried items.
Of course, there will always be a day or two when a nice relaxing stop at a restaurant is just what the doctor called for.  Enjoy yourself and then get back on the road for more adventures.