It's always best to try to keep some versatile items in your RV or van at all times. Most bigger RVs are blessed with nice big fridges but vans usually have very small fridges and tiny freezers. This is why you need to adjust what you can bring and store.  Here are 7 essential plant-based staples for your rig along with options that will serve you well while traveling.
Greens are the most essential staple
One of the most nutrient-dense greens is kale.  Some people don't like kale because it has a rather bitter taste. It's really good in salads, soups, and stews, and can be made into kale chips which is a tasty snack.
They are easy to make in an air fryer or a toaster oven or the ultimate RV luxury item, a real oven.
It's best to get up close and personal with your kale by giving it a nice gentle massage before chopping it up. This makes it a little less bitter, anything helps, right?
Years ago, we saw a sign at an organic farmers market that read "our pigs eat kale so you don't have to" who knew that pigs also like to munch on this wonderful healthy leaf?
Kale is a winter-harvested vegetable, so you may have difficulty in some areas. But if you have access to a vacuum sealer, you can buy, chop and seal some up, and it hardly takes any space.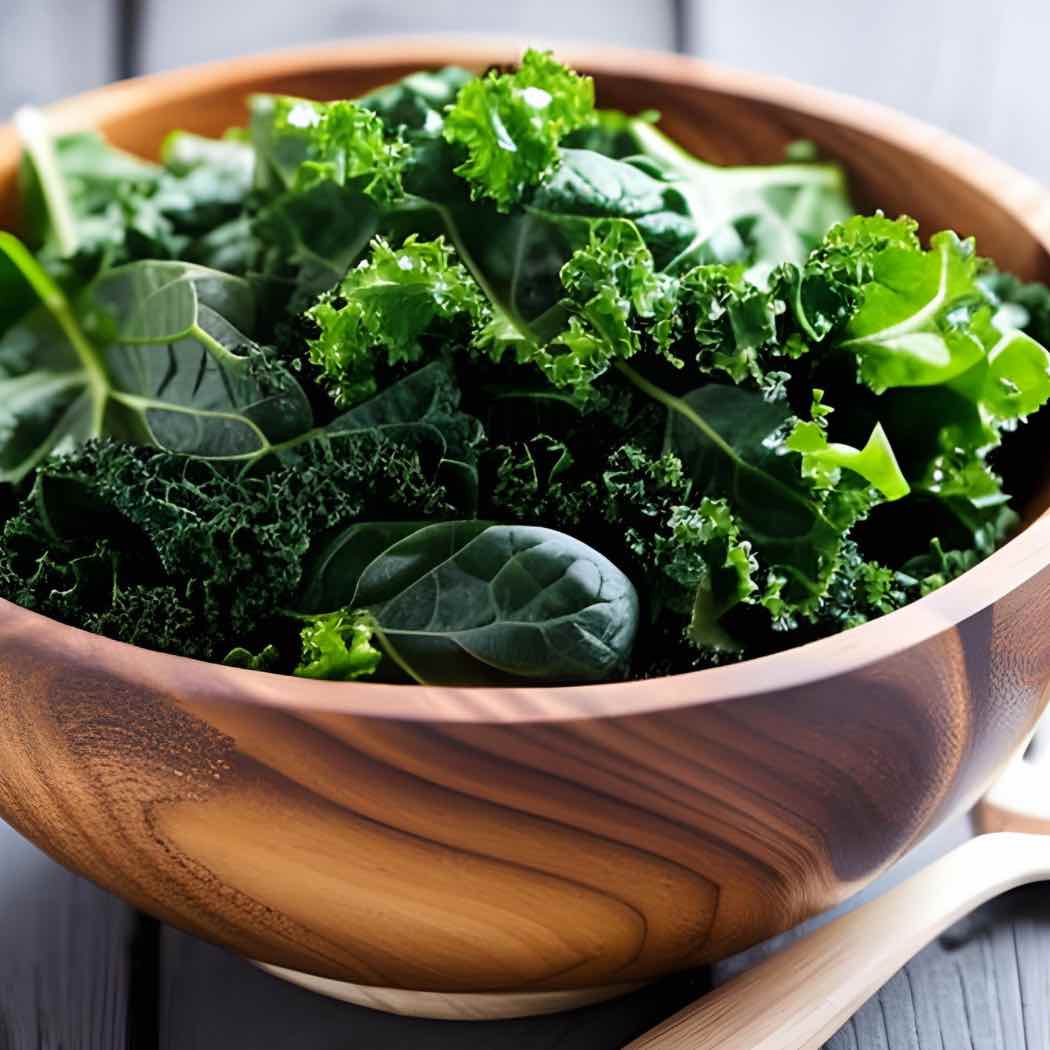 Optional: Spinach would be a great alternative if you just can't do kale.
Tubers are a must
Sweet potatoes are a great option for the 7 essential plant-based staples list for your RV or van. They can be used in soups, stews, and salads. It's easy to make them into sweet potato chips, mash them, or bake them.
They're great for skillet meals and in the instant pot.
Now you might confuse them with yams which are similar but feel a little drier and starchier. Yams are also white inside and sweet potatoes are orange inside.
Lots of people love white potatoes, but they have a much higher glycemic index.  Sweet potatoes have a lower glycemic index, about 50% lower than white potatoes.
We have sweet potatoes on our list of the 7 essential plant-based staples for your RV or van because they are tasty enough to just eat as your main dish with a salad on the side.  
You can store sweet potatoes just about anywhere in an RV or van, they will keep for about 2 weeks, just not in the fridge.
Also, these are great for travel days, you can use the heat from your vehicle to cook them. (yes, I've done it) Wrap them in aluminum foil, and find a nice oil-free spot on your engine where they won't fall and become roadkill and when you arrive, you'll have them ready or close to it.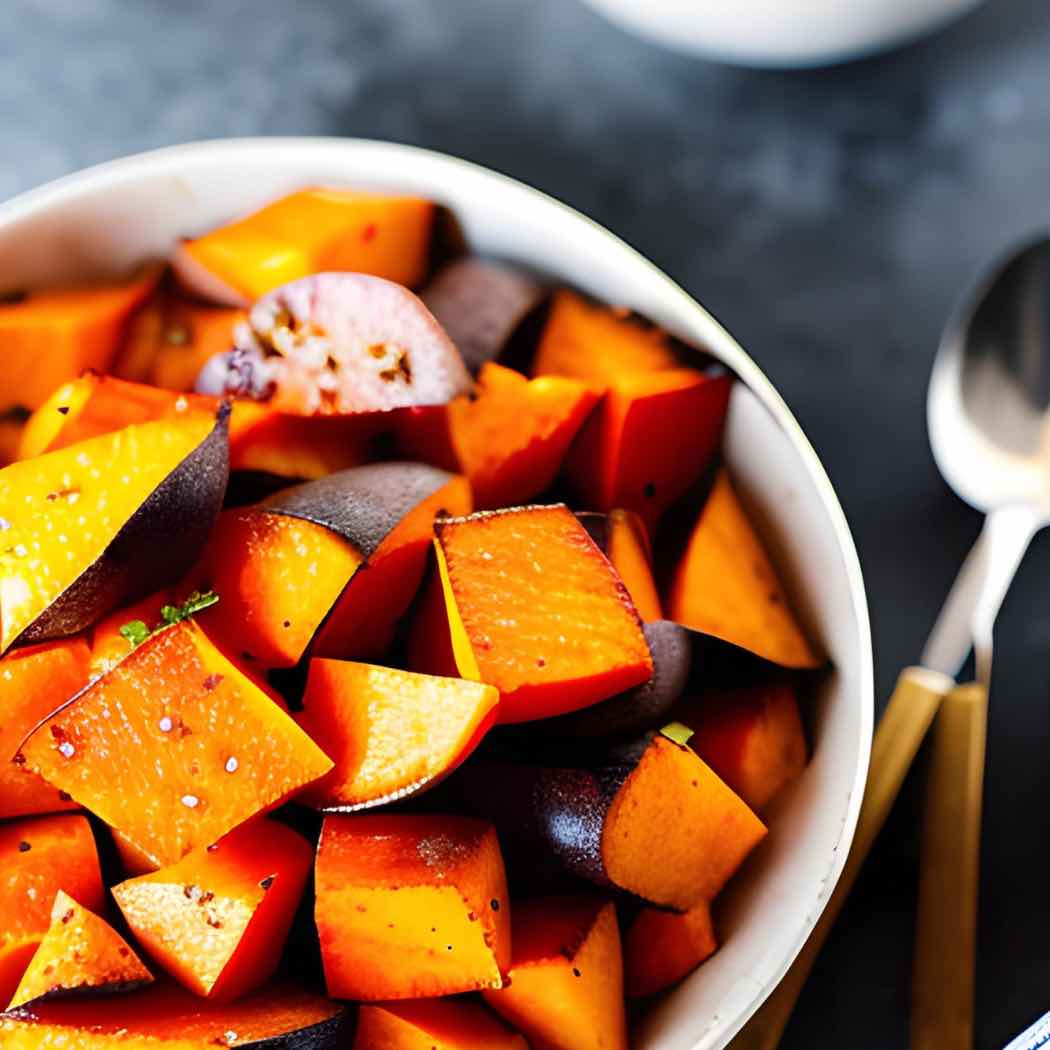 Optional: Yams are just as easy to make great dishes with.
| Disclosure: Please note this post may contain affiliate links. There is no additional cost to you – we earn a commission if you make a purchase using our links. We only link to products and companies we use and recommend.
Bananas are easy to store
Bananas are the fruit with a bad boy reputation. In the past few years, this little yellow fruit has been spanked for having too much sugar, too many carbs & calories. It's only about 100 calories and a nice source of fiber and potassium.
It's self-contained and lasts for quite a while in an RV or van if hung by a hook in a produce hammock or basket instead of placed on a counter.
We have bananas on the 7 essential plant-based staples list because they are used for so many things besides putting on oatmeal. Of course, they can be eaten by themselves, or baked into any type of dessert.
For a tasty snack take rice cakes, put a dollop of peanut butter on them, and top them with a few slices of banana…YUM.
Take bananas on a hike, for a quick meal, or put them in a smoothie. We always have bananas in the rig. You can see how versatile they can be.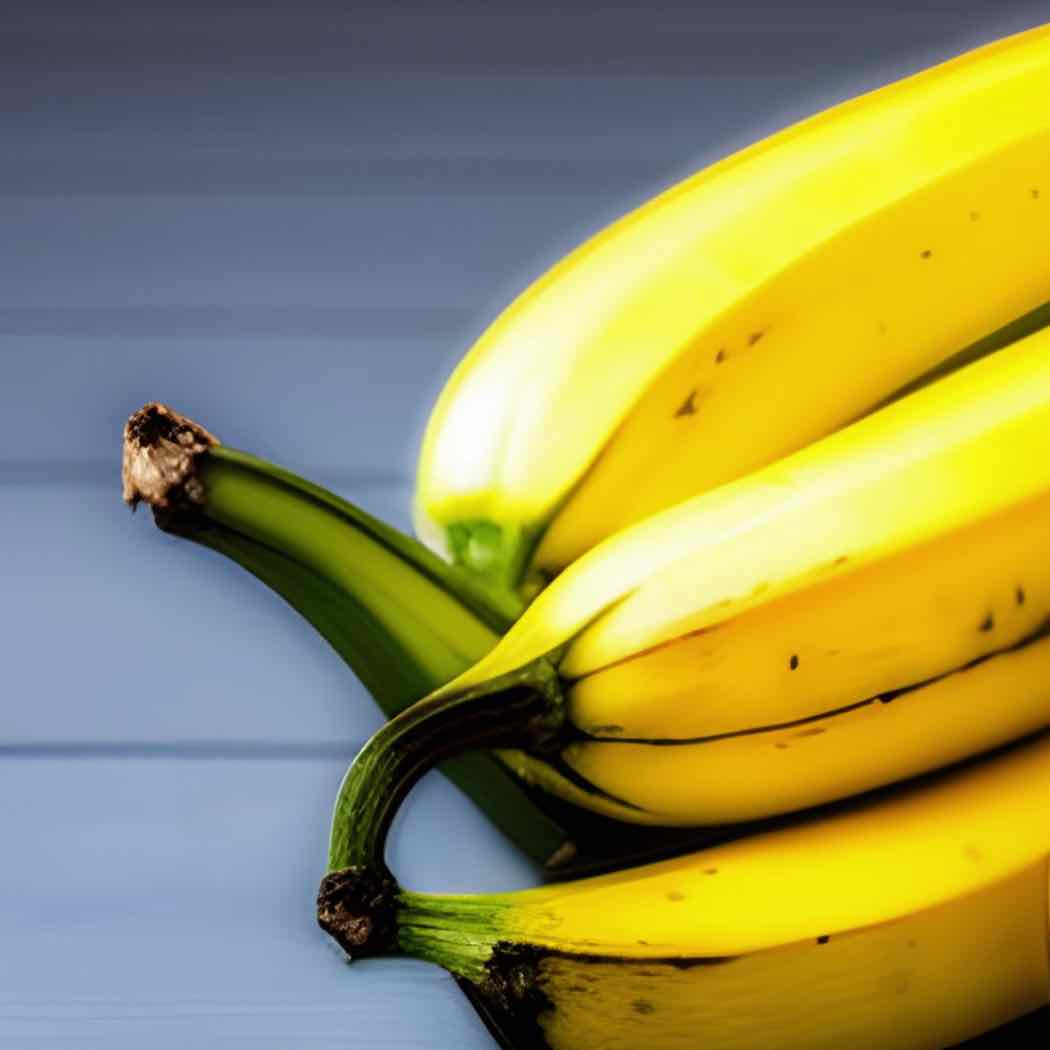 Optional: Blueberries – Fresh is best. said Captain Obvious, but we like them frozen as they last longer. Also, avocados but they don't store quite as well.  
A Versatile Quinoa
While quinoa is technically a seed, it's more commonly classified as a grain. A lot of people use it as a white rice replacement or as a supplement to add to brown rice.  The combination makes a nice mix.
Sometimes you can get a lot of it in bulk bins which is great for ease in meal prep. It stores forever, and it's quick to cook.  Those are two things people who live in small spaces love.
You can make so many dishes with quinoa it's crazy. It's a nice protein-packed nutrient-rich item that we eat at least 3-4 times a week.
Optional: Farro – The Ancient one. Can be used in soups, salads, and even stuffed peppers, it's so good! This one is just not that easy to find.
Honorable Mention – Oatmeal is just as good.  It's hard not to associate it just with breakfast.

Seeds are essential in any diet
Hemp Hearts is one of the most nutritionally complete seeds. Who would have thought? It can be used as a topping for salads or added to anything you make. It's very common to use it in a superfood smoothie.
They contain all 9 essential amino acids, Omega3s, and high levels of Arginine, which is good for the heart.
Adding hemp hearts to anything you make is a huge source of protein to your diet.
It's best to buy hemp hearts in bulk because as one of our 7 essential staples to keep in your RV or van, you will go through a lot of it. If kept in the fridge or freezer it can last up to a year.
Optional: Flaxseed – with essential fatty acids and lots of fiber, this one is a powerhouse of nutrients.
Black beans are essential for every pantry
They are one of our favorites on the list of plant-based staples for our van.
Black beans are a favorite because they can be used alone, to make black bean burgers, put on salads, added to rice, and even for making black bean brownies.
They can be bought in cans or pouches, but dried beans are very easy to make quickly in an Instant Pot.
Super high in fiber and low in fat, and a powerhouse of protein. A sure appetite crusher, unless of course there are more black beans on the stove.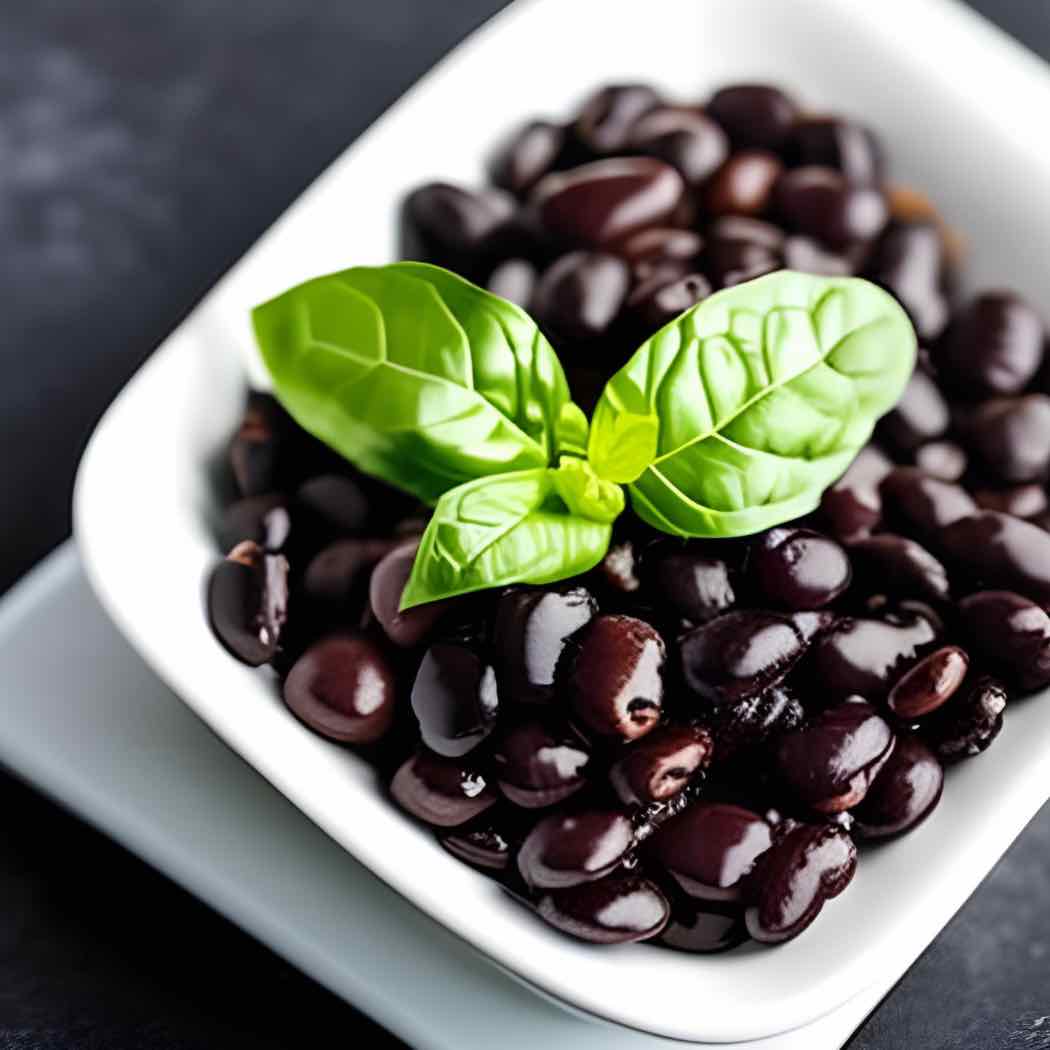 Optional: – Pinto Beans are affordable and versatile.
Lentils are an essential staple
Sometimes known as the meat replacement for vegetarian diets.  Lentils are everywhere.
Black lentils have the most flavor, but others are almost as tasty. These can be tricky to cook because if you leave them too long you can wind up with a mushy mess.
We added this as one of the 7 essential plant-based staples for your RV or van because lentils are a heart-healthy food that can also keep blood sugar from spiking.
We buy these in bulk because they are so easy to cook. In a pinch, you can use the lentils that come in precooked lentil pouches.
Optional: – Chickpeas aka Garbanzo beans are loaded with fiber, iron, and folate.
Finally
Having essential food items in your cupboard or refrigerator in your RV or van can make staying on a healthy plant-based eating lifestyle much easier.
Most of these essentials can be stored for months making meal planning a snap.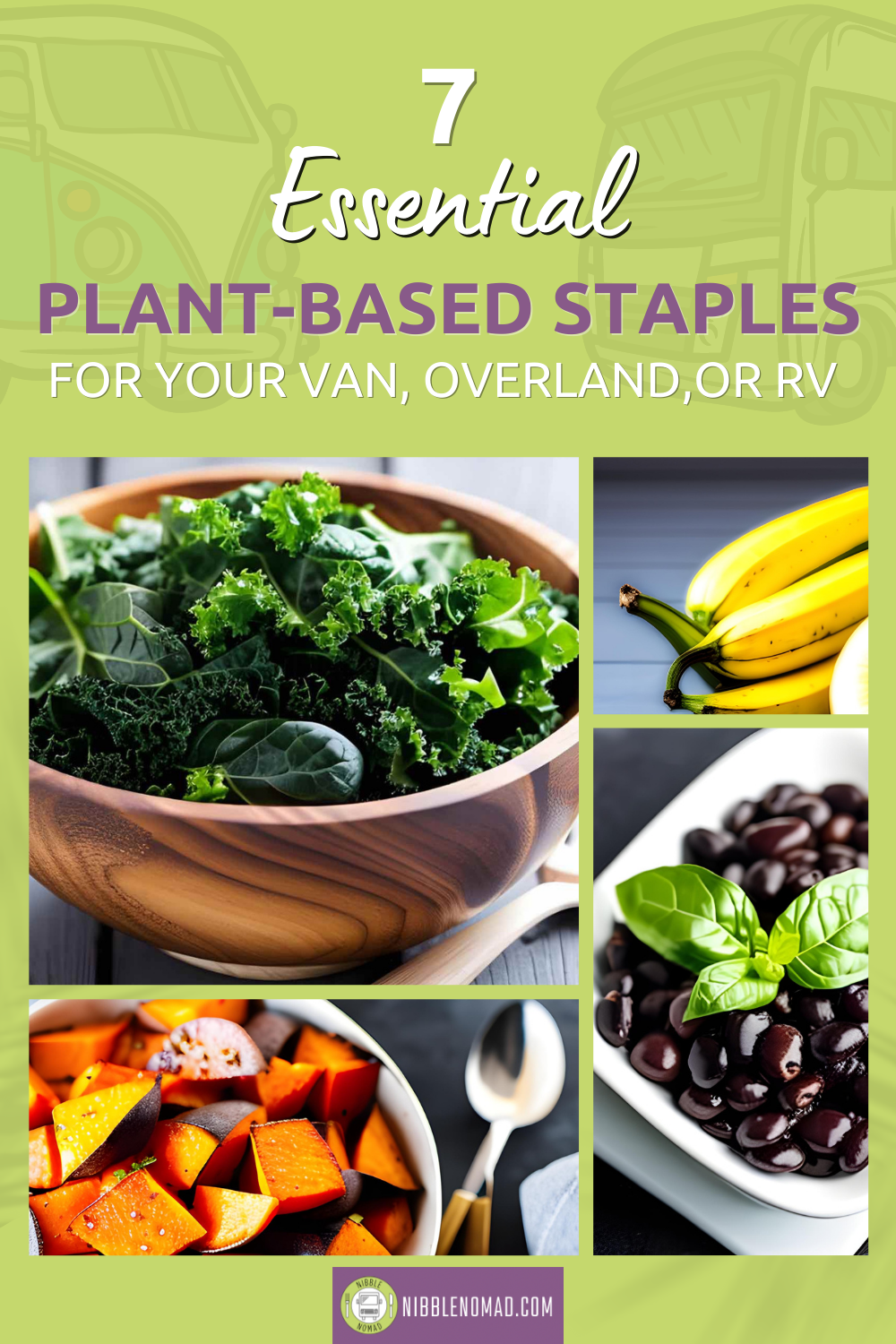 Nibbler Tip:  Cut up the avocado into chunks and lay it flat on a cookie sheet to freeze.  Just fill a freezer bag with them and they will last for quite a long time.
If you have any foods that work well for you, please share them in a comment.