Solar cooking off-grid with the sun's power is becoming a more popular option than ever before.
Boondocking, dry camping, or whatever term you use to camp without services gives you the freedom to be in the wilderness for longer.
Solar Cooking with the power of the sun is a great solution. That's why we always carry our GoSun solar oven when we want to cook our food outside.
It's nice to cook off-grid and not need fuel resources except the sun.
The thing is that if you have a solar oven and some sun (cloudy days work as well), you can pretty much cook anything.
| Disclosure: Please note this post may contain affiliate links. There is no additional cost to you – we earn a commission if you purchase using our links. We only link to products and companies we use and recommend.
Solar cooking off-grid
We got our sport model of the GoSun Sport Solar Oven a couple of years ago.     
The oven is 8 lbs and is 24″L x 5″W x 8″H
We use it for cooking off-grid when we're boondocking and also when we're at a place with full hookups.  Who needs electricity when you have the sun?
The cool thing about this solar oven is that it doesn't need to be preheated, and I can cook in full sun days or cloudy days.
They are very easy to clean, but to make it easier, you can either cut a silicone mat to fit or cut parchment paper for easy cleanup.
Night cooking with a hybrid
You can't cook with the sport model at night, but GoSun has an oven for that. It's the first hybrid solar oven called the Fusion. 
It comes with a few silicone baking loaf cups, a carrying case, and a 12V plug. 
It's bigger than our Sport model, which makes it less portable, but I can make multiple items at once because of the larger size.
What's great about the Fusion is that it's a solar/electric hybrid. This means you can cook during the day with the sun or plug into 12V in your RV, van, or car to continue cooking at night.
The beginning of cooking with the sun
The first documented solar cooking was in 1767, so as you can imagine cooking with the sun started pretty basic.
You put the food in the sun, and it cooks. Easy, but not effective.
Today's technology has improved the concept.

How does it do that?
All of the GoSun solar oven products use a glass vacuum cylinder for cooking the food off-grid, and it has reflective sides to draw in the sun.
This solar oven works differently than traditional propane or electric ovens.
When you cook with a solar oven, there are no temperature controls or an on/off switch. So checking the food occasionally to see if it is done is really the only way to control the temperature or timer on your food.
Because of the way it is designed with a vacuum cylinder,  it does produce some steam when cooking something with liquid.
For instance, when you roast vegetables in this tightly closed vacuum cylinder, you will produce steam.
Now sometimes you don't want your food to finish that moist. So to remedy this, all you have to do is pull the tray out of the cylinder about an inch and let the steam escape.
This way, you can make your food continue cooking how you want it to.
Some of the benefits of solar cooking off-grid camping
One of the cool features of solar cooking is that it can cook for hours and never heat up your RV or van.
The oven cooks up to 550 degrees, but all the heat is inside the tube. So the outside of the tube stays cold.
We've met many people that use their GoSun oven to go car camping, tailgating, or boating.
This is great because it gives you the freedom to have a hot cooked meal pretty much anywhere.
Another excellent benefit of solar cooking off-grid is that the ovens are light, easy to cook, and compact enough to be carried anywhere.
They make a smaller model called the Go Pro Pack that you could use for hiking or backpacking.
Because it's nice and small, Paul can heat water for me to have a cup of tea.
So Much To Make
I've found plenty of solar cooking recipes online, but you don't have to use only solar cooking recipes.
Whatever you can make in a regular oven, you can make in a solar oven.  You have to alter your cooking times.
Getting started with solar cooking off-grid
The first thing I ever made while solar cooking off-grid was some zucchini, onions, and tomatoes.
I cut them all up, sprinkled them with some Italian Seasoning, and loaded the tray. It took about 20 minutes in direct sunlight, and they were perfect.
I was so excited about using it that I made food for everyone around me at the campground.
All I wanted to do was experiment and make all kinds of stuff. So I baked, roasted, and I made pasta and rice.
I spent so much time cooking in my solar oven that I never wanted to use my regular oven again.
Paul likes to use the solar oven outside because when he is cooking something inside, it always fills the RV with smoke and triggers the smoke alarm.
Baking bread
Making baguettes is really fun because after you make the dough, you shape it into a long cylinder that fits perfectly into the tray.
The bread only takes about 15 minutes.
Nibbler Tip:  Put any seeds or nuts on top of the dough before you start cooking.
Some other ideas
We have crumbled tofu and added some diced peppers, onions, and mini potatoes. Sprinkle it all with some seasonings and cook for about 15 minutes in full sun. Just like that, you have a tofu scramble.
It's fun to throw some grape tomatoes, onion, parsley, oregano, basil, and some garlic into the tray and roast for about 20 minutes to make wonderful spaghetti sauce.
To Sum It Up
Let's face it; the nomadic world is changing. As a result, campgrounds are becoming more crowded. 
Camping without services is becoming more popular.  So it's good to know that there are cooking alternatives that can be used.
A solar oven is one of them, and as you can see, there are many fantastic things you can do when you are solar cooking off-grid.
We really have fun with it. It's fun to try all the different recipes and flavors.
Please let us know if you have a GoSun solar oven or any other type of solar oven. We'd love to know how you use it and what you have made in it.
*Check out our article below for more ideas on alternative cooking and baking appliances.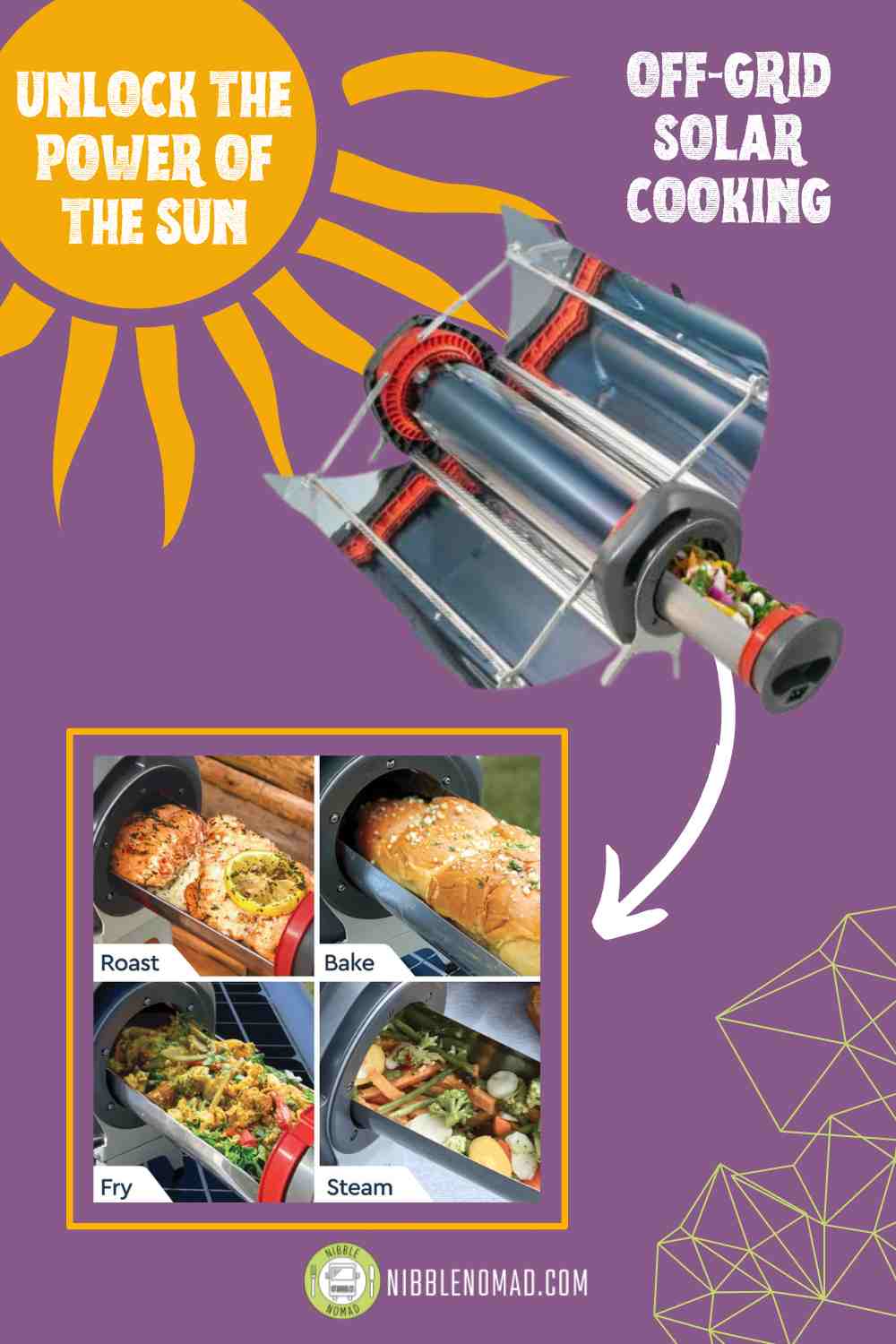 AMAZON DISCLOSURE: This website is a participant in the Amazon Services LLC Associates Program, an affiliate advertising program designed to provide a means for us to earn fees by linking to Amazon.com and affiliated sites.