Living in a tiny house, compact RV, or van can be challenging when it comes to storage. Finding things that will all fit in a small space can be like playing a shuffling game.  Here are 15 of the best collapsible kitchen essentials to help you in a tiny home or nomadic living space.
Sometimes you have to be creative with your storage options.  
Kitchen essentials are tricky to store in a small space
More and more people are opting out of the five-bedroom 4-bath homes for something smaller and easier to manage.
This brings on new challenges for storing your kitchen essentials.
| Disclosure: Please note this post may contain affiliate links. There is no additional cost to you – we earn a commission if you purchase using our links. We only link to products and companies we use and recommend.
If you decide to hit the road for some part-time or full-time nomadic life, you will need to re-evaluate the kitchen items you will bring.

Collapsible kitchen essentials for nomadic living
The more time people pack up and hit the road, the more the best options for space-saving items are being developed.
Everything can be collapsible now.  Things you would never have thought of are now being collapsed and stored easier than ever.
Whether you live on the road or have a small kitchen, these collapsible items will help save you some space.
1. Collapsible bowls
 
These Collapsible bowls are a great space saver. Collapsible bowls are lightweight because they are made of plastic or silicone.  In addition, there are lids to be able to make your bowls into storage containers.
These bowls are easy to clean and are very durable for outdoor use. The flattened collapsible bowls take up 1/3 of the space that traditional metal or glass bowls would need.
I have had and used my collapsible bowls for the last six years while we were full-time RVers. Bowls like these are such a small space saver.
Some say putting the lids on when the bowls are full of food is difficult, but I have never had any problem.
2. Collapsible kettle
This kettle is one of the 15 collapsible kitchen essentials that make it easy to store in a small living space.  In addition, they can hold the same amount of water as a standard kettle when fully opened.
The kettle's body is made of silicone, and the bottom is usually made of stainless steel. 
If you are using an induction stove top, you should always check to ensure the kettle has a magnetic base. 
Some pots and kettles that have stainless steel bottoms have magnetic capabilities.  Always check with the manufacturer's recommendations.
You can even get some of the collapsible kettles on the market with extra features like temperature controls and automatic shut-off.
3. Cooking pots

Pots can be the bulkiest and most awkward things in your small space.  Collapsible pots could be your answer.
These pots are the same as a regular kitchen pots, except they can be compressed or folded down for easy storage and portability.
When selecting your collapsible pots, consider the size and shapes that best fit your tiny kitchen.  Some even include things like non-stick coating and heat-resistant handles.
4. Collapsible colander
Colanders are a great item that follows the RV rule of everything needing to have two uses.  This collapsible kitchen essential is perfect for draining liquid from food such as pasta, vegetables, or fruit.
Some of the collapsible colanders come with handles or hooks for easy hanging, which is excellent for keeping your countertop clear in a tiny kitchen.
Remember that collapsible colanders made of heavy-weight silicone are not necessarily as sturdy as traditional colanders.  So be careful when using the colander with boiling water.
Because they are made of silicone, they are less likely to scratch your cookware or dishes.
5. Dishpans that collapse
These dishpans are the perfect answer to washing dishes in a small kitchen space.  
Some collapsible dishpans have a training plug to make disposing of the dishwater easier.  
Collapsible dishpans make it very easy to wash your dishes. 
For example, I put my dirty dishes in soapy water in the collapsible dishpan, and after washing, I put the soapy dishes in the sink to rinse.  It works out great.
6. Collapsible salad spinner
One of the best parts of using a collapsible salad spinner is loading your fruits or vegetables.  Then you wash them, spin the excess water out and serve them all in the same tiny kitchen tool.
The collapsible salad spinner comes in three pieces.  A collapsible bowl, a spinner basket, and the top with a spinning handle. This makes the bottom two pieces able to be used for other purposes. 
For example, the bowl can be used like any other bowl, and the spinner basket can be used as a colander.
7. Measuring cups and spoons that are collapsible
Having collapsible measuring cups and spoons is excellent for any kitchen.  They are definitely a space saver for any size kitchen but are perfect for small drawers in a tiny kitchen, RV, or van.
Most of the collapsible measuring cups and spoons have clear and concise markings to ensure accurate measuring.
8. Collapsible food storage
Food storage containers that can collapse are convenient ways to meal prep, store items, and take food on the go. 
Storage containers like these are easy to collapse and close the clasps for air-tight food preservation.
These collapsible storage containers can be used to sort and store things other than food items.  They are great for sorting small household items and securely snapping the lid.
9. Dish drying rack: a collapsible kitchen essential
This is definitely an item that should always be collapsible.  These things don't need to be kept on the countertop at all times.  When it is time to do the dishes, I only bring my collapsible dish drying rack out.
Dish drying racks are easy to pick up and move your drying dishes away from the sink to save space in a tiny kitchen.
Another type of dish drying rack is not collapsible but more of an expandable rolls-up style. These sit over half or all of your sink to allow wet items to drip dry.
10. Collapsible kitchen funnels
Now, this is not something you would think of when deciding to pack items for an RV or van trip. 
Collapsible kitchen funnels are actually used for more jobs than you might think.
The wide mouth on these funnels makes for easy use. Most of the sets have four sizes, from very small to large.
I use my kitchen funnels to transfer powdered drink mixes into my water bottle, refill the salt and pepper shakers, and do anything that needs to go from one container to another.
11. Travel cups are great for everyone
Collapsible travel cups are lovely for people that like to travel.  They are great for hiking or backpacking because they come with a Carabiner to clip to your bag or belt.
The cups are temperature rated from -40 degrees F to 446 degrees F. 
Travel cups come with snap-on tops to keep your liquid safe inside.  In addition, they're small enough to carry in your purse, so you always have a cup with you.
12. Buckets that can collapse

These buckets are one of the 15 collapsible kitchen essentials necessary for a stationary home, RV, or van. 
Why keep a big bucket in your home or RV when you can collapse it when you are done and store it in a much smaller place?
Collapsible buckets come with a strong, durable handle to tote your contents anywhere.
Because the bucket collapses, it can be halfway collapsed to be used as a bowl for your dog.
13. Collapsible steamer basket
These are wonderful for steaming vegetables right on your stovetop.  They fit perfectly into any pot. 
Collapsible steamer baskets are great for steaming vegetables, fruit, dumplings, eggs, meat, poultry, fish, seafood, desserts, and more.
The footed design keeps the food above the water for easier steaming.
14. Trivets for hot dishes
When it comes to compact kitchen tools, this one is just what you need for a small living space.
These collapsible trivets are foldable, compact, and non-slip. In addition, they are heat resistant up to 500 degrees.
The trivets are silicone with inside nylon plastic to make them more stable.
Trivets are wonderful for many purposes around your tiny kitchen.
15. Collapsible electric hot pot cooker
This hot pot cooker is great to be used to boil water for pasta or soup.  The hot pot cooker can even steam frozen vegetables.
Collapsible electric hot pot cookers are made of durable silicone with a stainless steel lining.
In addition, it has an auto shut-off when the temperature of the heating plate becomes too hot.
Nibbler Tip:  Make sure you wash your silicone collapsible items by hand to ensure their structural shape.
AMAZON DISCLOSURE: This website is a participant in the Amazon Services LLC Associates Program, an affiliate advertising program designed to provide a means for us to earn fees by linking to Amazon.com and affiliated sites.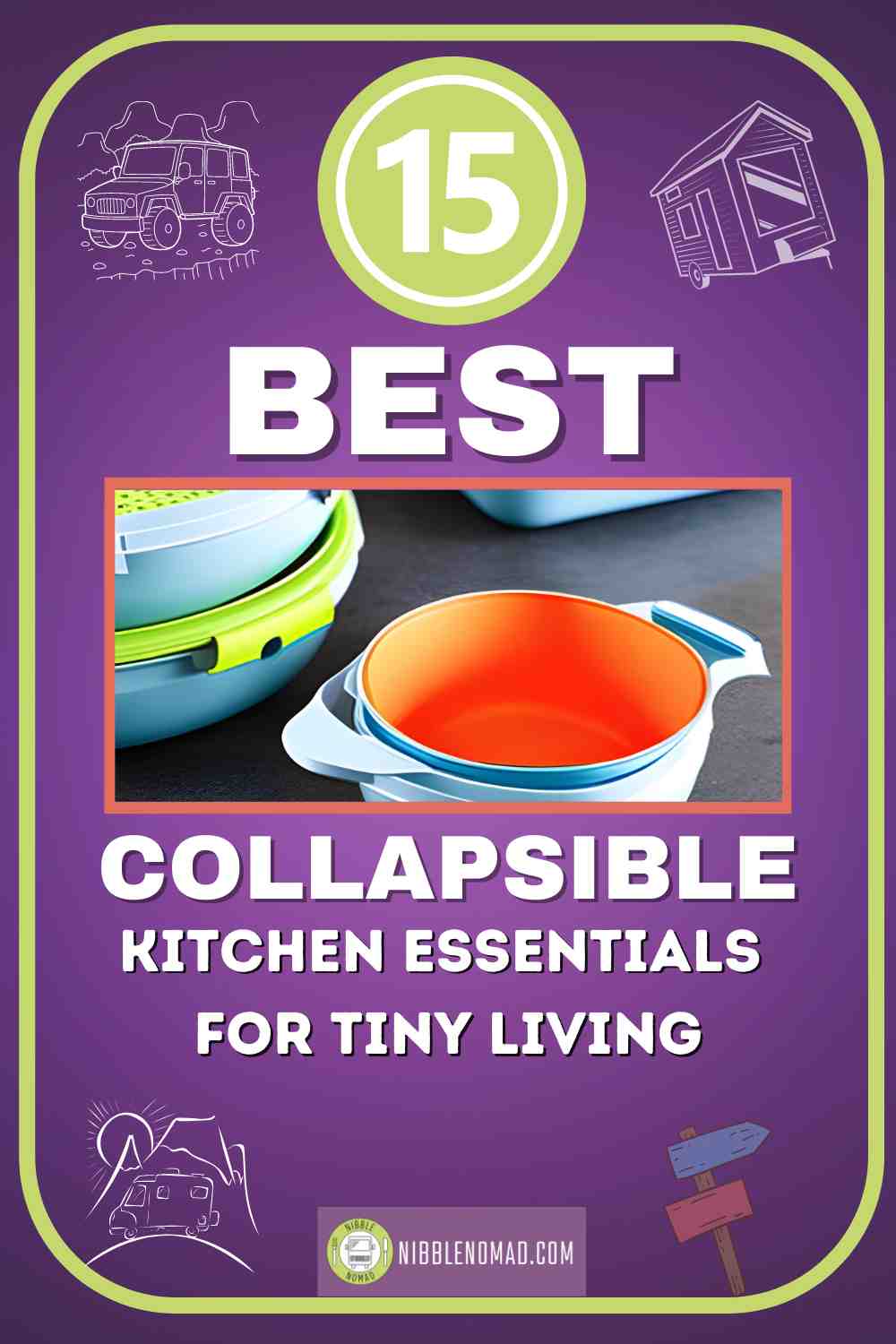 The takeaway
When you live in a tiny house, an RV, or van, your kitchen space can become filled very quickly.  That is why these 15 collapsible kitchen essentials are the best way to maximize your premium storage space.  They are great to be taken with you on a camping trip or backpacking adventure.  Either way, collapsible kitchen tools make preparing a gourmet meal a snap.